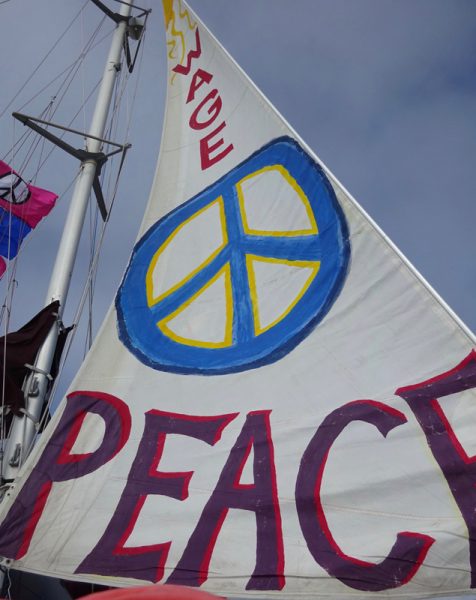 Each year in October, as part of Fleet Week, the so-called Blue Angels perform an aerobatic show over San Francisco Bay. Thousands of people line up along the waterfront and dozens of boats cruise around the Bay to watch the spectacle.
While revelers are impressed with pilot skill and aircraft precision, a growing number of people, including the writers of this editorial, believe it behooves us to think about the primary purpose of these planes. They are designed to intimidate, destroy, and kill. Let us not forget that.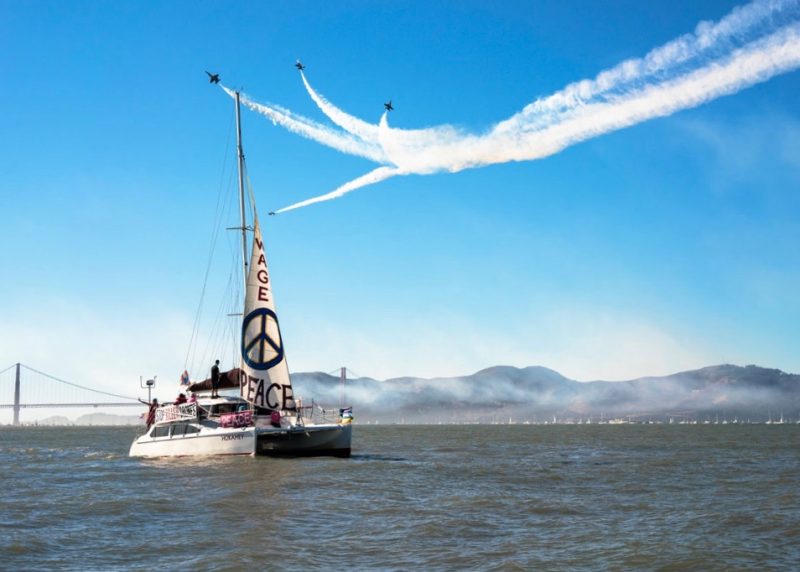 Even when not dropping bombs or decimating thousands of lives and destroying infrastructure, they frighten people and animals with their noise. Also, the purpose of Fleet Week is to glamorize war and entice our youth to join the military, a decision many later regret.
Revelers may be unaware that the US military is one of the largest global contributors to carbon emissions. Fighter-plane stunt training and maneuvers pollute our environment and cost billions of dollars — money that could be spent supporting this planet and all its inhabitants.
Many sailors and others who love the open sea are naturally inclined to protect our waters and shorelines from pollution. Recognizing that the military is responsible for much environmental devastation, sailor Jan Passion, captain of the catamaran Hokahey, teamed up with members of the women-led peace organization CODEPINK on October 9, 2022, to promote an alternative vision during the bombers' scheduled air show.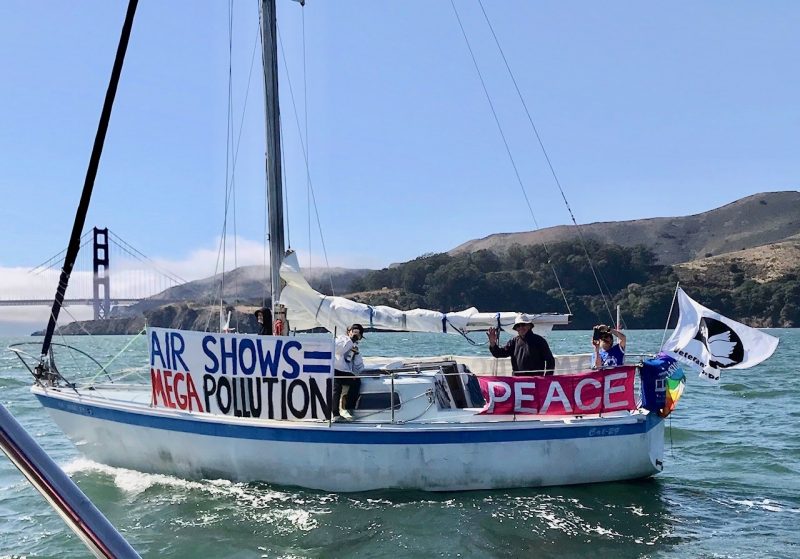 These intrepid lovers of peace decorated the sides of their boat with huge banners, including one with the message "REAL ANGELS DON'T DROP BOMBS." They tied environmental and peace flags high up on their topping lift and hoisted a jib painted with a large peace symbol and the declaration "WAGE PEACE." Then, for the love of water, Earth, sky and all living beings, they sailed out to greet the warplanes.
While the journey from Richmond to San Francisco was a bit choppy, with winds up to 30 knots, calmer water and golden sunshine graced their return. Whenever Hokahey passed other boats, smiles and peace signs were exchanged.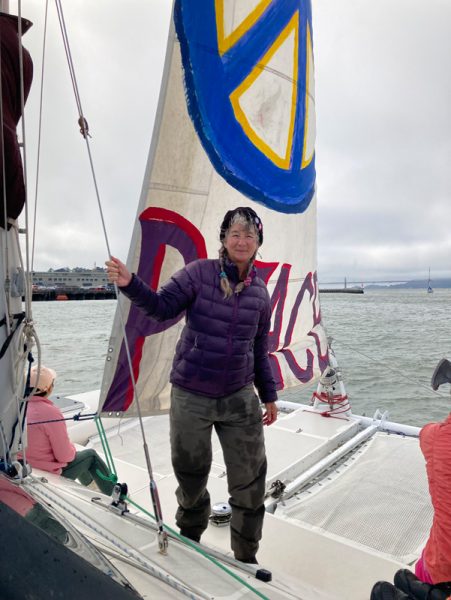 In the end, Mother Nature and her thick marine layer delighted Hokahey passengers and crew by thwarting much of the air show. Instead of deafening warplanes, it was Hokahey and a noble call for peace that greeted spectators crowded along the shoreline. Many waved back.
This is the third time Hokahey has made such a voyage. In 2019, they were joined by Golden Rule (the boat that inspired Greenpeace [and our story in 'Lectronic Latitude on May 28, 2021]), and in 2018, Hokahey was accompanied by another sloop, also fully adorned with regalia promoting peace and a healthy environment. Next year, they are planning to assemble a peace flotilla. Any boat that wishes to celebrate peace and a green, healthy, sustainable planet is welcome to participate.
Let us go out on the water in great numbers. Imagine boats of all kinds — sloops, windsurfers, kite-boarders, schooners, dinghies, yawls, and even kayaks — festooned with signs promoting peace, cruising alongside the SF Bay shorelines. And maybe the year after that, we'll retire the bombers altogether.
Let us stop glorifying instruments of war. Let us shift our thinking away from violence and toward peaceful coexistence with all who dwell on this Earth.
You may say we are dreamers… but we're not the only ones!
For information on how to join the Hokahey's Peace Flotilla in October 2023, please contact: [email protected] or Jan Passion at [email protected].
Receive emails when 'Lectronic Latitude is updated.
SUBSCRIBE