Sailing is awesome. Help support it with a story, a photo, a subscription, or a contribution. Learn how below!
For more than 40 years Latitude 38 has covered the world of sailing through the eyes of the West Coast sailor. We've provided sailors the connections, stories and inspiration from our sailing community, and kept you informed by reporting the good news and bad news, insights, entertainment, fun activities and antics from sailors near and far.
As we adapt to shifting winds we're asking for your financial support. If you have the ability, enjoy sailing and the work of Latitude 38,  your contributions will help and be appreciated.
There are several ways you can help by contributing, please see the options below:
Yes, I'd like to support Latitude 38 with a contribution: 
More ways to support Latitude 38:
Advertise:
We love our advertisers. You can help by patronizing the advertisers in Latitude 38 or become one of them! Click here to see the advertisers to supporting our current edition or to become an advertiser email [email protected].
Send Your Story:
Whether sailing the Bay, cruising the Channel Islands or Mexico or circumnavigating the globe, if you are a West Coast sailor, our readers would appreciate hearing your story. Editorial contributions are welcome for your comments in Letters to the Editor or Sightings, Changes, Features and 'Lectronic Latitude. You can read our Writer's Guidelines here or just email you story and photos to [email protected].
Suggestions:
Got a suggestion on what we can do better? We love ideas to help improve our offerings, especially from folks who have the skills and/or ability to help us find the solution. We're constantly working to improve our website, magazine, crew list, events, distribution and all other aspects of serving our West Coast sailing audience. If you have a thought regarding what we can do better you can contribute it here.
See you on the water.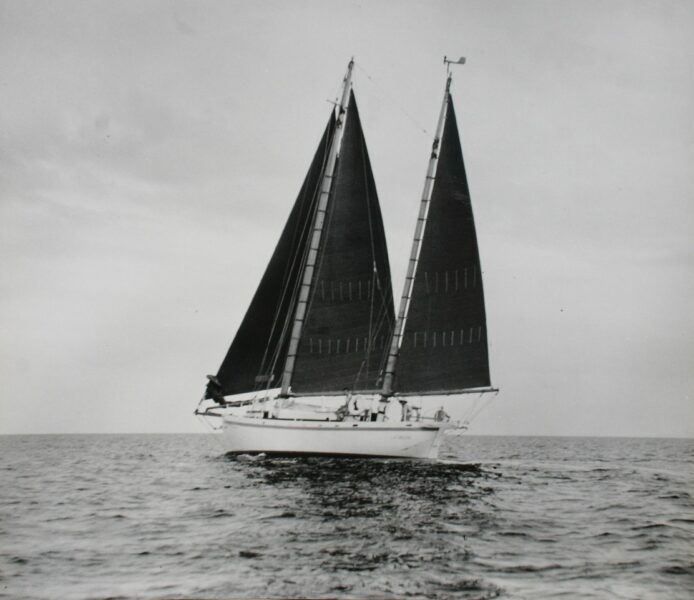 The boat is a unique ketch that my dad — Jean Filloux — designed himself with a naval architect friend at Sparkman & Stephens to be built with a first-of-its-kind manufacturing method that Jean came up with.