The 2022 Pacific Cup return has been an unusually difficult one, with several boats turning back for mechanical or medical reasons and others slogging about in a quest for favorable winds. Tropical storm influences in the south are sending waves and weather to challenge our crews.
Aboard Andy Schwenk's Spindrift V, all was not well. Andy, a seasoned mariner with over 300,000 logged miles, got a couple of sores on his ankle from scratches or abrasions. As the trip progressed, so did some sort of infection. Though Spindrift carried an extensive medical kit, it was short on prescription meds such as antibiotics.
To add to the challenge, the rough weather had split their delivery main and done some other damage, so the otherwise-speedy Express 37 was reduced to a more modest pace.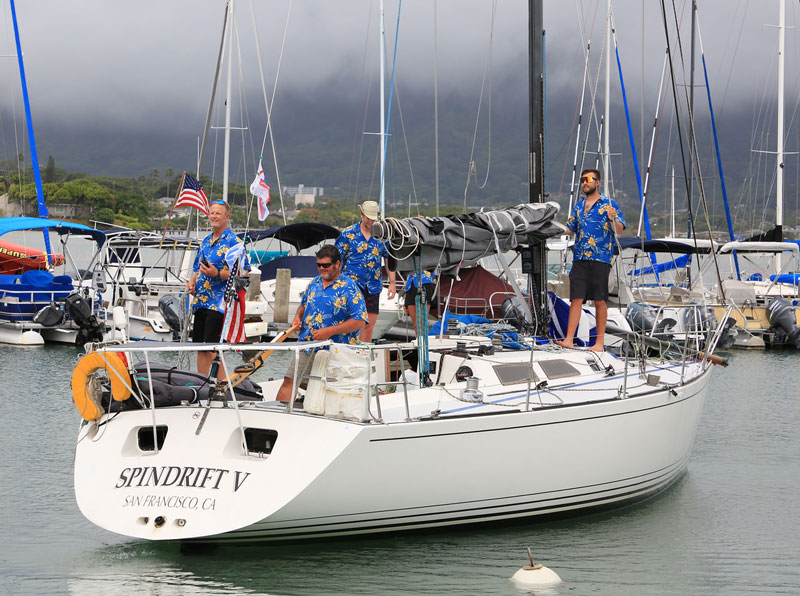 Andy consulted with the experts at George Washington University, who had supported the Pac Cup fleet during the race. He contacted race HQ to see if someone nearby could spare antibiotics. Several boats raised their hands, and Pac Cup asked Surprise, skippered by Robin Jeffers for the return, to divert and hand over a couple of their medications.
The custom Schumacher easily caught the Express 37, reaching down to cross their path (and giving up a fair bit of hard-won northward progress). The transfer was accomplished in big swells on a very dark night, trailing the package on a line for Spindrift to snag. "A pro job," texted Andy.
Unfortunately, the antibiotics could not halt the progress of the infection, which spread upward and was causing a good deal of pain and the beginning of a fever. GW physicians reached out to the Alameda command center of the USCG. After a full briefing, RCC Alameda authorized a medevac.
The decision to get to this point was complicated by several factors:
Communications from Spindrift were difficult. Their voice connectivity was dodgy, and their VHF and AIS appeared inoperable for several days due (it appears) to a failed mast antenna setup.
Spindrift was on the line between USCG District 14 (Hawaii) and District 11 (San Francisco). This made ownership of the issue a little unclear. More importantly, it reflected the fact that they were 1,000 miles from anyone's home base, making rescue a risky and expensive business — not to be undertaken unless clearly needed.
A heavy wave washed over Spindrift's laptop and nav station as we were attempting to relay information, so much of the activity ended up coordinated through text messages on the principal race officer's iPhone. Mail through their Iridium GO! was complicated by the lack of the mail app, it seems, as was an attempt to send a photo of the wound to the doctors at George Washington.
Ultimately, medevac was authorized. RCC Alameda advised the creatively-named FPMC35, a Taiwanese tanker, to divert to pick Andy up. This was accomplished at about 2 a.m. PDT Friday, August 5. "It's my pleasure can help Mr. Schwenk, since saving lives at sea is the responsibility of every sailor. Also thanks the full support from shipowner FPMC company's office, which also take cooperation with this search and rescue arrangement leading by USCG," said the vessel's master, Captain Sun Gang.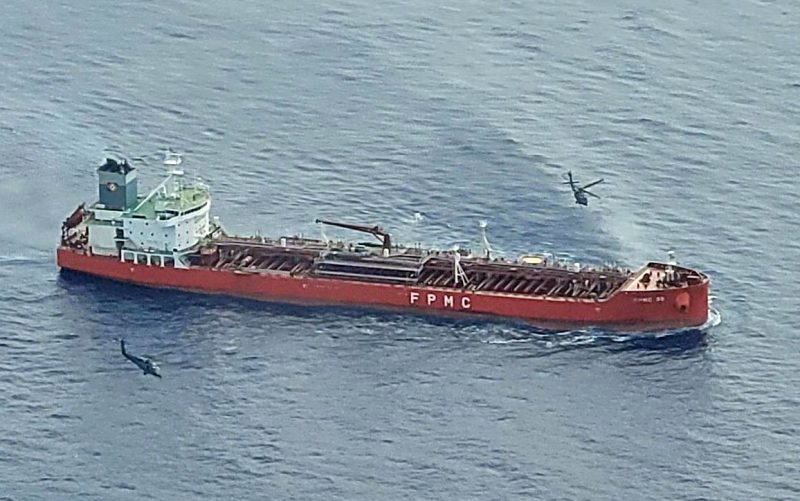 Andy's sister Linda passed on his description of the transfer: "… as Spindrift neared the freighter, it was dark, and nobody spoke Chinese on the sailboat so, though the freighter crew was yelling instructions, it was impossible to understand what to do… then they hurled a rope ladder over the side with wooden steps and waited. Andy looked at the ladder and thought, 'Well, I do have one good leg and two arms…' Mind you the freighter is rolling in waves and it's really dark out there, guys. [This was about 1:30 a.m.] Then there were more shouted instructions in Chinese and a line came flying over the side, dangling and waiting. Andy said he figured he had one shot so he wrapped the line around himself twice and leapt into the darkness. I'm not sure how many crewmen it took to haul him up the side of the freighter…"
An Air Force C-130 flew over the FPMC35. Two medics with medical gear parachuted out and boarded the tanker, tending to Andy and stabilizing his condition. The tanker continued to head toward San Francisco at a good clip (12 knots). Rather than come into port, however, the plan was for a helicopter to take the unplanned passengers off about 400 miles out.
Ultimately, the medics and Andy were evacuated by quite an air wing: At 9 a.m. on August 7, USCG Search and Rescue Command and Air National Guard sent:
2 Blackhawk helis
2 refuelers
2 C-130s
Andy was taken to Moffett Field and from there to the hospital. Without getting too far into medical records — and the photo of the foot is rather alarming — Andy's gotten a couple of surgeries and expects to spend two weeks as an inpatient, followed by follow-up wound care.
Andy's spirits have been uniformly upbeat for this entire experience. Spindrift V, with the remaining crew, is due under the Golden Gate Bridge some time Friday or so. As Spindrift's AIS seems wonky again, I have asked YB to turn up their tracking to every five minutes.
Richmond Yacht Club members are projecting an arrival time at the Golden Gate Bridge of late tonight. — ed.
We imagine that Andy is spending his idle time planning his next Pacific crossing.
Timeline:
Jul 25 – Spindrift V departs Oahu.
Jul 29 – "Rogue" wave hits Spindrift. Splits main. Other damage.
Jul 30 – Spindrift AIS ceases transmitting.
Aug 2 – Pac Cup informed that Andy has infection. No details other than antibiotics wanted.
Aug 2 – Contact made with Spindrift.
Aug 3 – Communications with Spindrift. No improvement. Pan Pan Medico issued to nearby boats. All agree to help.
Aug 3, a.m. – Surprise asked to divert to share medications. They respond immediately. Coast Guard 14th District notified of possible situation. Consultations with GW. Spindrift attaches emergency VHF antenna.
Aug 3, p.m. – CG 14th transfers matter to RCC Alameda.
Aug 4, 1 a.m. – Surprise meets Spindrift V and transfers medications
Aug 4, a.m. – Pain and swelling spread. Nature of infection changes appearance. Fever.
Aug 4 – Spindrift laptop fails.
Aug 4 – USCG RCC Alameda authorizes medevac. FPMC35 diverts to rendezvous with Spindrift.
Aug 5, 2 a.m. – Evacuation to FPMC35 completed.
Aug 5 – USAF C-130 drops two parachute jumpers/medics and supplies. Picked up by tanker's rescue boat. Andy declared "stable."
Aug 7 – Andy and medics airlifted from tanker to Moffett Field and then to hospital.
All reports, including my own interactions, show Andy in uniformly good spirits.
Receive emails when 'Lectronic Latitude is updated.
SUBSCRIBE