Latest Issue: December 2022
Eighty-eight boats ultimately finished the participant-pleasing 28th annual Baja Ha-Ha cruiser's rally from San Diego to Cabo San Lucas, with R&R stops in funky Turtle Bay and spectacular Bahia Santa Maria. The fleet featured 78 monohulls between 32 and 57 feet, 10 of them sailing with white sails only.
Resurrection of Rosebud
70
This is the story of Rosebud, a Santa Cruz 52 commissioned by Roger and Isobel Sturgeon in December 1997. The boat is the 15th in the production run of 27, and a former Big Boat Series champion.
Max Ebb: For the Young Sailor
74
Where was Lee Helm? We had agreed to meet at the bookstore at 11 o'clock, but there was no sign of her. This was not like her at all. Usually she turns up everywhere, invited or otherwise, so it was hard to imagine that she'd miss a firm appointment.
Subscribe
Subscribe to Latitude38 and have the print magazine delivered direct to your doorstep. Get a new subscription, Renew an existing subscription, buy a gift subscription, or order a single issue all online.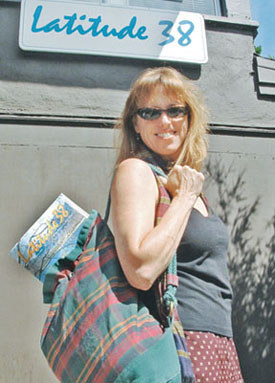 Join the sisterhood of the travelling Magazines (Brothers Welcome too!)
If you're planning to fly out to meet friends in Mexico, the Caribbean or the South Pacific, why not stop by the Latitude 38 office before you leave and pick up a bundle of magazines to share with cruisers?
We promise you'll be a hero - and you'll probably earn a few beers for your efforts.
Our office is open 9-5 weekdays and is located at 15 Locust Ave., Mill Valley. If you need to pick up magazines after hours, give us a call at (415) 383-8200 and we'll leave some out for you.