Big-Wave Surfer Ian Walsh's Wild Ride Aboard 11th Hour Racing for the Newport to Bermuda Race
As you have probably read by now in the August issue of Latitude 38's Sightings, the 52nd running of the Newport to Bermuda Race saw more than 200 boats competing in mid-June, and featured a storybook ending for Stan and Sally Honey.
On the other end of the speed and technology spectrum, 11th Hour Racing's foiling IMOCA 60 Malama was, by far, the fastest monohull to sail the 635-mile Newport-to-Bermuda course (in about 41 hours). Malama had its "normal squad" onboard — skipper Charlie Enright, co-skipper Justine Mettraux, and media crew Amory Ross — as well as two relatively new sailors: Lake Tahoe native and big-mountain snowboarder Elena Hight, and Maui native and big-wave surfer Ian Walsh.
We now bring you an extended interview with Walsh from our August-issue Sightings.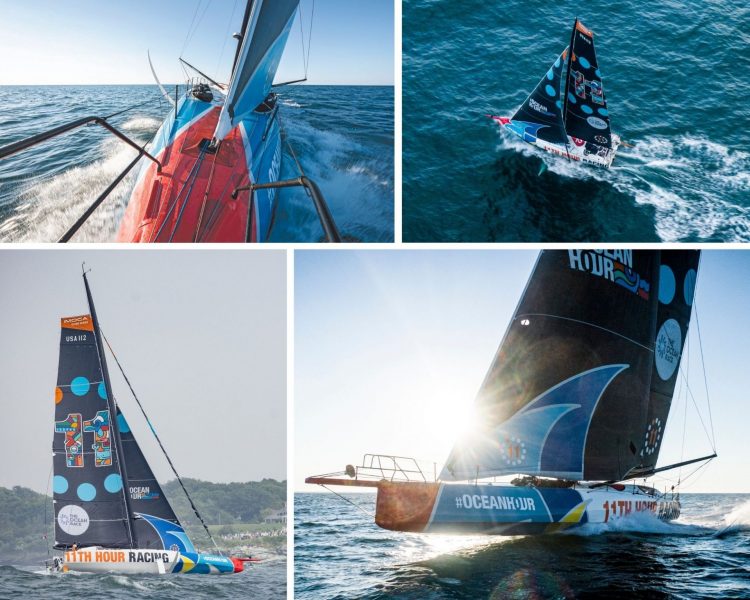 Walsh had sailed with Ross before, and knows many of the 11th Hour Racing Team, but most importantly, there was an underlying alignment of values. "The pivotal thing for me is what 11th Hour Racing represents in their messaging to inspire proactive change surrounding the oceans — that's something I hold very dear as a surfer," Walsh told us.
The 11th Hour Racing Team is intent on winning The Ocean Race with Malama in 2023, while raising awareness around ocean health globally and demonstrating best practices when it comes to sailing. "Sustainability is at the core of all team operations," a spokesperson told us.
Ian Walsh won the prestigious big-wave surf contest in 2017 at "Jaws" in Pe'ahi, Maui, where he caught a wave that was later given the "Ride and Barrel of the Year" award. Some surfers, without hyperbole, have called Walsh's wave one of the best rides in surfing history.
Walsh told us that getting into sailing "is almost like learning to surf again." Being onboard Malama, he brought a curiosity about the behind-the-scenes, day-in-the-life details, offering a glimpse of what it's like to race onboard such a spectacular, convention-defying sailboat.
There is no "cockpit" on Malama — the boat is almost entirely sailed from inside a closed structure, with screens mounted throughout the interior. All lines lead inside the "cabin," where winches and a grinder are situated. Walsh calls the boat a "carbon missile." Watching videos, Malama appears blind and tubelike in a way reminiscent of a submarine.
Similes abound: "That thing was like a spaceship," Walsh said. "I was like, 'We're going to check the sail trim on iPads?'"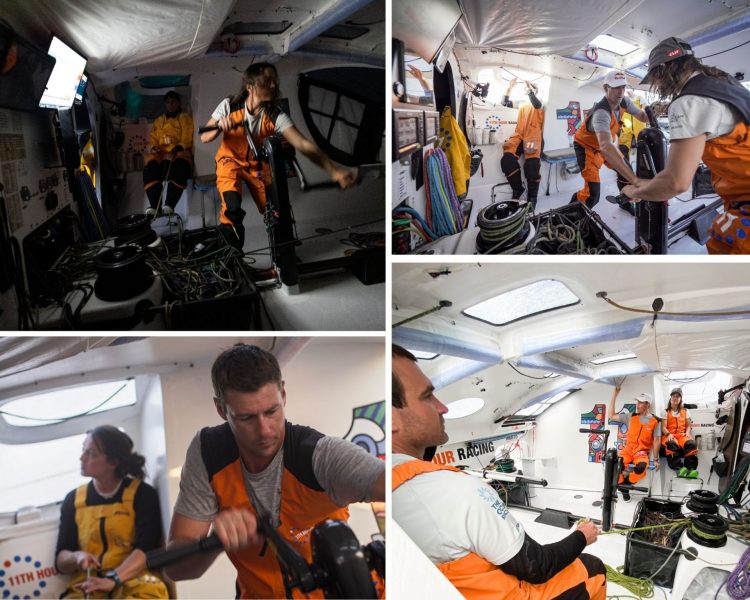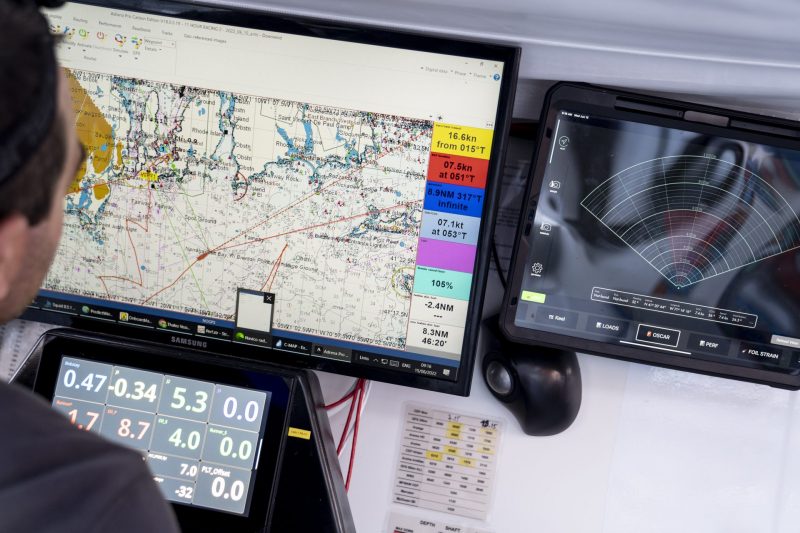 Walsh called himself a "bottom-of-the-barrel, amateur sailor," though he has lots of bluewater miles under his belt. He has a Hobie 16 on Maui, which he's taken out, sans rig and sails, with big-wave surfer and watersports multidisciplinarian Kai Lenny. "He would fly his big kites and I would helm the boat. And we got that thing smoking." Walsh has also taken up wing foiling, and said he was looking forward to poking around on sailboats, and maybe getting to do some dinghy sailing on a trip to Europe this summer.
In 2018, Walsh sailed aboard the Gunboat 48 Falcor from Tahiti to Hawaii, via the Line Island chain, while taking water samples to test for microplastics in the Central Pacific — that expedition worked with the nonprofit Adventure Scientists, who coordinate citizen scientist volunteers. (Of the 22 water samples taken from Falcor in the remote Pacific, 73% were found to contain microplastics.) 11th Hour Racing's Amory Ross was also on the trip to document the journey, and there's a YouTube video of the journey called Lines to Hawaii.
(Falcor was owned at the time by professional snowboarder Travis Rice, and is now owned by pro surfer John Florence as Vela, which is currently sailing from Hawaii to Fiji. A few years ago, Florence sailed Vela to Palmyra Atoll.)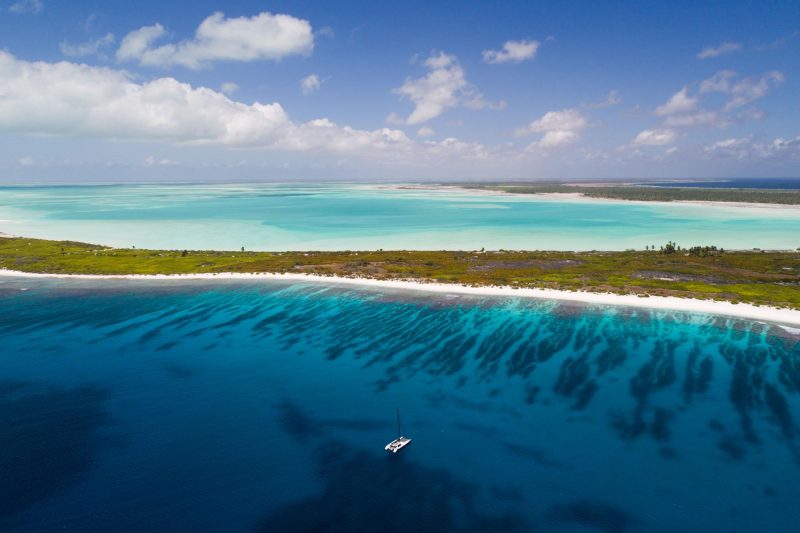 Would Walsh's 2,500-mile trip across the Pacific help prepare him for the foiling fury of a bluewater race? Watching his videos on his Instagram, even the heartiest sailors might feel a little queasy inside the tight, sloshing-wet confines of Malama's cabin. "I was like, there's zero chance I'm not going to throw up all over this cockpit," Walsh said.
But speed was a savior. "It's so fast, rather than that slow, lethargic waddle from side to side; the speed was really unique and helped me on a personal level." Malama was bashing into the waves for much of the race, Walsh said. "But that was our primary angle on our route to Bermuda. When we did have wind shifts that put us at, like, 85 degrees, you could feel how it smooths out the ride, and how fast that thing goes."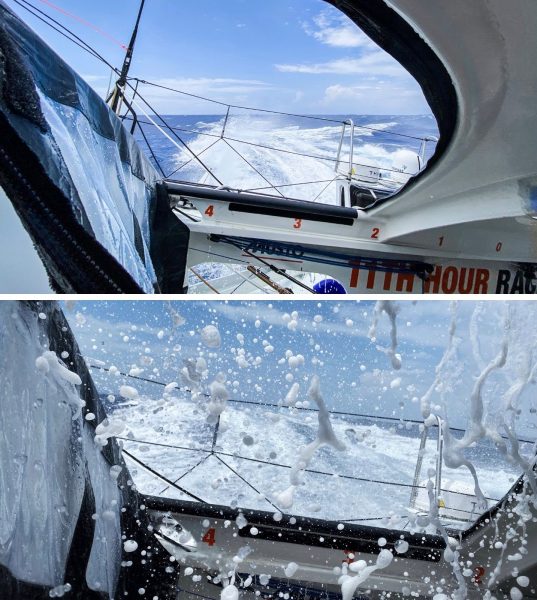 As someone new to offshore racing, Walsh said he was curious about the lives of professional sailors. "To them, it's just a normal day: The way they go about their life, the way they eat, the way they sleep — the crazy savagery of how little they sleep. I'm naturally inquisitive, probably to a fault, about those kinds of details. But it's something that I enjoy sharing, whether it's surfing or snowboarding or mountaineering."
Walsh did some reporting on his Instagram: "You might ask, 'How the hell do you sleep?' I ask the same thing. You kind of snuggle up in this carbon missile and hang on, and you basically fall asleep out of sheer exhaustion and get a little cat nap." Walsh shot a video from his bunk, as Malama hummed and jolted and creaked and whooshed and breakneck-sped toward Bermuda — it looked like trying to catch a nap on a bucking bronco. "Some of the waves we hit while horizontal in the bunk can have you levitating and landing so hard it feels like your teeth might crack. A mouth guard might not be a bad idea in bed."
How about food? "I only attempted to boil water once to make ramen. It almost cost me my left forearm because it was so rough; the gimbal had that kettle flying side to side." Personal business? "Trying to take a piss is a full-contact sport and requires three points of contact, minimum. (You do the math.)"
So how does sailing translate back into surfing?
"Sailing really helped me open up my peripheral vision in the ocean. I got the chance to relay a lot of information that I've learned through a lifetime in the ocean surfing, and put it into something that was very new to me.
"When you're surfing, you are looking at what's changing. You're looking at the wind: Is the wind picking up, is the wind changing angles? Is the tide coming in, is the tide going out? Is the swell angle better? Is this set lined up with what has predominantly been coming in all day? But a lot of times, you're just focused on the wave that's coming at you.
"Sailing is just a much bigger perspective, and a deeper connection to the ocean and the conditions that surround it. It's all of these little details." Walsh told us that he enjoyed the tactical side of the Newport to Bermuda Race. "From a navigation perspective, and forecasting and understanding your route, and making adjustments on the fly to conditions and different current angles and sea states — that's pretty cool.
"And the bottom line: It's fucking fun harnessing wind and going that fast. Even though flying in a sailboat that's going 35 knots in a carbon missile is a little bit different than surfing, I think we connected on something that's very important, which is how much we appreciate the ocean."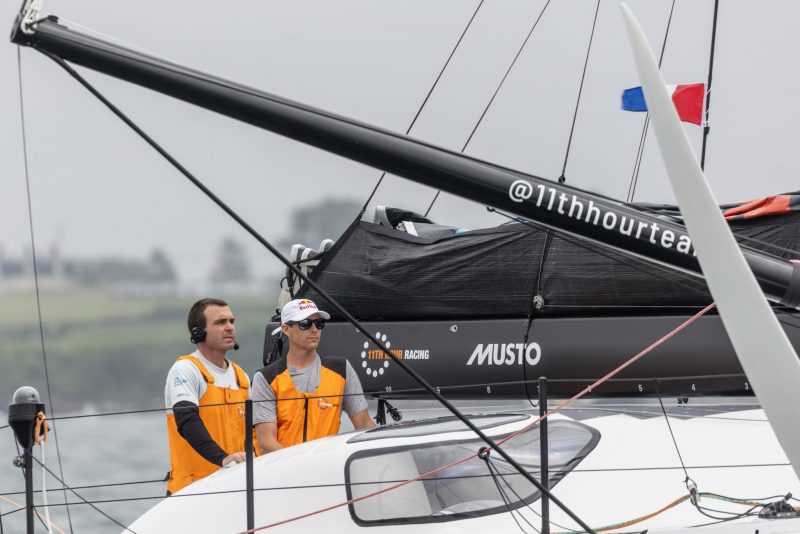 For almost 20 years, Ian Walsh has shared his appreciation for the ocean through his annual "Menehune Mayhem," a kids' event promoting surfing, sportsmanship, creativity and scholarship for the youth of Maui. "But the backbone of the event is environmental awareness, and trying to lead by example, rather than just explaining it to kids. We're doing it in a fun and interactive way." Walsh has called Menehune Mayhem his "biggest accomplishment."
"We're trying to show kids how important it is to take care of the oceans and the beaches where they live."
Both Ian Walsh and Elena Hight are featured in the new HBO series Edge of the Earth, streaming now.
Receive emails when 'Lectronic Latitude is updated.
SUBSCRIBE