---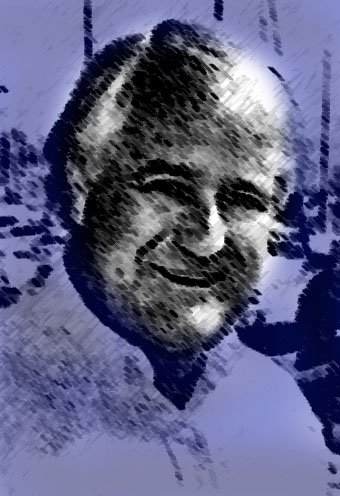 How many people have you met who knew exactly what kind of a "grown-up" job they wanted while they were still in high school — and then proceeded to make that dream come true? Well, you can add the name of Alan Andrews to that list.
Alan Andrews is a yacht designer. That's what he wanted to be as a kid growing up in Newport Beach. That's what he wanted to be while attending Newport Beach High School. That's what he studied in college. And to the surprise of absolutely no one, less than two years after graduation from Stanford University, Andrews opened the yacht design firm that bears his name. Today, the 43-year-old Andrews is living his childhood dream.
Andrews' parents moved to Newport Beach when young Alan was just five years old. Both of his parents sailed; many of their neighbors had children who sailed, and before long young Alan was also immersed in the Orange County sailing scene. During the summers, Balboa YC became his second home. He actively raced the boats that were popular in Newport Beach at the time — Naples Sabots, FJs and Kites. As he grew older, he crewed for his dad on their Cal 20, and sailed at Los Angeles YC aboard his grandfather's 40-foot Owens cutter.
He vividly recalls all of the details of those experiences, and can still accurately describe every repair made to the Sabot sail he used some 30 years ago. Without question, those experiences laid the foundation for Alan Andrews' life.
Andrews' parents also had a lot to do with shaping his future path. "As the years have gone by, I've thought more about how trusting my father was with his boats," he recalls. "In the early part of high school, I was allowed to sail the Cal 20 on the weekends that Dad, who was a doctor, had to work. By the time I was a senior, I had been checked out on the new boat, a Ranger 33. I was allowed to race it, not only around the buoys off Newport, but around Catalina and San Clemente Islands with a crew of high school and college-aged kids. We also took the boat down to San Diego for the Ranger 33 Nationals on another weekend that Dad had to work."
"How many parents will let their kids take the family racer/cruiser on those kinds of races at that age?" Andrews asked rhetorically. "At the time, I thought it was natural. However, with the perspective of a few years, I was pretty lucky to have parents who trusted my judgment and encouraged my sailing."
His early enthusiasm for sailing extended far beyond his on-the-water experiences. While other kids were building footstools in their high school shop classes, he was creating vacuum-formed model sailboats.
Andrews' father supported his dream of becoming a yacht designer, but realistically pointed out that it was a very small field. When it came time to select a college, both father and son agreed that a degree in mechanical engineering would provide a proper foundation for designing yachts, and also equip him with something to fall back on — just in case.
Andrews sent applications to MIT, the University of Michigan, UC Berkeley and Stanford. Because he had never spent much time in the snow, he quickly trim-med his choices down to the two California schools.
After visits to both campuses, Andrews chose Stanford and immersed himself in engineering — and racing on the sailing team. "Without question, I sailed more hours per week while I was in college than I have before or since," he recalls fondly. Those efforts were rewarded in his junior year when he was selected as a collegiate all-American.
It was the summer of 1976, between his junior and senior year at Stanford, that brought things into sharp focus for Andrews. He spent his afternoons coaching the advanced racing sailors at San Diego YC, but he worked in the design office of Doug Peterson during the mornings. At the time, Peterson was one of the world's hottest designers of racing boats, and this experience served to 'set the hook'.
Andrews filled out the academic program for his senior year by taking graduate-level courses in fluid dynamics and other areas that would support his yacht design goals. And whenever the Stanford sailing team traveled east, he made side trips to New York to interview with naval architects. Meetings with Olin Stephens, Scott Kaufman and Bob Derecktor quickly removed any doubt that yacht design was indeed a very small field. Although Der-ecktor offered him a job as a loftsman working on the floor, that really was not what Andrews wanted to do.
Shortly after graduation, Andrews met Dennis Choate and went to work for him at Dencho Marine in Long Beach. He did their in-house design work and other functions tied directly to the construction of race boats. At that time, Dencho was busy pumping out CF 41s, and was starting work on two new Kaufman designs, the CF 27 and the Choate 40. Andrews also worked with Choate to modify a Bruce King-designed 50-foot hull that Choate had acquired — although the word 'modify' is really much too tame to describe that project.
"The hull looked a bit like an Ericson 46," Andrews recalled. "It was the wrong shape to be competitive in IOR during that period, so we cut off the skeg and spread apart the stern sections before we glassed the rear end back together. We also reshaped the hull and changed the shear line by cutting off some of the freeboard with a sawsall." They then designed the underwater foils and a rig for this highly modified creation. When completed, the King/Choate/Andrews design was named Arriba. It proved to be a very successful IOR racer, and Choate sailed it to first overall in the1979 TransPac Race.
In February of 1979, Andrews took the big step and opened his own yacht design firm. "Dennis (Choate) encouraged me to do it," Andrews recalls. "He also promised to hire me to help with his projects — which he did."
Although he lived in Orange County, Andrews chose Long Beach for his new office. "It was more in the center of big boat sailing in Southern California than Newport Beach was, and I had lots of contacts there from Dencho," he said.
Andrews quickly built a solid reputation for helping IOR racers optimize their ratings and their boats. He enjoyed those projects, but he was also eager to design a boat of his own.
Andrews refers to himself as a yacht designer. "Anyone in the state of California can call himself a naval architect," he explained. "There are no legal requirements or prerequisites to use that title." He is, however, sensitive to the fact that those who graduated with a degree in naval architecture might take exception, and avoids using that term in his business.
Andrews' first commission was a 35-foot cruising boat. It took a while before he got an opportunity to design his first race boat, but it all came together in 1982 with a 30-footer called Details.
Details was designed specifically for the 1982 MORC (Midget Ocean Racing Club) International Championship that was held at the California YC in Marina del Rey. There were eight partners in that project — one of which was Alan Andrews. Not only did he design the boat, he also invested most of his savings in the project.
"When you're starting a new design firm, and you're 'the guy,' and you don't have any boats that you can point to — you pretty much have to invest in your own boat," he explained. It was a good investment. With Andrews steering, Details won its class and was first overall in the 1982 MORC Internationals — and the firm of Alan Andrews Yacht Design had its first winner.
It didn't take long for other projects to start rolling in. In 1983, Andrews designed Allegiance, a 39-foot fractionally-rigged IOR one-tonner, for Bill Ostermiller. "I'd sailed with Bill and done some rating work on his Serendipity 43," he explained. "When it came time for a new boat, Bill gave me the project."
Next came Impact for Ron Melville. It was a near-sistership to Allegiance, but had a masthead rig.
Both boats did very well. Allegiance was shipped to Florida where it won its class in the 1984 SORC, and was second overall in that prestigious regatta. Impact was launched in time to win its class in the 1984 Long Beach Race Week regatta. Later, a team from Balboa YC took Impact up to the Bay where it beat Coyote to claim the San Francisco Perpetual Trophy.
Since that time, Andrews has designed more than 50 boats, many of which have become very well known. He's designed everything from small MORC boats to turbosleds. And while many people think of him primarily as a designer of race boats, he's also produced an impressive number of cruising yachts. In fact, he currently has an 80-foot performance cruiser in the 'bidding and evaluation' stage. That boat has five double staterooms, a sumptuous main salon, air conditioning and all of the quality trappings. The client for this mega-yacht is a repeat customer — presently the owner of an Andrews 65 performance cruiser.
Andrews has had quite a number of repeat customers. Chuck Cook, who was one of the eight partners in Details, has owned three Andrews designs. And Dr. Neil Barth commissioned three Andrews boats — the 53-foot Persuasion, the ILC 40 Growler and the Whitbread 60 America's Challenge.
Andrews tries to keep track of the significant wins his boats have recorded, but the ever-expanding list isn't always easy to keep current. However, he is sure that his boats have won Class A in the MORC Internationals six times, and they've won the overall MORC prize twice. And who can forget Hal Ward's turbosled Cheval finishing first in the '95 TransPac — sailing across the finish line under jury rig with a broken mast! In the same race, Bob Lane's Medicine Man was the first boat to break Merlin's 20-year old TransPac record — not bad for a 56-footer!
And there also was Pamlico, a 38-footer that won its class at Key West Race Week. And Mike Campbell's Andrews 70 Victoria, which won every Ensenada Race for a long time. And Dick Compton's 70-foot Alchemy — the only non-SC 70 to ever win a Cal Cup sled regatta. The list goes on: Neil Barth's ILC 40 Growler won the overall trophy in the 1994 Kenwood Cup, and his other boat, Persuasion, won its class in TransPac, the Manzanillo Race and the overall trophy at MEXORC. In its later life with a new name, Karakoa, the same 53-footer won the President's Cup in Manila. Other winners that come quickly to mind include Aldora, Cantata, Risky Business, Renegade, It's OK!, Cipango, Vicki, Trader — you get the idea.
Andrews has also been involved with a number of production and semi-production boats. There were 11 Andrews 26s built in Mexico City; seven Andrews 70s have been laid-up in the female hull mold at Dencho Marine; five 56-foot near-sisterships were built from a design Andrews did a few years back; seven female-molded Andrews 30s came out of Star Marine in Canada; and four male-molded 30s were built by Scorpio Yachts and Wiggers Custom Yachts. Andrews boats have been built in places as far east as Estonia, and as far west as Hawaii. And in the past six months, he's had inquiries from Italy, England, Asia, Argentina and Turkey.
Not all of his projects have been sailboats. The glass-bottom boat presently taking out passengers in Avalon on Catalina Island is an Andrews design. "Working with US Coast Guard regulations was really quite interesting," he said. "I had to learn a whole new set of rules. And the design criteria are much different from those of private yachts. The operators are naturally very concerned about reliability. They ask questions like, "Can it make nine trips a day without having to stop for anything? Can it run seven days a week during the season? Down time is very expensive."
Apparently, his glass-bottom boat met the criteria, because the same company has now asked him to design another one. However, this one will be different — very different. Although it's really a displacement boat, it will look just like a submarine. The 49 passengers will peer out of portholes that are all below the waterline. This 65-foot 'submarine' is presently under construction and will be in service next year.
Andrews also has another unique project under way. He's been asked to take a patented invention and use it to produce a marketable 16-foot beach catamaran. Although the design work is well underway, he could not go into much detail about the project because of confidentiality clauses in his contract. "We should have a prototype sailing before the end of the year," he explained. "It's been an interesting project. To utilize the patent to its full extent, we had to work with some new and different materials."
Not only have the building materials changed a lot since Andrew started designing boats, the tools that he works with every day have also changed dramatically. "When I started my business, one of the first things I did was to buy a programmable calculator," he stated. "That HP 41C gave me the 'sophistication' to program the IOR Rule, the MORC Rule, plus some rig and other design programs. But by today's standards, it was pretty primitive."
PCs became available shortly after that, and by 1985 Andrews was producing CAD (computer aided design) drawings and computer-faired hull shapes. "Computer technology is allowing us to do a better job of designing boats," Andrews said. "With a calculator and a pad of paper, it used to take two days to do the righting moment calculations for 25 degrees of heel. Now, it's maybe 15 seconds with a computer. As a result, we can do a lot more 'iterations' of things."
"Computers have also opened new avenues for us to convey information," he continued. This is very evident with his new 45-footer presently under construction at Westerly Marine. "The boat is not being lofted in a traditional manner," he explained. "Westerly isn't printing a mylar set of drawings from our CAD stuff. Instead, they're cutting out the frames with a numerically controlled router using CAD files that we emailed to them. They simply put a disk into this router and it cuts out plywood frames by itself."
"When we did the Whitbread boat back at Eric Goetz's yard in Rhode Island, every drawing for that boat was delivered by email," he continued. "We also did extensive tank-testing on that project."
"For a Whitbread boat, tank testing is not outrageously expensive in the overall scheme of things — but it is expensive," Andrews said. "It's also important. There is no 'continual development string' for those boats," he explained. "When we do an IMS boat, we can build on the experience of other designs — our boats as well as the boats of other designers. That 'continual string' does not exist for America's Cup boats or Whitbread boats that only race together every couple of years. Obviously, it would be expensive to build a bunch of Whitbread boats to test against each other. It's much less expensive to test models in the controlled environment of a tank to optimize the design."
America's Challenge, the Whitbread 60, was one of Andrews' biggest disappointments. "Without question, it was my most time-consuming project and our greatest technologic effort," he said. "As it turned out, there was a huge funding problem, and no one was really aware of it. Although the program had some early hiccups, we all were under the belief that it was going to happen — that eventually everything would all fall into place." It didn't, and the boat was forced to drop out of the race after the first leg.
"I really wanted to see it go around the globe, and had hoped to see it sailed on an equal footing with the other competitors — sails, crew, budget. Unfortunately, the first time the boat sailed against another Whitbread 60 was at the start of the race. Still, the guys who sailed the boat told me later they felt the boat had the speed to win the race."
Does Andrews have a favorite design — a favorite project? "Not really," he said, but maybe he's too diplomatic to single out a specific boat. However, his eyes do light up when he discusses some of his current projects.
"Westerly Marine recently started construction on a 45-foot ultralight sprit-poler for a client who is paralyzed from the waist down," he explained. "He's been sailing a specially equipped Santana 30/30, but is ready to move up to a bigger boat. Obviously, it's important to set up the boat so he will be able to steer it well."
"We developed a cockpit configuration with two steering wheels and equipment to assist him in moving from side to side," Andrews continued. "There's a driver's chair that slides athwartships on traveler tracks. The seat can also be tilted to compensate for the heel angle and can be slid aft so someone else can steer for awhile." This fractionally rigged pole-boat will weigh less than 12,000 pounds and fly big masthead asymmetrical kites downwind.
Also on the drawing board in Andrews' office are plans for a menacing-looking ultralight 50-footer. This is a pure racer that makes no concessions to cruising comfort. There's not even a refrigerator down below. This 15,000-pound fractionally rigged boat will fly masthead chutes downwind, but the sexy bulb keel leaves little doubt that the boat will also be a potent threat upwind.
Bob Lane's 56-foot Medicine Man is also back on Andrews 'to do' list. This time it's being turbo-charged with a big fractional rig. Two years ago Andrews designed a new keel and a water ballast system for this boat. The keel was installed, but the water ballast project was deferred. "Now that Bob is going ahead with the water ballast system in addition to the new rig — which is actually Pyewacket's old one — we're looking at the whole structure again," Andrews explained. "We're examining the loads on chain plates and rigging sizes to insure the boat is strong enough to handle the additional stress."
"In its new configuration, Medicine Man will use masthead asymmetrical kites," Andrews continued. "A-sails are not treated very kindly by the IMS rule, but Bob doesn't care what his rating is. For the next TransPac, he just wants to get there as fast as he can."
There is also a new Andrews 35 under construction in Maui. "This boat is designed for IMS and PHRF racing in Hawaii," Andrews explained. "It's lighter than most IMS designs and the PHRF spinnakers are all oversized. The boat also has a heavy keel with a very low center of gravity, so it will be less dependent on crew ballast." Andrews smiled when he conceded the boat would not have any problem surfing. For IMS racing at the Ken-wood Cup Regatta, the crew will switch to kites sized to the foretriangle.
Several years ago Andrews was asked to serve on the United States IMS Committee — an activity that requires attending a number of meetings each year in Rhode Island. "I don't think anyone on the committee believes IMS does a perfect job of handicapping boats, and most members can point to at least one area where efforts are being made to improve it," he noted. "It's interesting to see how easy it is to find a weakness in a formula compared to devising a general method, applicable both to the existing fleet and to boats not yet designed, for rating specific aspects of a yacht's speed. This committee has also given me insight to the international aspects of this type of rule, and how cumbersome decision making is at the international level."
When asked about the reasons for the lack of IMS racing on the West Coast, Andrews had several thoughts. "There was some decent IMS racing here in the early '90s. Unfortunately, the IMS arrival on the West Coast coincided with the plunge in the Southern California econ-omy, and people stopped buying boats," he said.
Americap racing — basically an owner-measured VPP rule with simplified scoring — is also spotty in California, but Andrews believes measurement handicap racing will find its place on the West Coast. "My guess is that the U.S. will implement the ORC Club Rule in place of Americap in the near future," he stated. "ORC Club is an international rule — essentially a duplicate of Americap. However, it has a mechanism to accommodate boats for which you don't have a full set of hull lines as required by Americap. ORC Club was very big in Germany this past year. In fact, in many European countries it's become much more popular than their version of PHRF."
Andrews regularly puts in long days, and it's not unusual for his office lights to be burning long after the sun goes down. It turns out this work schedule fits nicely with that of his wife of 16 years, Molly Lynch. Molly is the Executive Director of Ballet Pacifica, a career where late hours are also quite commonplace. Obviously, children aren't part of the picture so far.
Andrews also makes time to go sailing. Obviously much of it is spent racing on boats he's designed for clients. "I want to help get new boats up to speed as quickly as possible," he said. "Also, it's important for me to see exactly what works and get the feedback necessary to continually improve our designs."
This year he's been racing on three of his turbosled designs — he's a regular on It's OK!, Lew Beery's 43-footer; he raced the Port Huron-Mackinac Race on Attitude, an Andrews 72 performance cruiser; and was in the Philippines for a successful President's Cup campaign on Karakoa.
But not all of his sailing has been on boats that he's designed. He was a trimmer for Balboa YC's Schock 35 Lipton Cup team; he steered the BYC Melges 24 in the Balboa Challenge Cup; he crewed on the R/P 70 Taxi Dancer in the StFYC Big Boat Series; and he skippered an FJ in the Afterguard Division of the PCIYRA North/South Regatta. The skills that earned him a place on the collegiate all-American team are still very much in evidence.
Is there some 'dream project' that Alan Andrews would like to tackle? Without any hesitation he admitted that someday he would love to be involved in an America's Cup program. But he quickly added that it would also be very exciting to design a world-cruising mega-yacht. And then he started to smile as he talked about designing a monster boat for The Race — the nonstop around-the-world event for unlimited boats. "It would also be fun to design a new first-to-finish boat for TransPac," he subsequently volunteered.
After a bit of thought, Andrews admitted that there are also some dream pro-jects that are not necessarily huge boats. "There is nothing like dealing with a client who wants to do something absolutely right," he said. "Someone who doesn't want to cram too much stuff into the boat for its size. Someone who wants the boat to be perfect."
Obviously, Alan Andrews has considered a lot of dream projects — and has lots of dreams. And after spending time with him, you can't help feeling that the little boy who grew up in Newport Beach is living his childhood dream right now. And enjoying every moment of it.
— tom leweck
---
© 1998 Latitude 38