Captain Donald Lawson has spent the past several months sailing up and down the West Coast raising awareness of diversity and inclusion in sailing through aiming to break 35 world sailing records aboard his ORMA 60 trimaran Defiant (formerly Mighty Merloe). After completing his last stop of the tour in Half Moon Bay, Lawson headed to L.A., where he was scheduled to haul the boat for some maintenance and upgrades. Last week, on the last night before reaching its waiting dock at the Los Angeles Yacht Club, Defiant was grounded on a rocky shoal some 12nm off the Southern California coastline.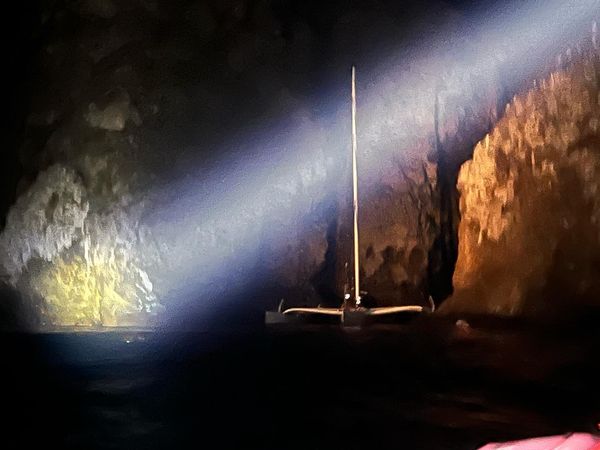 We spoke with Capt. Lawson about the situation that occurred in the dark hours of Wednesday night. "It was around midnight," Lawson told us over the phone. "We'd motorsailed through some dead spots coming out of Half Moon Bay, and around Point Conception we got some breeze." Although the wind allowed Lawson and his crew, his wife, also an accomplished and experienced sailor, to pick up speed on their southbound journey, they still had several miles to go when they decided to drop anchor and get some rest before making their way into LAYC the next morning.
"Not everyone has dock space for us," Lawson said, "and there was a lot of traffic." They dropped anchor at Anacapa Island, part of the Channel Islands group. While it initially seemed like a safe place, Defiant dragged anchor, bringing the boat perilously close to the shoal. Lawson raised the anchor but quickly realized they were destined to meet the ground. "We were smashing onto the shoal, bouncing around." That was when they decided to call for a tow, rather than risk further damage by trying to sail or motor out of the cove. During the 90 or so minutes that it took for TowBoatUS to arrive, Lawson lowered the daggerboard to try to stave off some of the damage to the outer hulls. "It took the brunt," he added. The boat was eventually pushed up against the rock wall, which he said actually steadied the boat and helped stop it from slamming further against the wall and the shoal.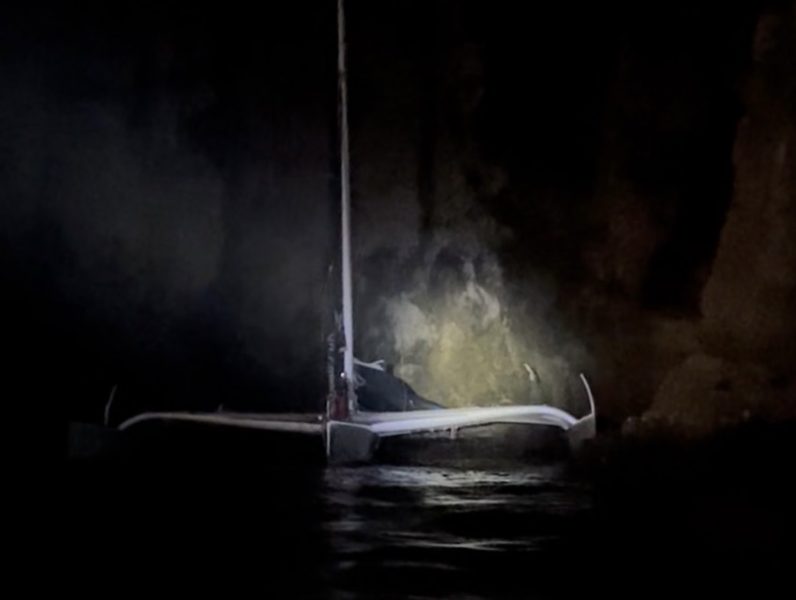 TowBoatUS Ventura and Channel Islands reported on social media, "Along with the US Coast Guard, Captains Paul and Carson responded to Defiant's distress call. A large kelp bed and shallow waters prevented resources from getting too close. To get the victims out of harm's way and to act as quickly as possible to preserve the value of the vessel and before pollution could have occurred within the Channel Islands National Park and NOAA Channel Islands National Marine Sanctuary, Captain Carson was placed in the water to bring a towing hawser through the kelp and make an attachment to the vessel. The vessel, and the two people on board, were safely removed from the island and towed back to Ventura Harbor where they were brought to the launch ramp because of their size."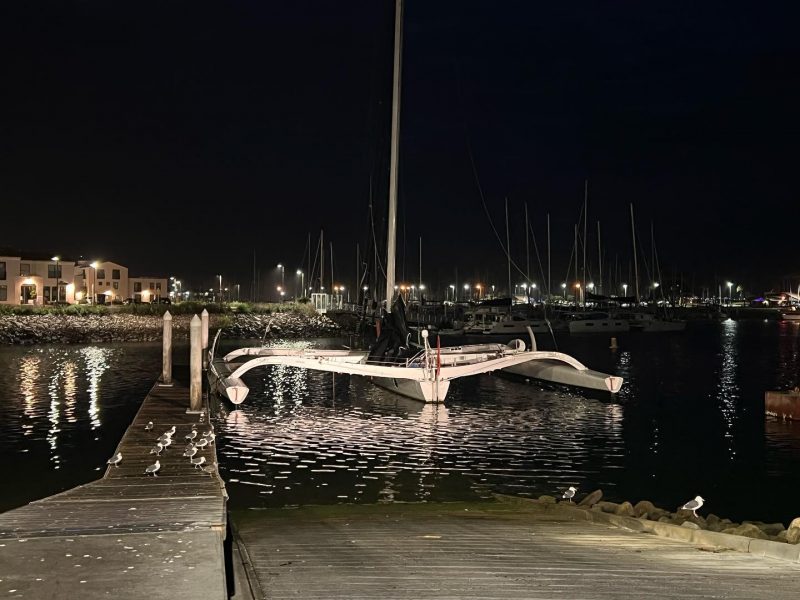 Capt. Lawson reports that both he and his wife, and the vessel, are fine. Defiant was scheduled to be hauled out and have reinforcements made to her hulls. So some of the damage will be taken care of in this way. But regardless, she is currently being surveyed to determine the full damage, which includes some damage to her port bow, the rudders and the daggerboard.
In response to an article posted by Scuttlebutt, Capt. Lawson wrote the following:
"Those who have sailed with us and been following us have seen how difficult it has been to anchor or moor the boat as she tends to sail right over her anchor or mooring. We have tried a bridle system off the beams, the bow and even found some success at stern anchoring her.
"Ultimately, the boat with her wing mast tends to catch the wind and tries to sail.
"That evening as we were placing the anchor, a giant Danforth, with 50ft of line and chain out, the anchor wouldn't catch and we drifted. We let out more line but still no catch.
"The new anchor we have is a giant plow anchor, which I didn't want to need for this type of boat because it will be tough to raise up but at this point, the need for a reliable anchor is most important."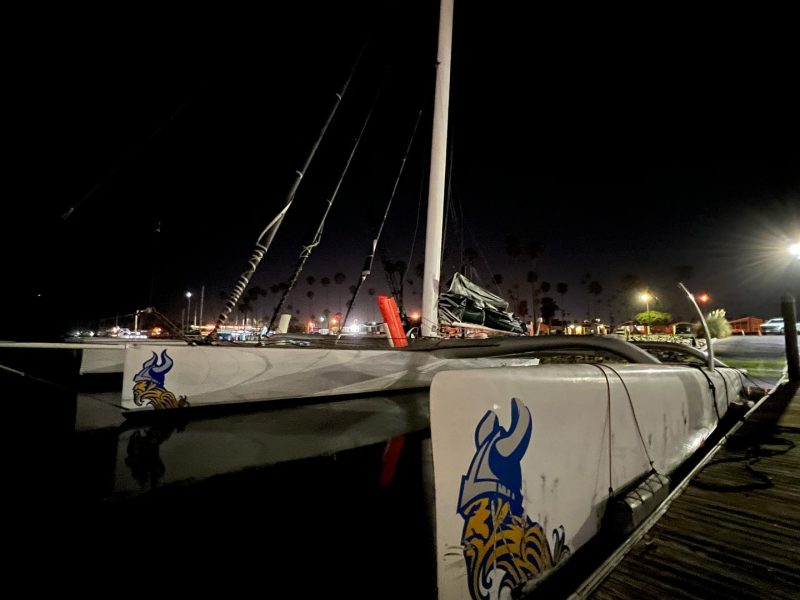 The coming weeks will be filled with scheduled maintenance and upgrades, and now necessary repairs, as Lawson prepares to undertake his first record sail this coming fall. In the meantime, he is grateful for the assistance he received in bringing his boat and crew to safe shores. "I just want to say a big 'Thank you' to the TowBoatUS crew who came out to help us," he concluded.
You can learn more about Captain Donald Lawson and his plans here.
Receive emails when 'Lectronic Latitude is updated.
SUBSCRIBE