Captain Donald Lawson Sailing to San Francisco Aboard 'Mighty Merloe'
In the current, May issue of Latitude 38, we shared a story about Captain Donald Lawson and his plans for the recently acquired ORMA 60 trimaran Mighty Merloe, which Lawson is, in turn, renaming Defiant. Lawson's goal (among other record-setting goals) is to become the first African American to sail solo and nonstop around the world. In conjunction with his plan, Lawson has created a foundation, Dark Seas Project, and serves as the current chairman for US Sailing's Diversity, Equity and Inclusion (DEI) Committee.
As we write, Lawson is sailing Mighty Merloe from Newport to San Francisco, and will be at the Corinthian Yacht Club on Wednesday, May 25, at 7 p.m. to talk about his mission to set singlehanded records, DEI opportunities in the maritime industry, and the environmental benefits of clean energy systems.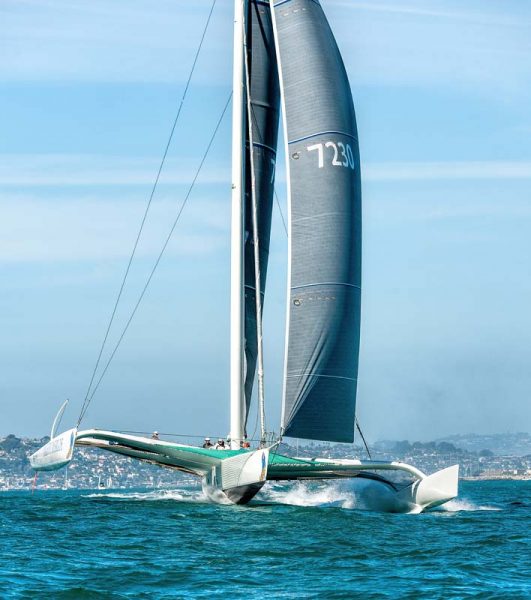 Lawson's visit to San Francisco is part of a West Coast speaking tour during which he will visit sailing centers, yacht clubs and schools to talk about DEI opportunities in the maritime industry, as well as the environmental benefits of clean energy systems. "No system out there is perfect, but the goal is to try and do things in the cleanest and safest way possible while still achieving your goals. That is why we are focused on developing systems that will allow us to prove you can be successful while also being smart," Capt. Lawson said.
Mighty Merloe (previously named Groupama 2) was acquired from the sailing team owned by Howard Enloe. Known at one point as "the fastest ORMA 60 of all time," the trimaran already holds several sailing records, including the Transpac Yacht Race — 4 days, 7 hrs, 3 mins and 30 seconds. "We feel blessed and fortunate that Mr. Enloe and his team had built this boat up to where she is now. Even when she was winning races for Franck Cammas as Groupama 2, she wasn't this fast!" Lawson noted.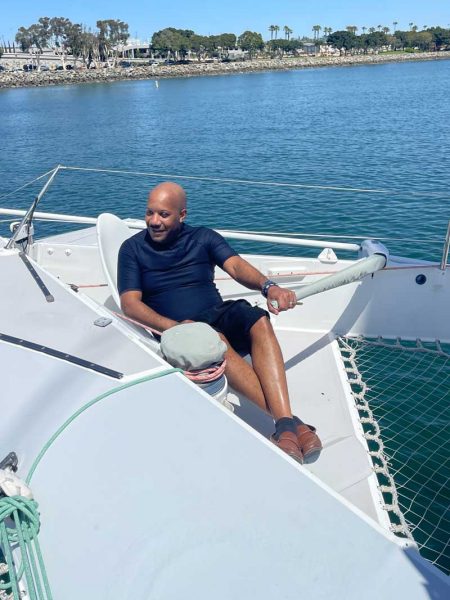 As they continue their West Coast tour in the coming weeks, Lawson and the Dark Seas Project team will head to Seattle, stopping along the way for talks and boat tours, and to introduce youth to the opportunities available in sailing. Although Lawson is known for his work to help diversify sailing, he believes he can do more. "When I started, I didn't have a role model in the sport who looked like me. I hope that through my work, we won't have the next generation go through the same. I want to leave the sport better than I found it."
The perception of sailing as a "white man's sport" certainly rang true for Lawson — he didn't see himself represented in the sailing community, despite growing up in a predominantly Black city. But that didn't stop him from forging his own path forward. "When I started off, I was the only African American I saw, but my passion, love and drive made me forget about issues or people who didn't want me there," Lawson told US Sailing. "I didn't care — I was going to do what I love to do."
If you are located on the West Coast and would like Captain Lawson to visit your center, please contact him here: [email protected]. But first make sure you have space for his boat. Defiant (Mighty Merloe) is 60-ft LOA, with 58-ft beam and 5-ft draft with the board up (15-ft 9-in with board down) and has a 100-ft spar.
You can follow Captain Donald Lawson and his program at: facebook.com/captaindonaldlawson and instagram.com/captdlawson/.
Receive emails when 'Lectronic Latitude is updated.
SUBSCRIBE