What a great crew! After a terrible start to our Friday night beer can race, we were forced to tack for clear air in vain. While the crew decided there wasn't much they could do to help improve the skipper's starting tactics they thought they could at least make it easier to tack. They offered to help clean and grease the winches. How could we say no? Both Randy Gridley and Tom Woolly have dismantled, cleaned and greased many winches in the past, but unless you do it regularly, pulling the drums off a new set is always a fresh learning experience.
Polishing the outside of the winch is easy, but cleaning the inside is a different animal. Randy helped prepare the list of materials needed, which included winch grease for the heavy bearings, light oil for the pawls and springs, new springs, acetone for cleaning, rags, brush to apply the light coating of grease, paper towels, rags and sunscreen. When disassembling, we took photos and placed each piece down in order of removal. This is where digital photography comes in super-handy.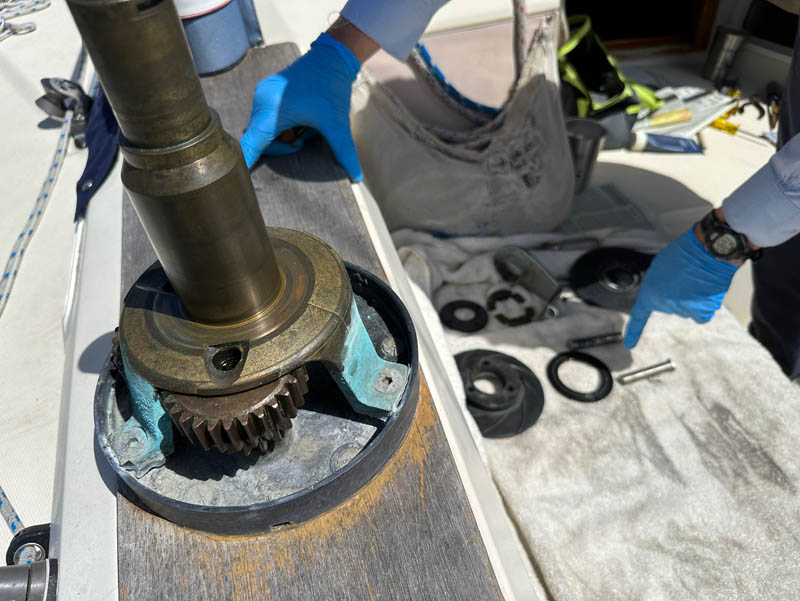 It helps to have a nice day and not be in too much of a rush, since patiently taking photos and laying components out for reassembly is critical to remembering how to put them all back together. Varnish looks like another task for the future.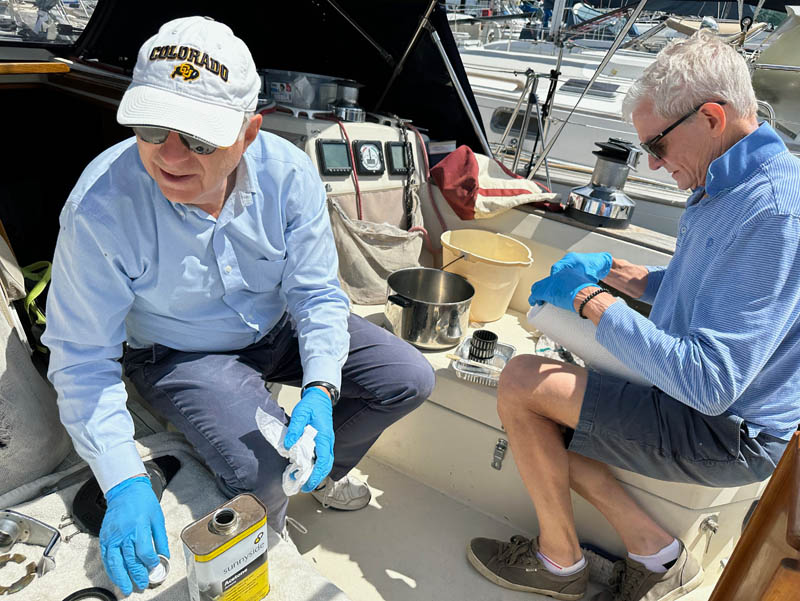 Another hot tip was to do one winch at a time. If you take two completely apart you don't have one to look at when you're flummoxed on how to reassemble them. Having an assembled winch to look at when you're reassembling the first one is a big help.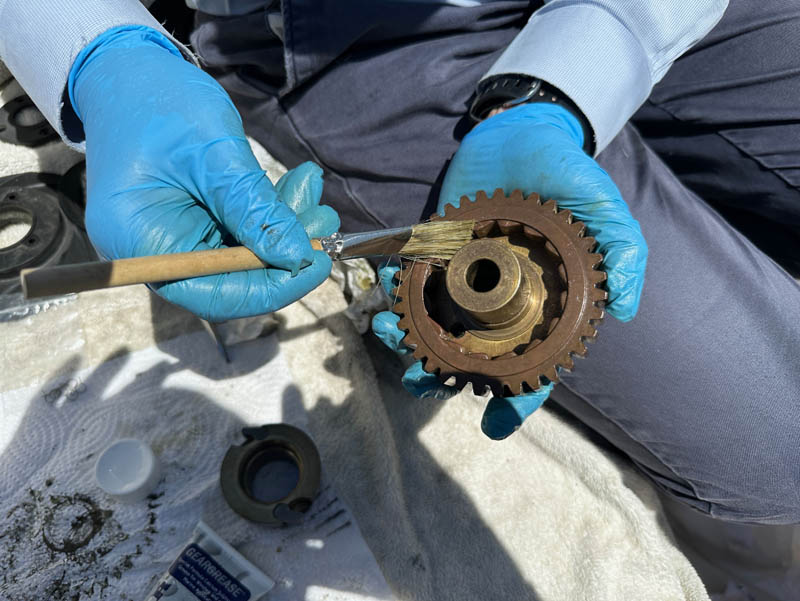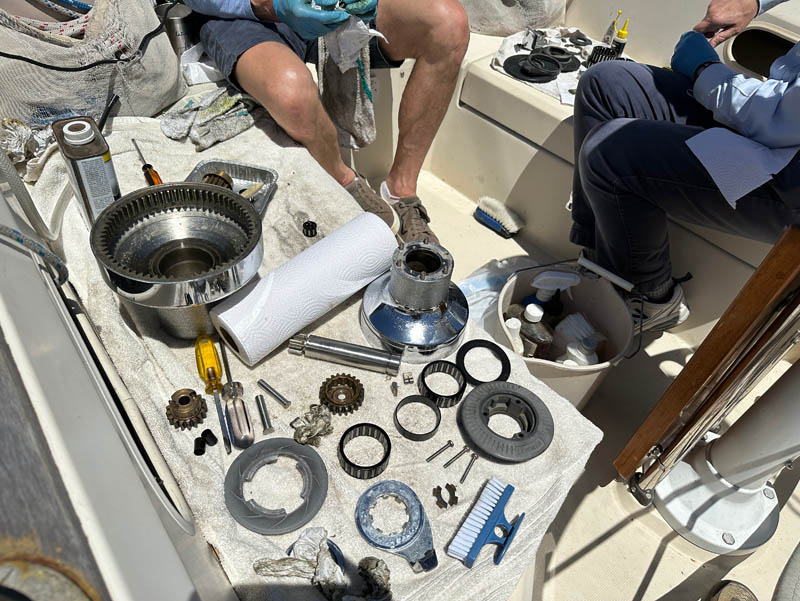 We disassembled the port-side primary and secondary winches first. It was again important to keep the parts for each clearly separated. Mixing them up can add many frustrating hours to putting the jigsaw puzzle back together again, though having the starboard-side winches assembled as a handy reference was reassuring.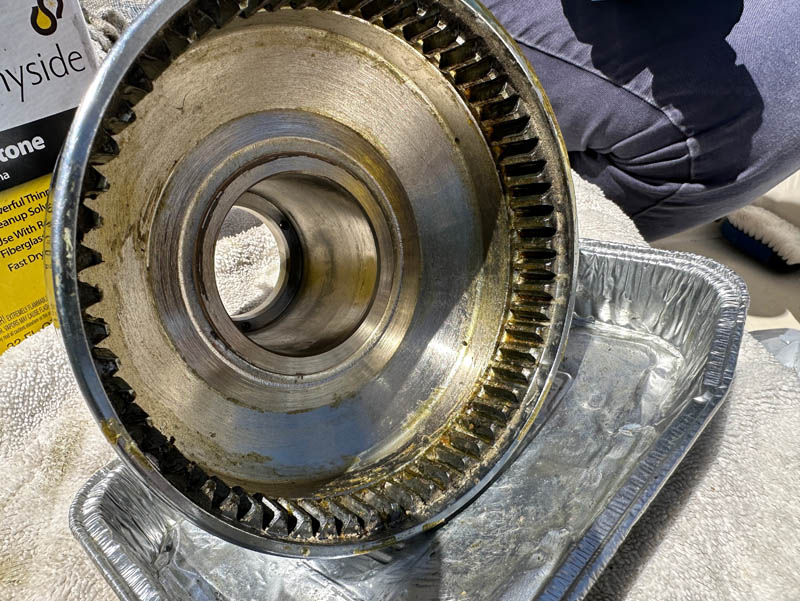 Some of the teeth and other elements were pretty gummy with grease that had to be scraped out with a screwdriver before the acetone could do its work. Eventually the scraping and acetone had them glistening before we reapplied fresh, clean grease.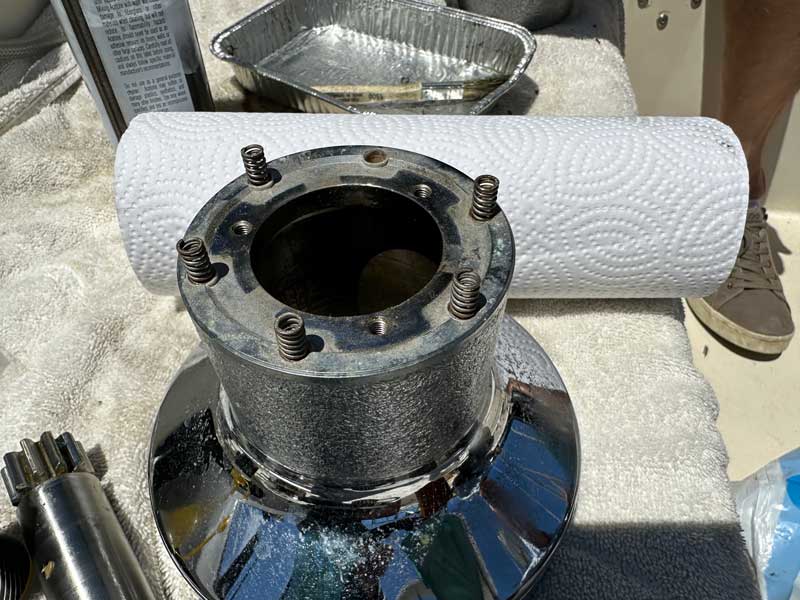 We did get them all put back together with very few extra parts left over. Oddly, the two-speed winches are single-speed, and port and starboard don't match. Actually, it all came out perfectly. It was awesome to have knowledgeable, helpful crew to take on this task, and reassuring to see the winches in good shape and cleaned up for another 10 years! Just kidding. We'll do them again in a couple of years. How often do you clean yours?
We know none of this will help the skipper's starting abilities, but it should ease the crew's pain when we're again tacking for clear air.
Receive emails when 'Lectronic Latitude is updated.
SUBSCRIBE