Orca Attacks Could Be Retaliation – or Stress
Of course! It's 2020. Why wouldn't orcas be ramming sailboats in the waters off Portugal and Spain? For the past several weeks our social media feeds have been reporting orca attacks. We all know not to believe everything we read on social media, but the 33 known incidents are being substantiated by multiple press agencies. So it must be true!
According to The Guardian, attacks have been recorded since at least late July. On July 29, biology graduate Victoria Morris was crewing aboard a 45-ft sailboat off the coast of Spain when a pod of nine orcas surrounded the boat. Morris, who had experienced orcas at play while she worked as a sailing instructor in New Zealand, initially believed the animals were behaving normally — "being lovely and playing around." However her opinion changed quickly when the animals began ramming the boat's keel and biting the rudder. Morris said the attack, which lasted over an hour, felt "coordinated."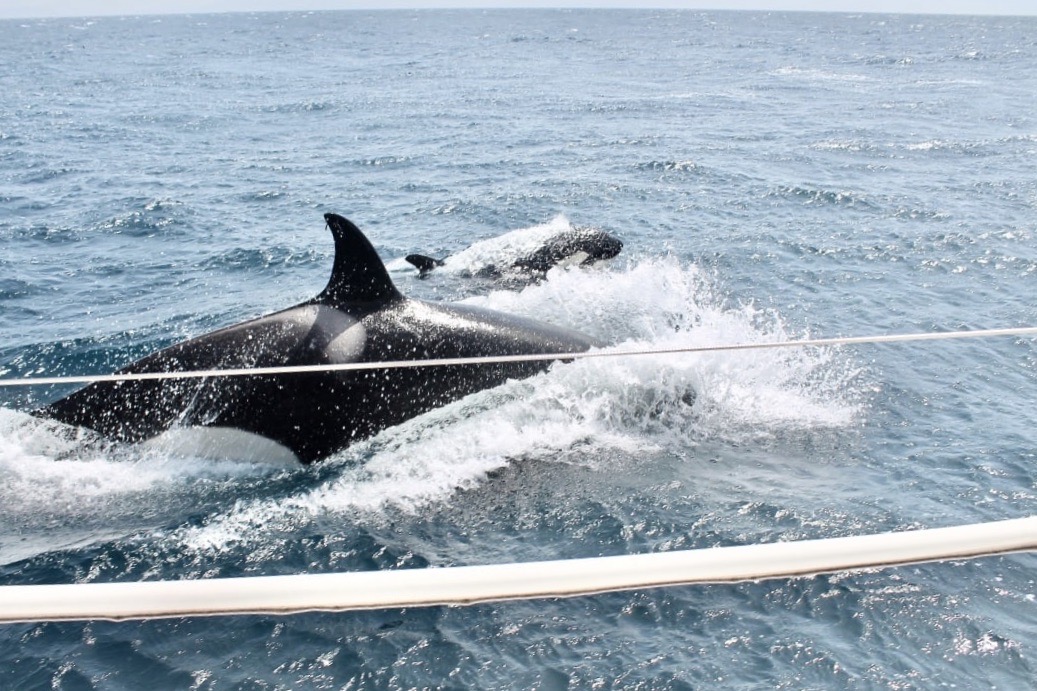 Earlier that day Nick Giles had felt the orcas' wrath when they disabled the steering of his 34-ft boat. He described a "horrific bang 'like a sledgehammer'" and said he felt his boat lift, and was then pushed around for several minutes. And on the previous night, British couple Beverly Harris and Kevin Large were aboard their 40-ft yacht that was "brought to a sudden halt, then spun several times; Harris felt the boat 'raise a little'."
Scientists are searching for explanations for the seemingly random attacks. Some are exploring the idea that the orcas are retaliating. A Gizmodo report says, "New research suggests the animals were likely wounded during previous encounters with boats and may be acting vengefully." Other scientists question if the behavior could be due to "stress caused by a lack of food," or simply annoyance at the return of boats to their waters, which had been quiet for some months due to COVID lockdowns.
If the orcas are indeed hungry, perhaps that would explain their habit of biting at rudders. BBC News reports that Scottish sailor Graeme Walker, his wife Moira and their friend Stephen Robinson felt the orcas attack their 48-ft boat before they saw them. The sailors told the BBC that the orcas persisted in their harassment for around 45 minutes, during which time the crew prepared their life raft. Walker said "The boat would literally spin through 90 degrees when the animals came in," and described the wheel spinning from side to side as the animals bit and shook the rudder.
In the meantime, Spanish maritime authorities initiated a temporary ban on vessels of 15m (approx. 50-ft) or less for coastal sailing between Cape Prioriño Grande and Estaca de Bares Point in Galicia.
To date there has been no conclusive statement about the orcas' intentions, and the theories of revenge and stress appear to be the most agreed-upon. Of course, there is the possibility that the offending animals are simply displaying an overabundance of youthful vigor and enthusiasm. Gizmodo further reports that experts are considering whether behavior is based on the orcas' natural curiosity and suggest the orcas could find their actions satisfying, as they result in "a rather large object coming to a grinding halt or slowing down appreciably."
Regardless of the reasons behind the orcas' startling behavior, researchers agree it is potentially indicative of a problem that is  endangering the already-dwindling species of this region — fewer than 50 remain.
Receive emails when 'Lectronic Latitude is updated.
SUBSCRIBE