Happening This Week
Racing this week, through October 2, is the J/105 North Americans, hosted by San Francisco Yacht Club. Berkeley YC will host the Express 37 Nationals on Friday-Sunday.
St. Francis YC will run the Calvin Paige Regatta for Moore 24s this weekend. Meanwhile, Los Angeles YC will host the Mercury Pacific Coast Championship.
This Saturday, Half Moon Bay and HMBYC will put on a show for El Toros. "Looks like a moderate south wind and flat water," writes El Toreador Gordie Nash. "There will also be Coast Guard rescue demonstrations and other town events — a good day to be on the coast. Should also be warm weather. Please pre-register, then go to calendar and click on Vice Commodore's Regatta October 1." We expect that Lasers, Cal 20s and Coronado 15s will also race in the Vice Commodore's Regatta.
Next Week
Registration fees increase on October 4 for the Olson 25 Nationals and Wylie Wabbit Nationals. Save the $50 late fee and register early. SFYC will host the regatta on October 7-9. The club will also run their Fall Classic Regatta for Bird, Bear, Folkboat and Alerion 28 classes on that Saturday and Sunday.
Sequoia YC's Moonlight Marathon will sail under the evening sky on October 8. El Toros will Stampede at Richmond YC on the 9th, and on that same Sunday, Berkeley YC's weekly Chowder Series will kick off.
Mid-Month Regattas
On October 15, St. Francis YC will host classic wooden boats in the Jessica Cup, and Oakland YC will have their Oktoberfest.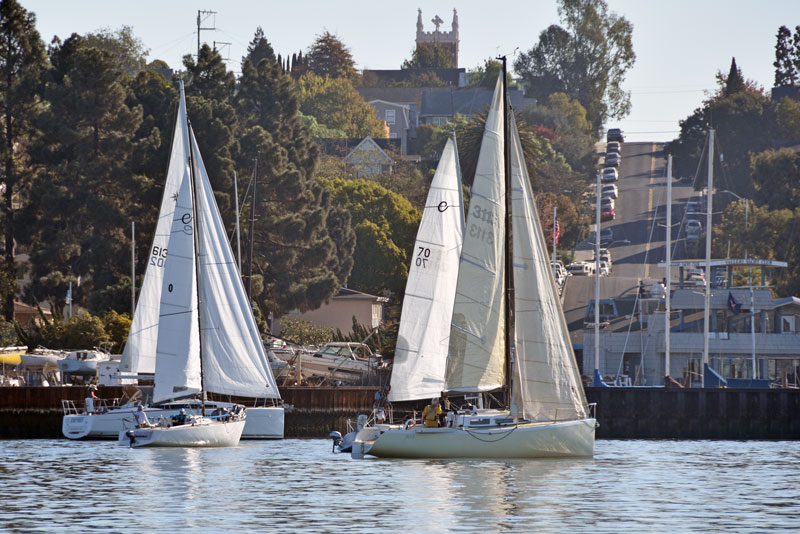 The unique regatta that is the SSS Vallejo 1-2 will happen on October 15-16. Race to Vallejo YC singlehanded on Saturday; pick up one crew and race from VYC to RYC doublehanded on Sunday.
StFYC's Joe Logan/Fall Invitational Regatta will sail on October 16 only. The Joe Logan Regatta is open to all Mercury skippers in good standing with the class association. The Fall Invitational Regatta is open to all Knarrs, Folkboats, and J/24s whose skippers are members in good standing with their class associations. Each class must have a minimum of six boats registered by October 12.
The Fourth — but Not Final — Weekend
The following week, San Diego YC will host the International Masters Regatta on October 21-23. The week after that, SDYC will hold the San Diego Lipton Cup on October 28-30.
Tiburon YC will hold their Joan Storer Memorial Women's Regatta on October 22. "This race is open to everyone," says TYC. "No woman skipper available? That's OK, but the skipper and crew must be made up of at least 50% women."
Also on the 22nd, El Toros will descend upon Sequoia YC ifor the Corkscrew Slough Regatta in Redwood City.
StFYC will host the Fall Dinghy Regatta and I420 Pacific Coast Championship on October 22-23. The regatta is open to 5O5, I14, C420, I420, ILCA 7, ILCA 6, ILCA 4, RS Tera, RS Feva and Opti classes whose skippers are members in good standing of their respective class associations. Other one-design dinghy classes are invited to contact the StFYC Race Office by October 7 for possible inclusion.
Don't Get Spooked!
As October creeps along to its demise, some regattas are popping up that will send shivers down your spine — no matter what the weather holds in store!
Tiburon YC's Red Rock Regatta and Halloween party will be on Saturday, October 29. This race will complete the club's Round the Rocks Race Series. Meanwhile, down south, Alamitos Bay YC in Long Beach will host a Halloween Regatta on that date.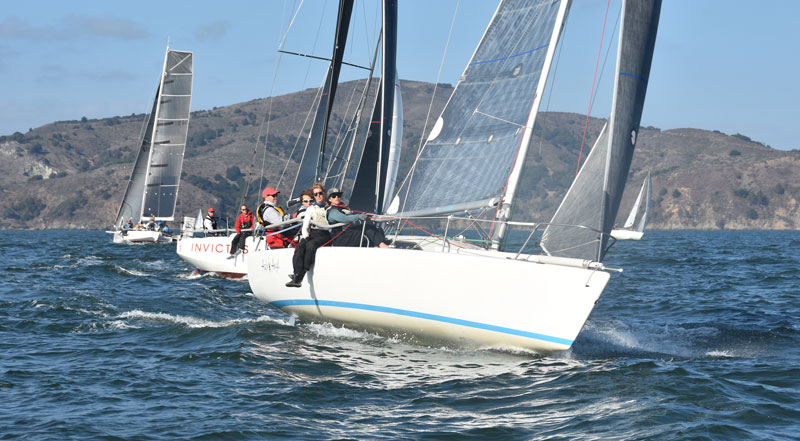 RYC's Great Pumpkin Regatta will occupy the full weekend of October 29-30, with buoy racing on Saturday, a pursuit race on Sunday, and a Halloween party in between with dancing to the tunes of Shark Sandwich and a costume party. The theme this year will be Día de los Muertos.
You'll find these and many more in our Calendar, coming out in the October issue of Latitude 38 this Friday, September 30.
Receive emails when 'Lectronic Latitude is updated.
SUBSCRIBE