Last week, when we wrote about the Honeys' final race aboard Illusion in the Bermuda Race, reader Mike Z wote in comments, "The only way this story could be better is if they won their final race in this old boat and captured the St. David's Lighthouse Trophy against the world's best sailors and equipment …" Well, they did it.
Winning the largest division in the race, the St. David's Lighthouse Division with 108 boats, was Illusion, the Cal 40 owned by Sally and Stan Honey. Illusion's victory is the fourth time a Cal 40 has won the St. David's Lighthouse Division, following Vincent Learson's Thunderbird in 1966 and Peter Rebovich Sr.'s Sinn Fein in 2006 and '08. Racing with 1984 Olympic gold medalist Carl Buchan (Seattle, WA), fellow Cal 40 owner Don Jesberg (Belvedere, CA) and multitasker Jonathan "Bird" Livingston (Richmond, CA) as bowman, Illusion completed the 635-nautical-mile course with an elapsed time of 87h:01m:33s, good for a corrected time of 51:02:13 and a decisive victory of more than two hours over Andrew Clark's (Greenwich, CT) J/122 Zig Zag. Jim Murray's (Lake Bluff, IL) Pac52 Callisto, the divisional line honors winner, finished third, just 15 seconds astern of Zig Zag on corrected time.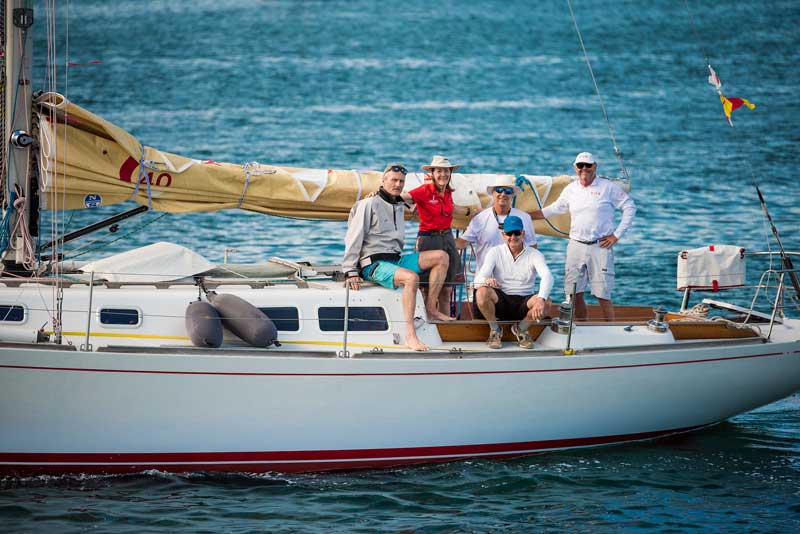 Sailing their "final hurrah" in Illusion (they've sold the boat to Stan's nephew), Sally Honey said it was the perfect ending to an illustrious 33-year run with the boat.
"The conditions were perfect for our boat, and we had a pretty good navigator onboard," Sally said, referring to her record-setting husband, Stan. "Stan chose a really good course, and the conditions were just what the boat loves, heavy-air reaching. A lot. We got into a Gulf Stream eddy and stayed in it for about seven hours. That gave us a good boost. We managed to stay in the wind most of the way down. We had a couple of light spots, but nothing like the later boats."
Sally Honey said that they hit a top speed of 22 knots with Buchan on the helm Saturday night. She woke up the sleeping crew with hoots and hollers of excitement, but otherwise they spent most of the race with the wind on the beam.
"We didn't have that much water on the deck," said Sally. "When reaching, the boat heels right over and the more wind you get the faster she goes. Really, it was a dream trip, fabulous. I wouldn't change anything."
It was a fast, rough year for the Bermuda Race, with conditions that suit this West Coast crew and boat. While we'll miss the many stories we've shared of the Honeys and Illusion, it's a fitting final victory lap for the boat and couple aboard their legendary Cal 40 Illusion.
See the full race results here.
Receive emails when 'Lectronic Latitude is updated.
SUBSCRIBE