Founded, the Punta Mita Yacht & Surf Club
March 29 - Punta Mita, Mexico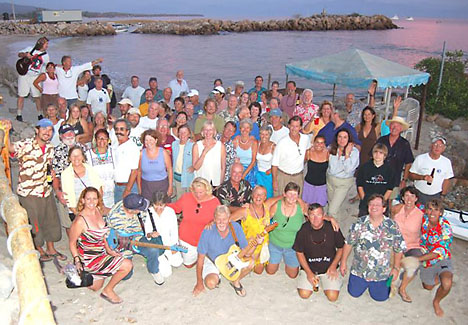 New members in front of the club
It all happened on Monday night, when over 200 people showed up at Hector's Margarita Restaurant on the beach at Punta Mita, Mexico, a facility that from this time will double as the Punta Mita Yacht & Surf Club. Philo Hayward of La Cruz and his musician friends provided the sounds.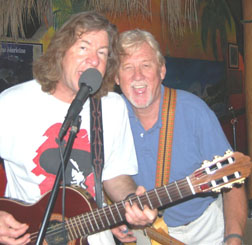 Philo Hayward (right) and friends played for the crowd.
The purpose of the club is to encourage sailing and surfing on Banderas Bay, be naughty, but not do any serious evil.
Right from the get go the club is making some serious claims. Having the most stunning Commodore - Linh Goben of Savannah - of any yacht club in the world. Having the best surfer - Rob Machado - of any yacht & surf club in the world. And being the only yacht club with a member - Greg LeMond - who has won the Tour de France three times. Now all the club needs is a couple of good sailors. It may also be the first mixed yacht club in the world that is a matriarchy. In addition to Commodore Linh, Doña de Mallorca is the Vice Commodore, Cherie Sogsti is the Rear Commodore, and Anne Blunden is the Commodore.
| | |
| --- | --- |
| Commodore Linh Goben | Greg LeMond and Rear Commodore Cherie Sogsti |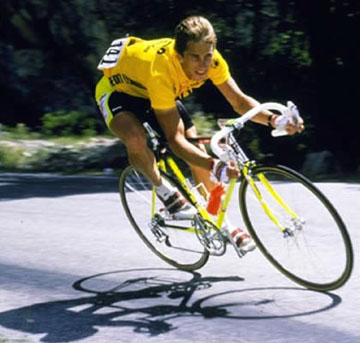 Greg LeMond in his yellow jersey days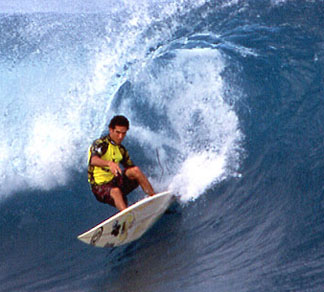 Rob Machado
Photo Giuseppe Repetto/www.photorepetto.com
The club's initiation fee is $1, and the annual dues are nada. But, you have to either have sailed to the club, surfed the break out front, or done a Baja Ha-Ha to become a member. After all, nobody wants the club to be open to just anyone.
Alas, the club is full until more membership cards can be printed. Regularly scheduled events will begin in November. Cowabunga! For a list of founding members, scroll down to today's final item or click here.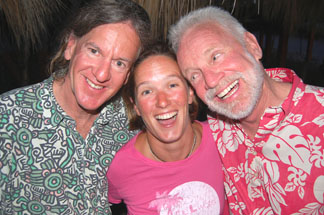 New club members (l-r) Bruce Ladd, Eugenie Russell and Alan Weaver
Most photos Latitude/Richard except as noted
The Punta Mita Yacht and Surf Club, Margarita Restaurant, and Latitude 38 will be providing free high speed Internet access to the Punta Mita anchorage, hopefully starting next week.