Team Pure and Wild Rings the Bell in Ketchikan
Yesterday, June 21, the three lads of Team Pure and Wild celebrated the first day of summer by ringing a certain bell in a certain town in Southeast Alaska. The following is extracted from the Race to Alaska's press release.
After a run under sunny skies, Team Pure and Wild sailed into Ketchikan to the sound of cheers and applause. It was just 4 days, 4 hours, and 32 minutes after they left Victoria, BC.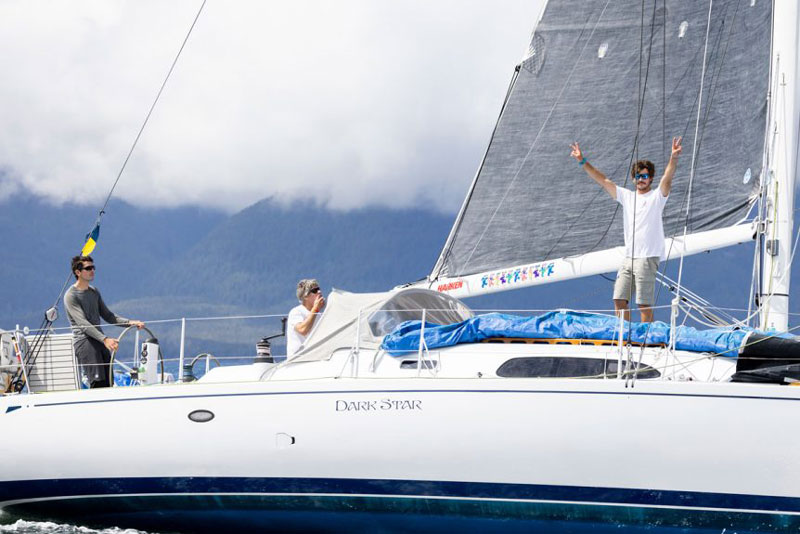 Jonathan McKee, Matt Pistay and Alyosha Strum-Palerm rang the bell, drank the beers, kissed their loved ones, and offered thanks. There were cameras and microphones (so many cameras and microphones), questions and stories, and crowd-wide curiosity about what had happened in the last 750 miles.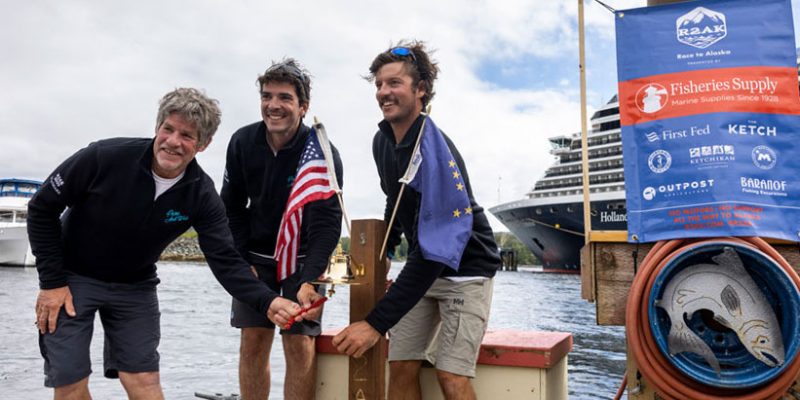 Olympic and otherwise accomplished sailors on a fast, custom, proven vessel finished not just first but more than a time zone ahead of the nearest competitor. Their downwind, down-current sleigh ride in the sun ended in $10,000.
You may recall that Team Pure and Wild chose the Pacific Ocean route, taking Vancouver Island to starboard. From pounding into big seas for the length of said island, a sketchy full-send shimmy out the bowsprit to retrieve a wayward tackline, and the log strike in Hecate, to shredding their spinnaker when they took it down on the final night, there were plenty of occasions to rise to. One night it was so rough and uncomfortable that at least one of them got seasick despite his many ocean miles. "I ate a Dramamine then immediately puked." But these moments of challenge weren't survived, they were executed.
Were they tired? Sure. Their crew had been sleeping three hours out of every nine since the race began. Three hours to sleep, three at the helm, and three to make food, help out on deck, and do chores.
Secret Weapons
As much as their experience manifested in their ability to sail fast and safely, Team Pure and Wild had two secret weapons: real food and ballast. The ability to have relative comfort has an underrated importance in a race as long as this. The pizza, lasagna, chili and chicken fingers that they ate for breakfast, lunch and dinner had the calories and sustaining comfort to keep them going.
Secret weapon #2: ballast. Enabled by R2AK's Wild West rules, the team's ability to move weight from low side to high side played a huge role in their performance. The Riptide 44 Dark Star has built-in water ballast: port and starboard tanks that allow you to fill the windward tank with water to counterbalance the force of the wind and keep the boat flatter and faster. Short-course race boats use meat ballast: humans who clamber side to side between tacks. The water-ballast system allowed Team Pure and Wild to drive big-boat performance with a shorthanded crew.
Champions of spirit and of deed, Team Pure and Wild is sailing to raise awareness and funds for SeaShare, a nonprofit that works with the fishing industry to get seafood's high-quality protein into food banks and other food assistance programs.
A few items from yesterday's numerically themed fact sheet:
36: Minutes Team Pure and Wild missed getting the R2AK World Record for fastest monohull. (2019's Team Angry Beaver – Skiff Sailing Foundation holds the record: 4 days, 3 hours, 56 minutes).
1: Number of people who have taken first place in multiple R2AKs (Matt Pistay: 2019, 2022).
18.83: Least mileage of any team so far in a 24-hour period (Team Dark Star; not to be confused with Team Pure and Wild's boat name, which is also Dark Star).
183.3: Highest mileage of any team so far in a 24-hour period (Team Pure and Wild).
25%: Of full race teams have dropped out.
Check the tracker to see where the 24 teams remaining in the race are: https://r2ak2022.maprogress.com. As of this morning, Team Elsewhere, sailing a Soverel 33, appears to be closing in on the second-place steak knife set.
Receive emails when 'Lectronic Latitude is updated.
SUBSCRIBE