The 2021 Great Pumpkin Regatta welcomed us back with wicked wind shifts, one-design racing, and one heck of a Wild Wild West party.
Medusa was on the upwind leg, a Santa Cruz 27 sailing swiftly with her crew on the rail. We were a crew lightweight in stature, all granola-eating types, two women, young — and on the Berkeley Circle, there was just enough wind to provide an exhilarating ride. While sailing together is almost always fun, this was a nice change from the mid-20-knot winds typical of the summer months. After a brutal 2021 Nationals and some equally breezy Bay races, we were simply delighted at not being overpowered for once.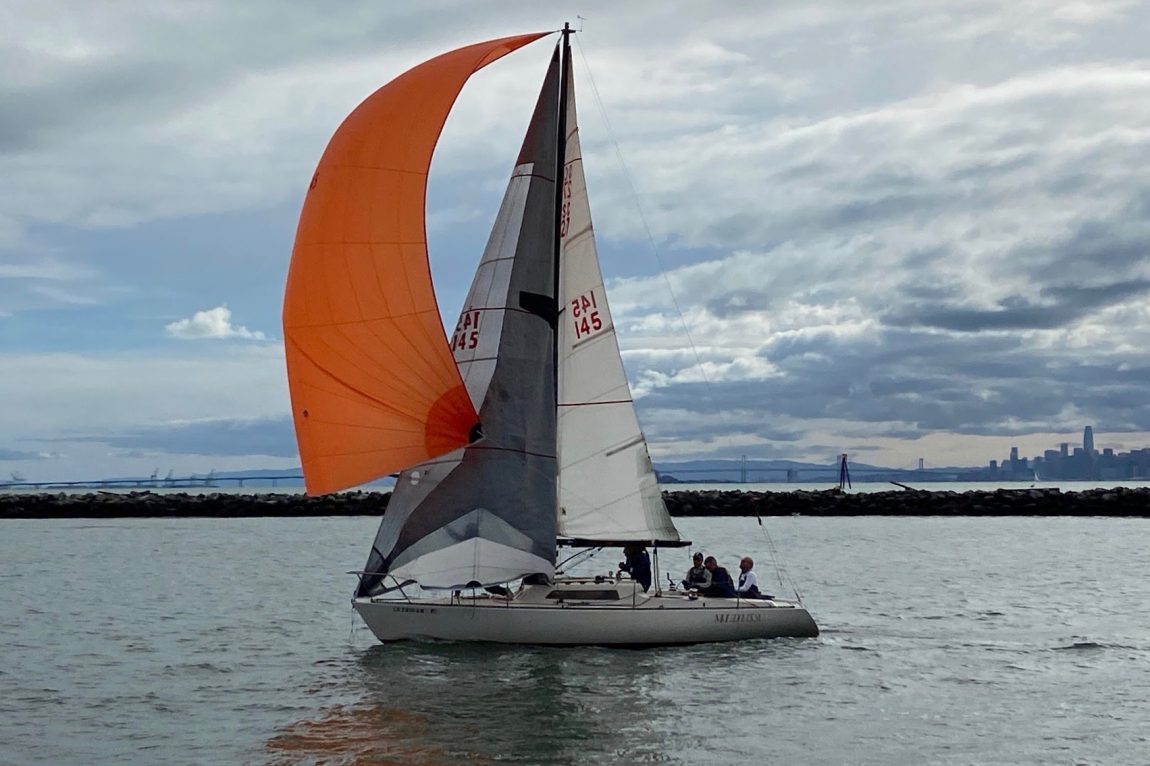 Saturday was buoy-racing day at the 2021 Great Pumpkin Regatta and our hosts, Richmond Yacht Club, offered the SC27s their own start. Despite the unusually sparse showing, the two other boats who turned up were a formidable lot. Rick Raduziner's Lickety Split handily beat us in doublehanded racing earlier in the year. And David Garman's Giant Slayer had come fourth in the highly competitive Nationals. But we had improved, and were excited to see where we stood in the one-design fleet.
We knew that if the wind stayed steady, we would be in a favorable position. But squalls were moving through the course and the wind was shifting this way and that, moving the ladder beneath us. We tacked just as we hit the layline and almost immediately encountered a 90-degree wind shift. Suddenly, the upwind leg had become a beam reach. I pulled out the spinnaker pole and laughed to myself as we marched what seemed like a mile toward the offset mark. For the rest of the race, nobody really knew which way was up or down; it was unpredictable, wet, and some of the most entertaining sailing I've done in a while!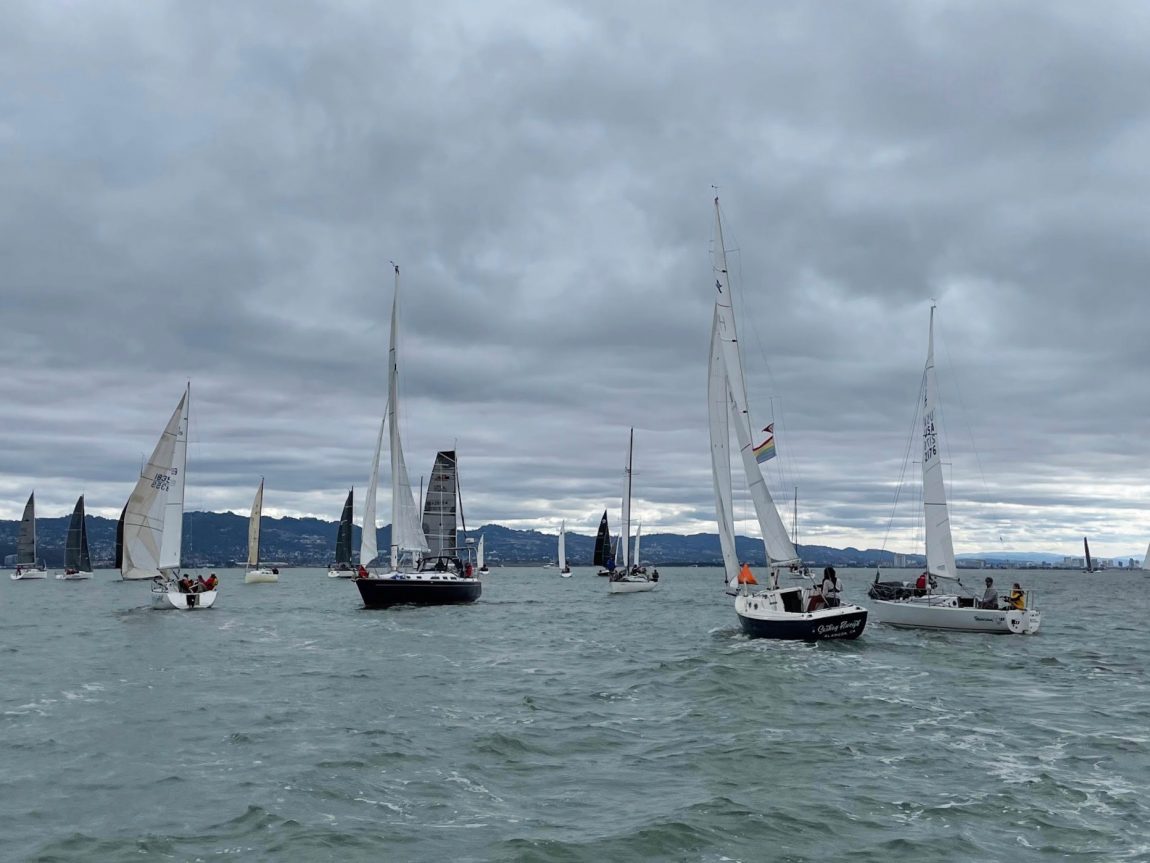 That afternoon, we duked it out in three races. Lickety Split came first, Medusa came second and Giant Slayer was near third. We were all thrilled to have a day of tactical racing, with Lady Luck occasionally shining through the clouds and fog. Afterward, I was grateful for a cold seltzer, a hot shower and a fresh set of clothes. I stepped out feeling brand-new, albeit dressed as a train conductor. As the post-race awards kicked off, I slipped amongst my crew — two dressed as engineers, two dressed as bandit cowboys. A Nashville belle sauntered up with a tray of jelly shots, just as my friend Maya — sporting a midriff top and Daisy Dukes — threw a literal noose around my neck. This was RYC's famous Saturday night party, and the Wild Wild West theme was absolutely no understatement.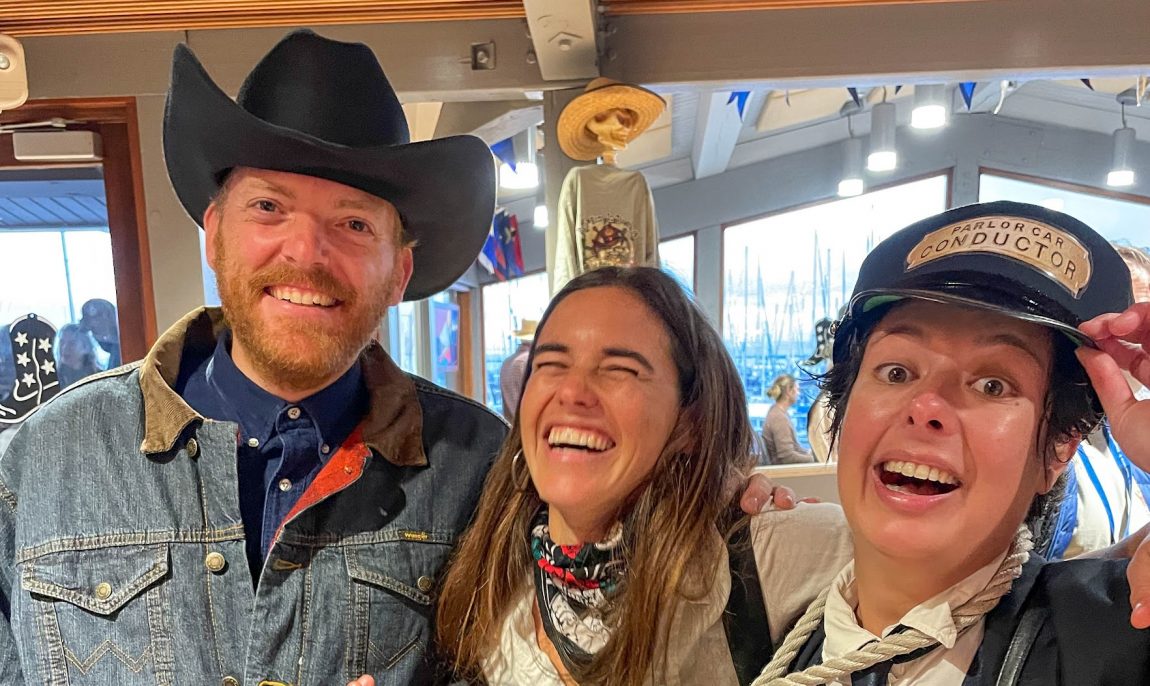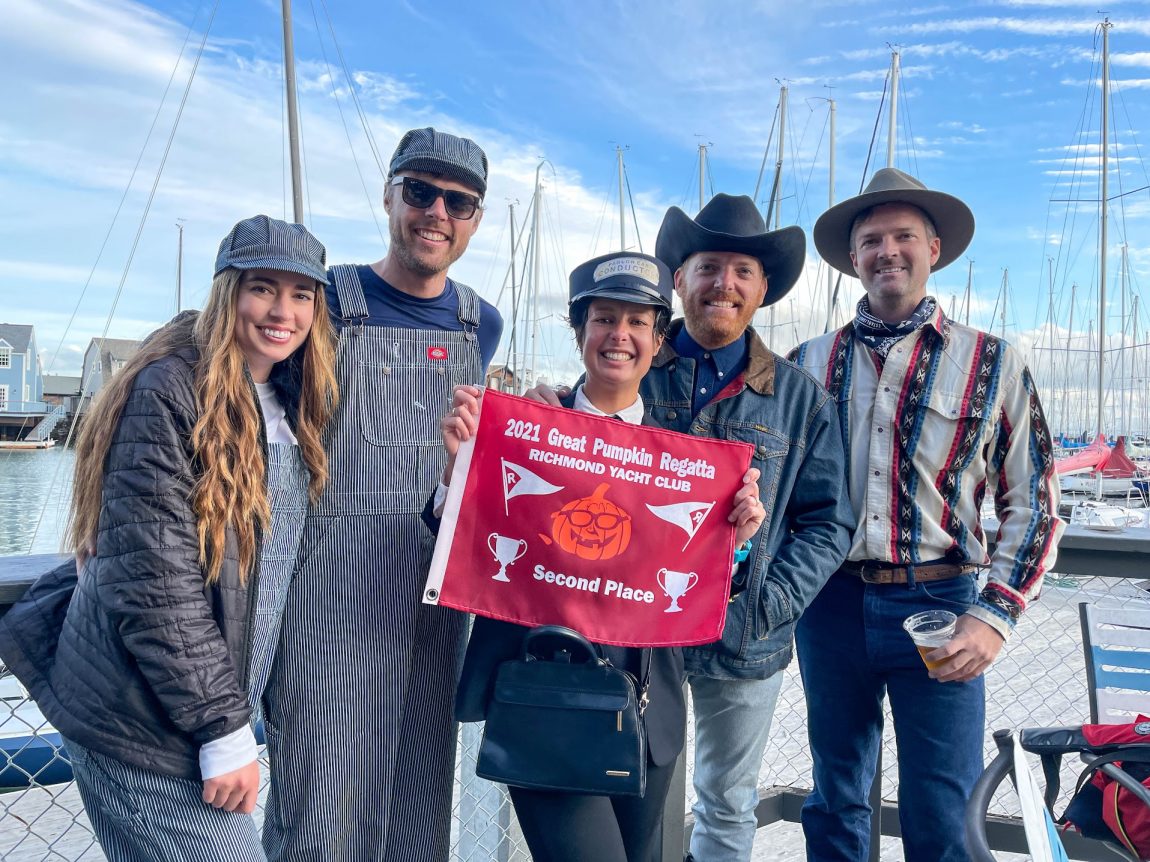 It was no surprise that the fleet hit the course, guns blazing. In 2019, the Sunday pursuit race was canceled due to a gale. In 2020, with the pandemic in full effect, a socially distant pursuit race was held, and there was certainly no party. In 2021, we had finally returned to normal, albeit carrying our vaccination cards and two years of pent-up anticipation.
With the pursuit race, participants have the choice to sail around the San Francisco Bay islands — Angel and Alcatraz — either clockwise or counterclockwise. The "correct" strategy is well debated by all, factoring in winds, currents, and more often than is admitted, "the way the good sailors are going." Some call it a coin toss, but almost everyone has a thesis behind their educated guess. We chose clockwise, anticipating breeze and a slack current when entering Raccoon Strait. Even when the two directional fleets met northwest of Alcatraz, it seemed that we had made a reasonable choice. Better still, we had overtaken a handful of Moore 24s — every passed boat being a positive in a pursuit race. But it was clear as we sailed downwind past Keil Cove that there were dozens of spinnakers — a true kaleidoscope of nylon kites — tearing past Southampton Shoal and toward the finish line just outside the Richmond Channel. My goodness, we had sailed well, but when you're going the "wrong" direction, the only place to find victory is inside yourself.
William Pryor captured this video of the start of the 2021 Great Pumpkin Regatta aboard Medusa.
From second in our division to 75th out of 108 finishers — well, isn't that how it goes? After "rescuing" a floating pumpkin on the course, we docked at RYC to claim our pumpkin pie prize, and enjoy one last celebratory drink. Once more, the RYC patio filled up with racers, happy to see one another, grateful for their crews, camaraderie and yet another exciting day on the Bay. At that moment, we West Coast racers all felt as if we had won a little something during the Great Pumpkin Regatta weekend — and it was wild.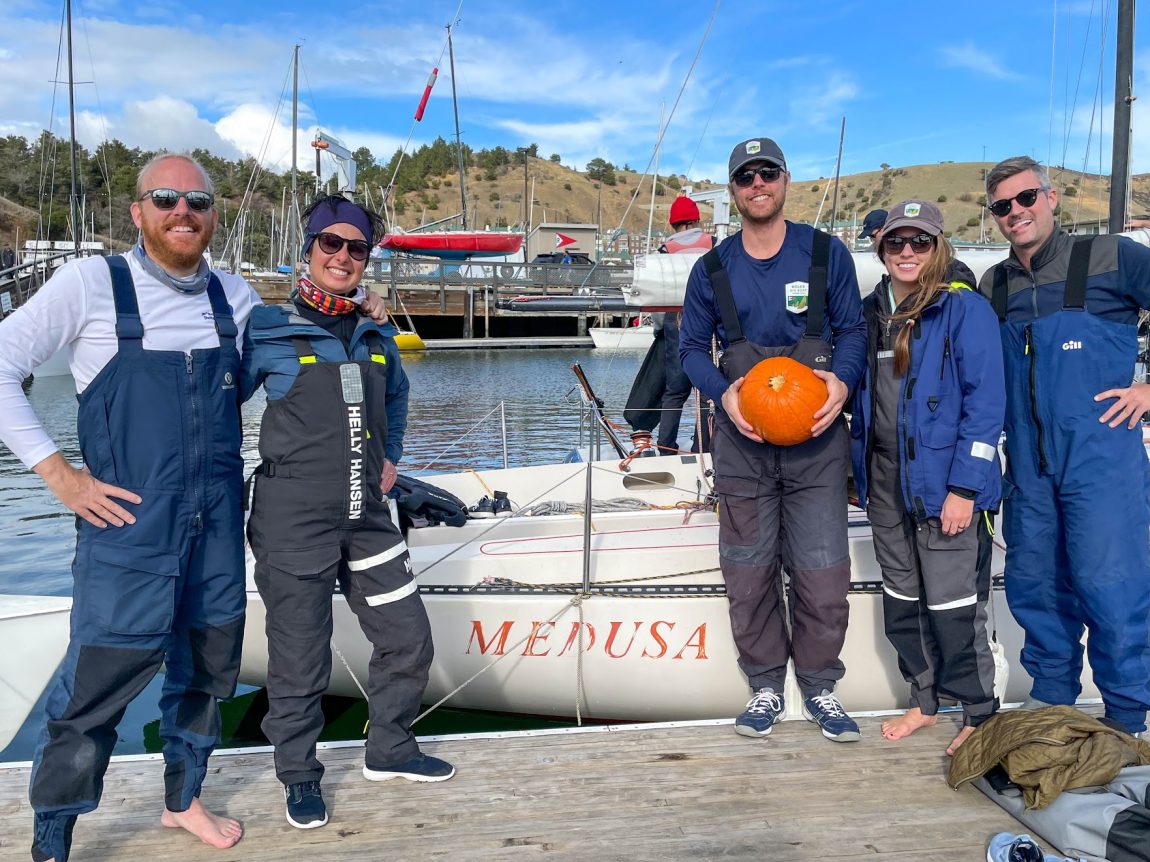 Receive emails when 'Lectronic Latitude is updated.
SUBSCRIBE