One of the greatest records in all of sailing was claimed by the famed clipper ship Flying Cloud, which sailed from New York to San Francisco in 1851 in just under 90 days, then bested that mark three years later. Lost in the lore of Flying Cloud is the story of the ship's navigator, Eleanor Creesy. To our knowledge, there is no "complete" narrative of Creesy, but rather, a series of anecdotes.* There are no photographs of the iconic navigator, either, even though she lived through the birth and proliferation of photography. (*Thank you to the readers who mentioned David W. Shaw's book, Flying Cloud: The True Story of America's Most Famous Clipper Ship and the Woman Who Guided Her, in the comments to this story.)
Born in Marblehead, Massachusetts, in 1814, Creesy learned how to navigate from her father, John Prentiss, captain of the schooner Californian, according to the book A World of Her Own: 24 Amazing Women Explorers and Adventurers. "The townsfolk gossiped when Captain Prentiss instructed his daughter in the basics of navigation," reads A World of Her Own. "They couldn't understand why he was teaching Eleanor a skill that was practiced solely by men. In the 1820s, very few girls attended school. But Captain Prentiss loved navigation, and since he didn't have a son as an apprentice, he saw no reason not to pass his knowledge on to his clever and interested daughter."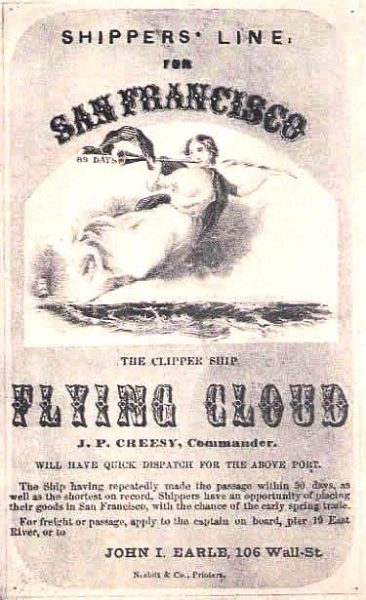 "For Eleanor, navigation was not only a joy, but a path to a bigger life than that available to a Marblehead wife,"  A World of Her Own continues. "She wished for a life at sea, and hoped her training in navigation would earn her a place aboard a ship." At age 26, Eleanor met Captain Josiah Perkins Creesy, who was only six months her senior, but had been in command of a ship for three years. "Eleanor and Perkins' marriage was a partnership both in love and occupation."
The Creesys sailed some 10 years aboard Oneida, including several trips to China. But the couple had never been around Cape Horn. In 1851, the captain/navigator duo took command of the Boston-built Flying Cloud, the most famous of the clipper ships built by master designer Donald McKay. In April 1851, a reporter for the Boston Daily Atlas wrote of the new vessel: "If great length [235 ft], sharpness of ends, with proportionate breadth [41 ft] and depth, conduce to speed, the Flying Cloud must be uncommonly swift, for in all these she is great."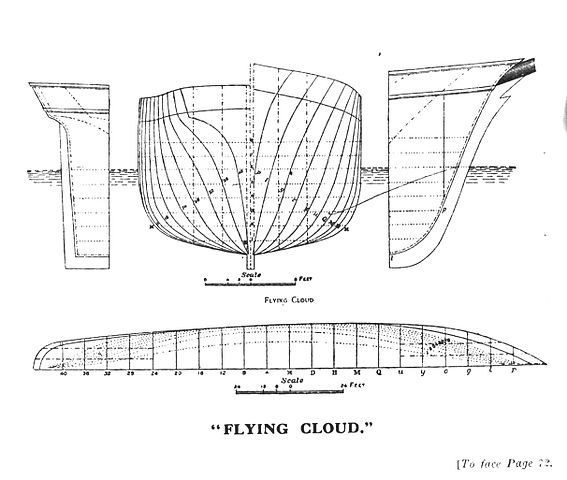 Before Flying Cloud made its historic voyage, Creesy read Explanations and Sailing Directions to Accompany the Wind and Current Charts by Matthew Fontaine Maury, who was considered the father of oceanography. The book "was viewed with some skepticism by old ship captains," according to the New England Historical Society (NEHS). "It was based on exhaustive studies of the logs kept by naval and merchant ships. Maury recommended a new route around Patagonia that  Creesy decided to follow."
Within six weeks after her 1851 launch, Flying Cloud sailed out of New York Harbor, bound for Cape Horn and then San Francisco. "The first time Eleanor Creesy calculated how far Flying Cloud had traveled in a day, she thought she'd made a mistake," NEHS wrote. She couldn't believe the ship was that fast. She checked for mistakes. In one day, Flying Cloud covered 389 miles, a greater distance than had ever been covered in a day, even by steamships."
Flying Cloud arrived in San Francisco 89 days and 21 hours after departing New York. Typically, the New York-to-San Francisco voyage — which is colloquially known as the "Gold Rush Route" — took some 200 days. "In the wake of their record-setting transit from New York to California, Eleanor and Josiah became instant celebrities," said Wikipedia. "But their fame was short-lived and their story was quickly forgotten."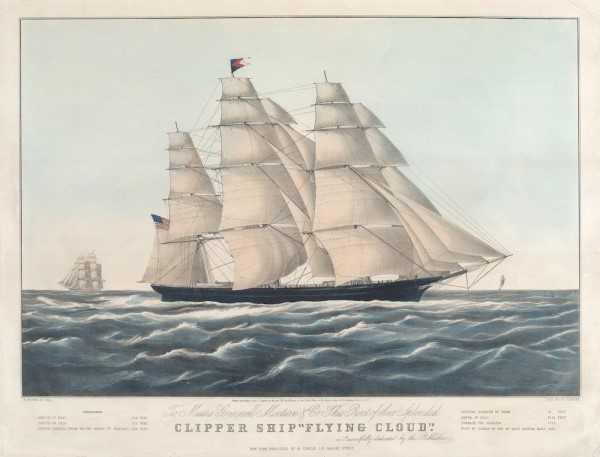 Two years after their historic voyage, Josiah and Eleanor Creesy broke their record by 13 hours, according to NEHS. "They continued to sail together until the Civil War, when Josiah volunteered as a lieutenant, commanding a small clipper ship. After the war, the Creesys retired from the sea and lived on a farm in Salem, Massachusetts. John died in 1871; Eleanor lived to be 85, passing away in August 1900."
In 1989, Warren Luhrs, aboard the 60-ftThursday's Child, finally broke Eleanor Creesy's record, sailing the Gold Rush Route in 80 days and 20 hours. In 1998, skipper Yves Parlier and crew made the passage in the 60-ft Aquitaine Innovations in 57 days and three hours. (In 2008, the 109-ft catamaran Gitana 13 sailed the route in 43 days and 38 minutes.) Finally, in 2013, Giovanni Soldini led an international crew aboard a Volvo 70, sailing the Gold Rush Route in 47 days.
At the awards ceremony in San Francisco, Soldini paid homage to Eleanor Creesy. "She chose a nearly perfect route, with no information, no satellites, no anything. She really was a fantastic navigator. Much better than I."
Receive emails when 'Lectronic Latitude is updated.
SUBSCRIBE