While many eyes are on the Vendée Globe fleet that is currently conducting light-air battle down the Atlantic, two 105-ft foiling maxi-trimarans have slipped away under the cloak of darkness to join the fun. Departing their docks in France overnight to sail up to the island of Ushant — off Brest — Gitana Team's Maxi Edmond de Rothschild and Sodebo Ultim 3 are now making simultaneous attempts on the coveted Trophée Jules Verne. Currently set at a very quick 40 days and 23 hours by Francis Joyon and his crew on IDEC Sport in early 2017, the reference time has proven difficult to beat, especially in light of Joyon's fantastic weather window that propelled him across the Indian Ocean at a frenetic pace.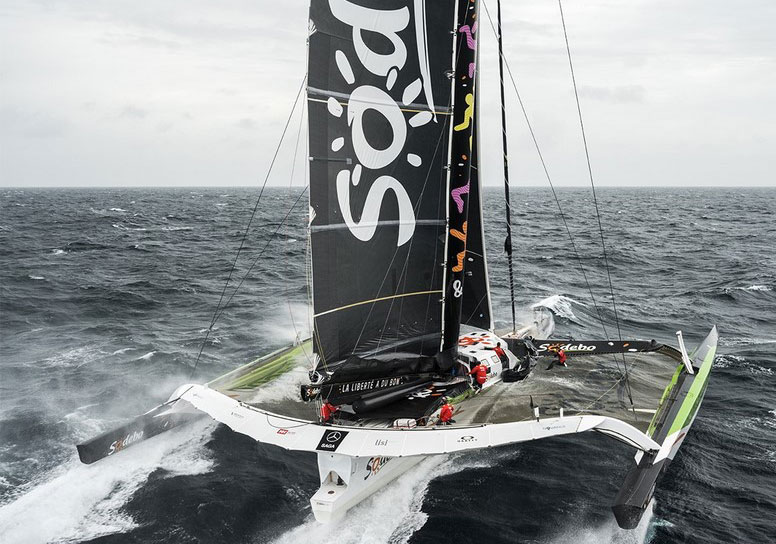 With the blessings of their two respective weather routers, Marcel van Triest and Jean-Luc Nélias, Gitana Team and Sodebo have opted to jump on a weather window where a well-formed Azores High and a moderate low-pressure over the Iberian Peninsula have created a compression zone with strong northerlies. This brisk wintertime breeze should carry both boats swiftly to the latitude of the Canary Islands, where the two big trimarans can then hook into the northeast trades and hit the equator in less than five days. Initial routing shows a quick crossing of the South Atlantic and at least a path to entering the Southern Ocean on a record pace in about 10 days.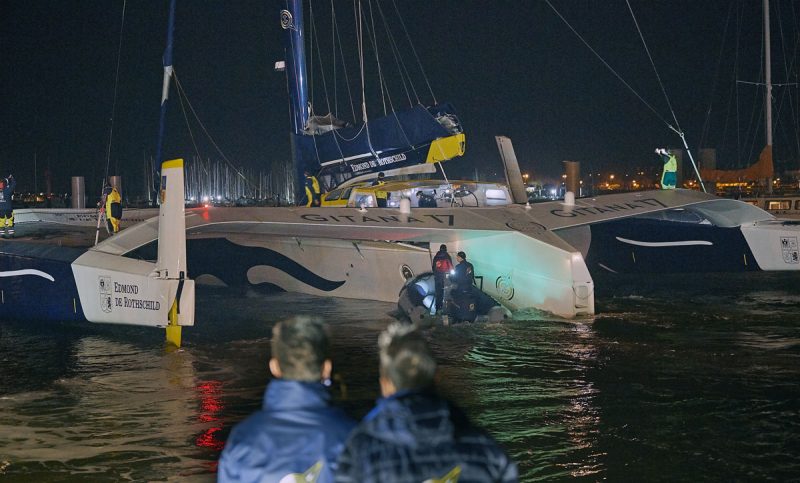 As of this writing on Wednesday morning, both boats have just thrown in a jibe right off Spain's Cape Finisterre after a very quick crossing of the Bay of Biscay. Thus far, Maxi Edmond de Rothschild has shown a big speed advantage, starting some 36 minutes behind Sodebo Ultim 3 yet already overhauling Sodebo and jumping out to a bigger lead on Joyon's reference time: 51 miles as opposed to 37. Skippered by both Franck Cammas and Charles Caudrelier, the latest boat from the Gitana stable is looking pretty invincible, barring breakages. The first fully-foiling maxi-trimaran ever launched, Maxi Edmond de Rothschild — also known as Gitana 17 — has been thoroughly optimized over the three-plus years that she has been sailing and has become the clear benchmark for the now-flailing 32/23 Ultim Class.
Thomas Coville's Sodebo Ultim 3, on the other hand, is a newer design, an evolution of Armel Le Céac'h's now-deceased Banque Populaire IX. Only recently beginning to realize her full speed potential, if Sodebo Ultim 3 picks up pace as the miles wear on we won't be surprised.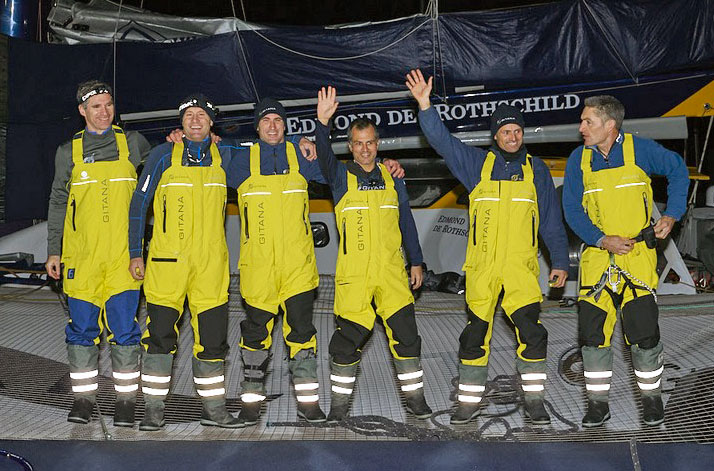 As they cruise along at 35 knots and 30 knots respectively, watch for Maxi Edmond de Rothschild and Sodebo Ultim 3 to put up some big numbers over the next few days, as they can pretty much run a straight and fast line on just one jibe to their equator-crossing waypoint.
Receive emails when 'Lectronic Latitude is updated.
SUBSCRIBE