Berkeley Yacht Club Midwinters Kick Off
It was almost 'Goldilocks' weather for the Berkeley Midwinters on the weekend of November 14-15, 2020 — not too hot, not too cold, but juuust right! The sun was shining, the air was clear and breathable, and there was wind. (OK, it was light wind on Sunday, but there was some wind.)
Saturday
We were able to start on time and there was enough breeze to send the fleet on an 8-mile double windward/leeward course. Thirty of the 31 starters in six divisions were across the finish line in about two hours. Divisions this year included Doublehanded One Design (Express 27), Doublehanded Crewed, and one Singlehander, along with three fully crewed handicap divisions.
Division A, the faster-rated boats, featured the 'new kid on the block', 'io. Buzz Blackett and his new Antrim 27C snatched first. John Rivlin's Peaches topped the Express 27 DH fleet. Will Paxton on his Express 27 Motorcycle Irene had opted to go crewed instead of doublehanded, so he sailed in Division B and grabbed the first.
Division C, a crewed division of boats rated over 132, had the most exciting finish. John Gulliford's J/24 Phantom beat James Fair's Merit 25 Chesapeake by only 1 second!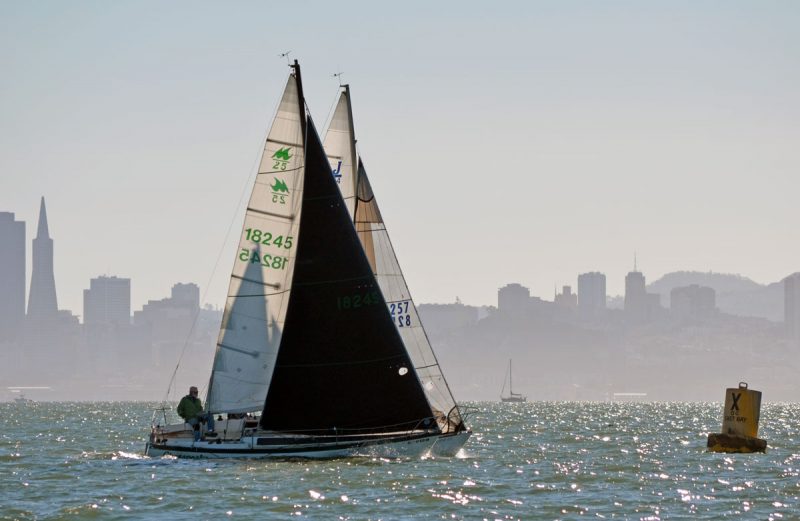 The Doublehanded PHRF division was topped by the two Wylie Wabbits — Colin Moore's Kwazy and Erik Menzel's Harey Legs. (Note: Erik sailed near the race committee boat before the start, and it is true — I saw the legs, honest!)
Rounding out the Saturday gang was Paul Sutchek, the single singlehander, in his Cal 20, Slainte.
Sunday
After a 45-minute postponement, but still in very light winds, the 27-boat fleet in six divisions went out on a single windward/leeward course. The average elapsed time was about 1.25 hours. The Sunday gang traditionally features shorthanded boats, and this year was no exception. Repeating their Saturday option, the Express 27 fleet sailed doublehanded on Sunday. Alerion 28s put together enough for a one-design DH division. There was one lone SC27 doublehander and eight in the Singlehanded handicap division. Two crewed handicap divisions rounded out the fleet.
There was a super-close finish also on Sunday. First and second place in the Alerion 28 DH Division were only 1 second apart. Fred Paxton on Zenaida aced out Bill Erkelens on Hana Hou.
Jonathan Gutoff in his PHRF 135 Laser 28 Stink Eye won the Singlehanded Division. Slainte, Paul Suchek's Cal 20 (rated 273) was second, and third went to Surprise!, Bob Johnston's PHRF 111-rated Alerion Express 38.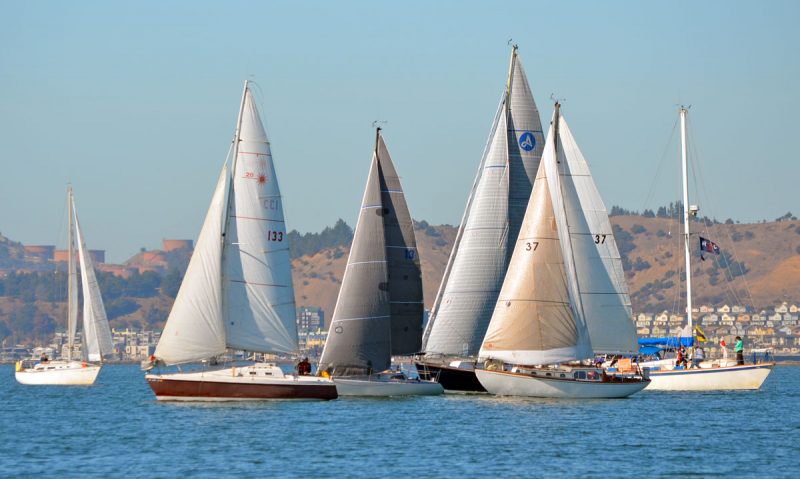 In the Crewed Division 2, Islanders featured in the top two. Larry Telford in his Islander 30 II Antares finished 7 seconds behind, but that was close enough to edge out Strange Magic, Mark Werder's Islander Bahama, on handicap.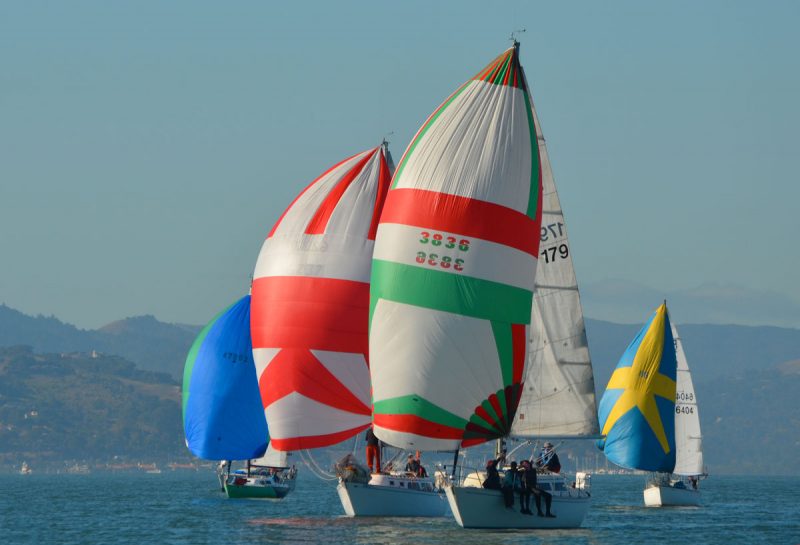 We look forward to the second weekend in December 2020 for round two of four in the 2020-21 BYC Midwinters. With optimism, we hope also to be able to party at the club soon! Find full results and a link to all the photos taken by the mark-set boat driver, Glen Garfein, at jibeset.net.
Receive emails when 'Lectronic Latitude is updated.
SUBSCRIBE