Monday was a "Chamber of Commerce" day on San Diego Bay. Skies were clear and the air was warm as the Baja Ha-Ha fleet took off in a gentle morning breeze. Gentle was at the severe end of the wind spectrum for the first 24 hours as the fleet sailed, motorsailed, and motored south toward Turtle Bay. For the first time, the fleet is now visible on the PredictWind fleet tracker, complete with wind overlay from Windy. These are the conditions those light-air downwind sails are designed for, and they keep the course colorful as everyone seeks a few knots of boatspeed. Since it is a rally, there's no need to rush, and it's a great opportunity to practice south-of-the-border cruise mode.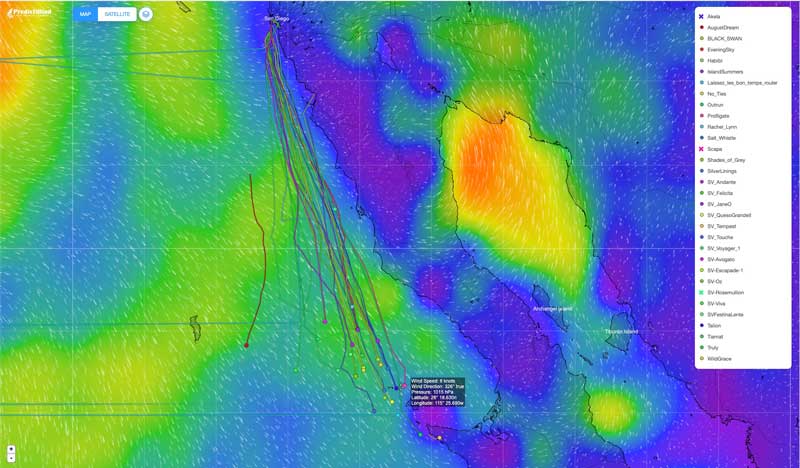 The Ha-Ha start on San Diego Bay attracted quite a bit of news coverage and became the cover image on Tuesday's San Diego Union-Tribune. It was also featured on several TV stations as the fleet headed out past the south end of Shelter Island for the open ocean. It was Zacary Singer's Andrews 56 Encore on the cover, sailing with captain Eugenie Russell. Zac was featured in our February 2022 issue with a story about a major life course change after he was diagnosed with MS, and then learned to sail with help from Eugenie in Puerto Vallarta. He then started SailMS to help others with MS. Four of the six crew aboard Encore have MS, and all were excited to be sailing south as they departed wearing their sailing superhero Halloween costumes.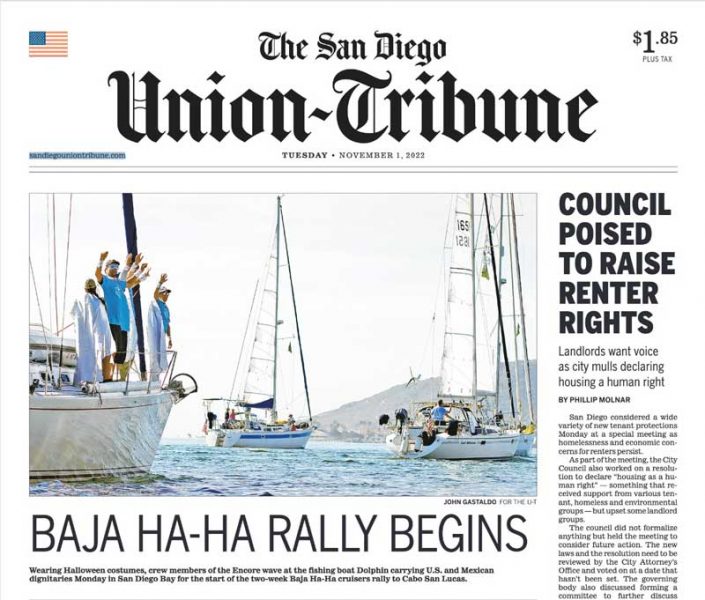 San Diego Bay is another spectacular West Coast venue for sailing. Though often with much lighter air than the Bay Area, it does come with flatter, warmer water and warm sailing temperatures. The past weekend the San Diego Yacht Club ran the Lipton Cup on San Diego Bay, and the weekend before it was the Masters Regatta. Walking Shelter Island, we saw Adjuticator in the boatyard getting ready for a season in the south after her winning performance at the recent Rolex Big Boat Series. All this activity is surrounded by the Port of San Diego, which manages all the port property, so it's always good to see them turn out for a sailing event and to present it to a wider San Diego Bay audience. The Baja Ha-Ha put on a good showing on Monday morning.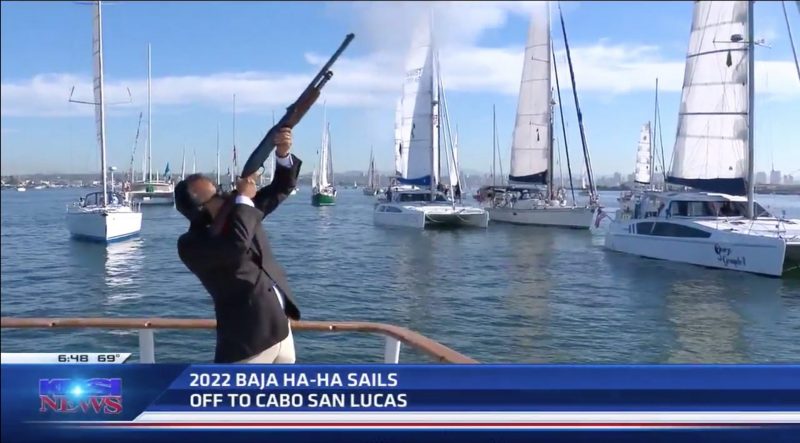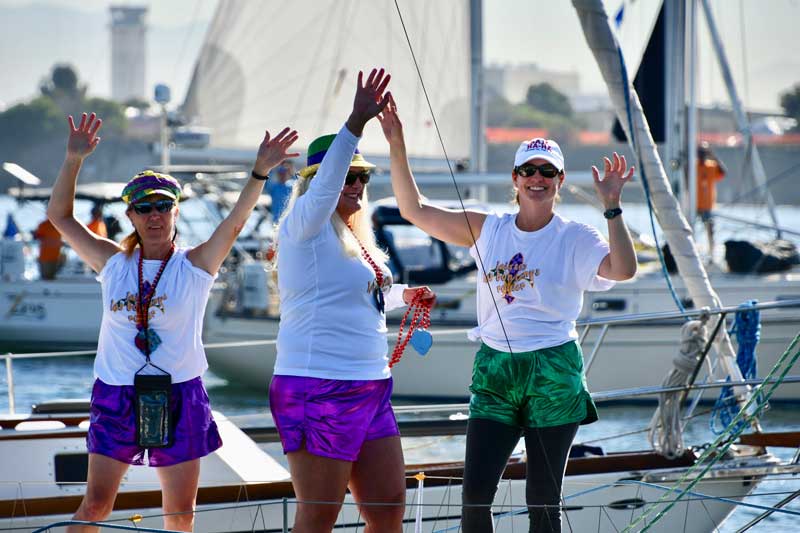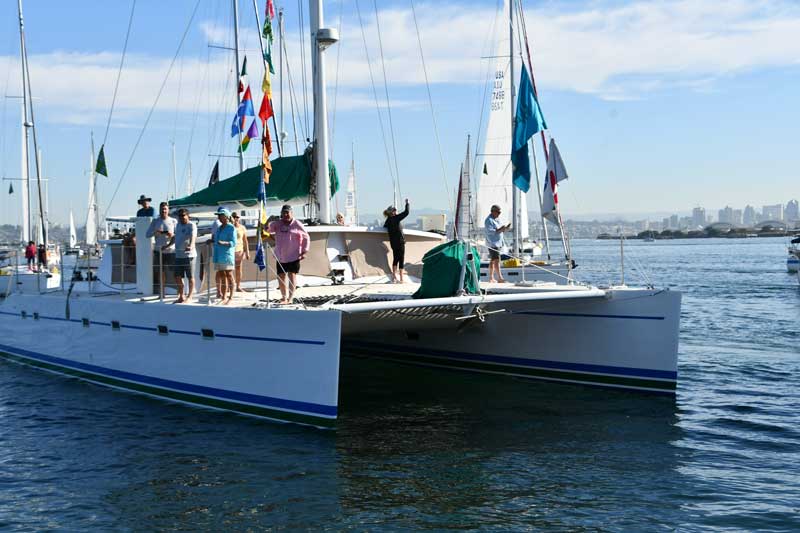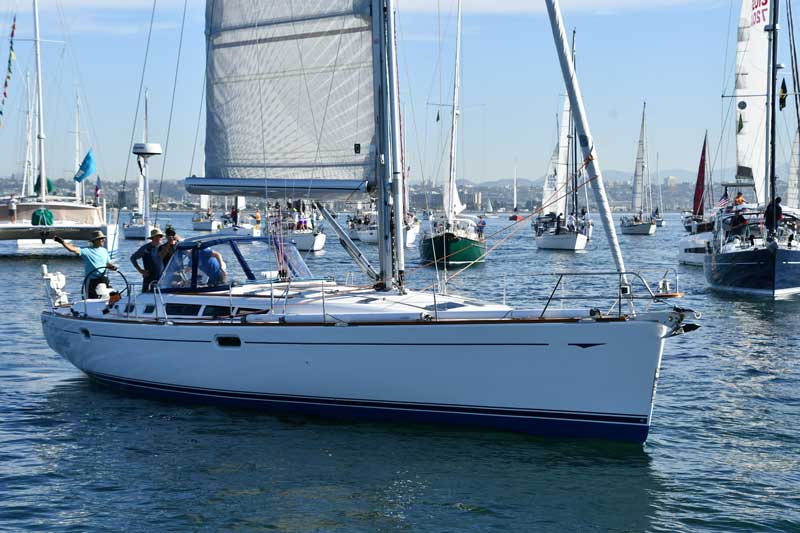 There's windy weather to the north that looks as if it will give some of the tail end of the fleet a breezy finish as they approach the protection of Turtle Bay. This will be a change from the benign conditions shown on the news on San Diego Bay, but it surely will be a fine finish to the 350-mile first leg of the Baja Ha-Ha.
Receive emails when 'Lectronic Latitude is updated.
SUBSCRIBE