Home Team Repeats San Diego Lipton Cup Win
It's official — San Diego Yacht Club is the winner of the 2022 Sir Thomas Lipton Challenge Cup. The home team has done it again.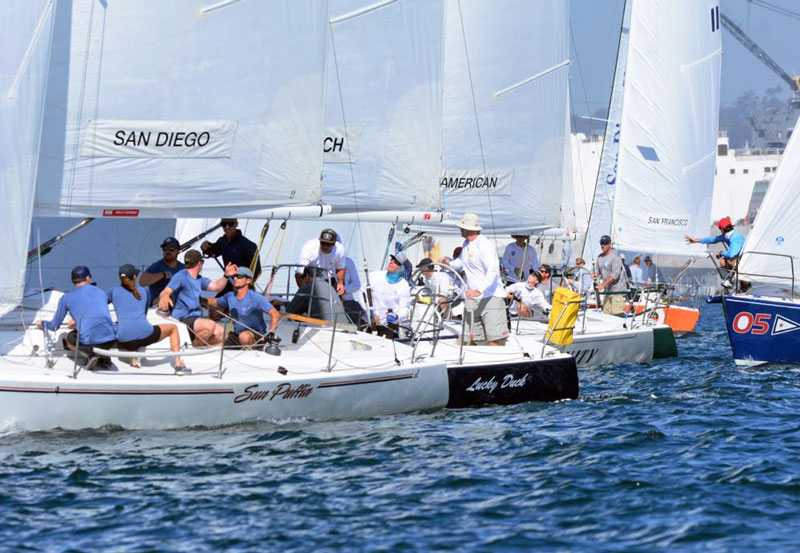 Each team rotated among the fleet of 11 equalized J/105s after each race. In alphabetical order, the 11 teams were:
American Yacht Club (Rye, NY) – Skipper Dwight Greenhouse
California Yacht Club (Marina del Rey) – Skipper Will Peterson
Chicago Yacht Club – Skipper Will Holz
Coronado Yacht Club (San Diego) – Skipper Scott Harris
Del Rey Yacht Club – Skipper Chris Weis
Long Beach Yacht Club – Skipper Keith Ives
Newport Harbor Yacht Club – Skipper Justin Law
New York Yacht Club – Skipper Peter Levesque
San Diego Yacht Club – Skipper Tyler Sinks
San Francisco Yacht Club (Belvedere) – Skipper Shawn Bennett
Storm Trysail Club (Larchmont, NY) – Skipper Bill Zartler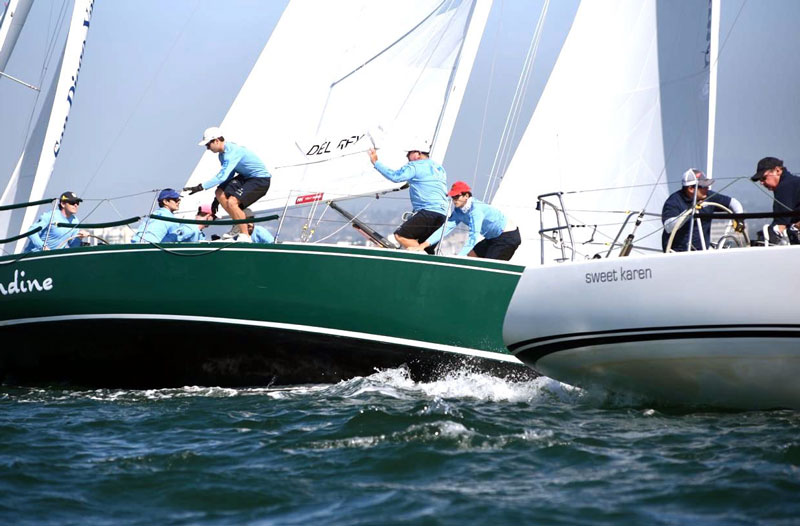 It all came down to the battle of the coasts on Sunday, October 30, the last of day of the three-day regatta. After 10 highly competitive and close races, SDYC and New York YC got off the starting line one more time, determined to prove which coast is best.
The final results for the 2022 Lipton Cup have SDYC (skipper Tyler Sinks) in first place with 38 points, Coronado YC (skipper Scott Harris) in second place with 43 points, and NYYC (skipper Peter Levesque) in third place with 45 points.
"It's just staying in the fight and continuing to battle. When it wasn't looking good, we stayed in it and never lost faith. It worked out for us," commented Tyler Sinks upon their champagne arrival back at the club.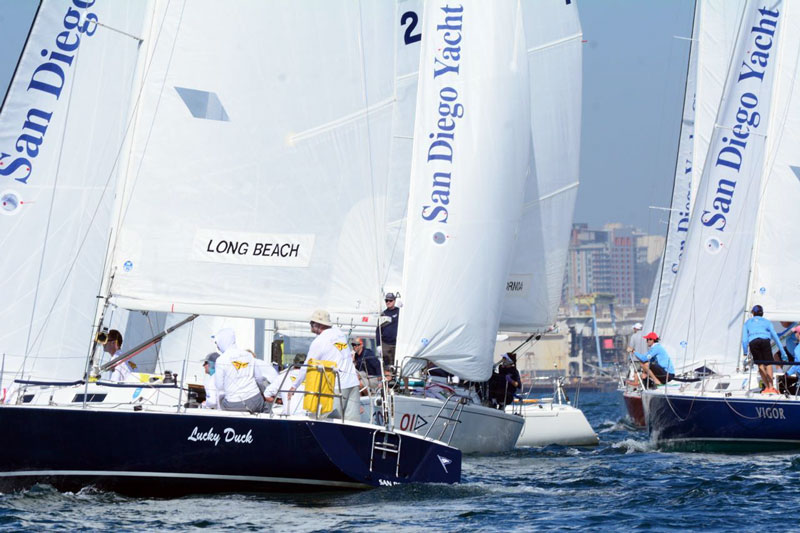 SDYC's Tyler Sinks is no stranger to the Lipton Cup championship title. In fact, the skipper has won five of the last seven regattas (2022, 2021, 2018, 2017 and 2015; there was no Lipton Cup in 2020). Sinks' team of Erik Shampain, Nevin Snow, Max Hutcheson, Lucy Wallace, Jake La Dow and Nick Kaschak can be found sailing together quite often. Erik Shampain is actually the winningest Lipton Cup sailor of all time.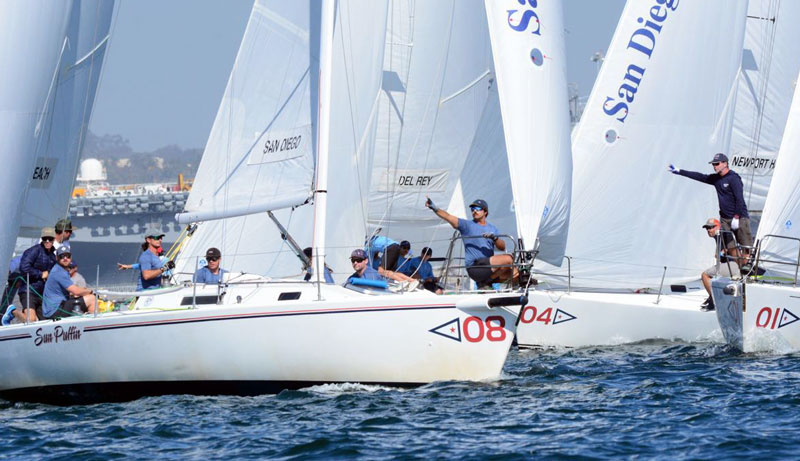 Shampain commented, "I've been told that Dave Ullman and Dennis Conner have six wins, and this is my seventh. I was really honored when Dave called me a few days ago and said, 'If anybody breaks it, I'm glad it's you.' That was really nice.
"We were trying to get off the start line, get clean races, sail by ourselves, and keep an eye on the competition. We had a nice last start right above New York, and we controlled our destiny," he continued.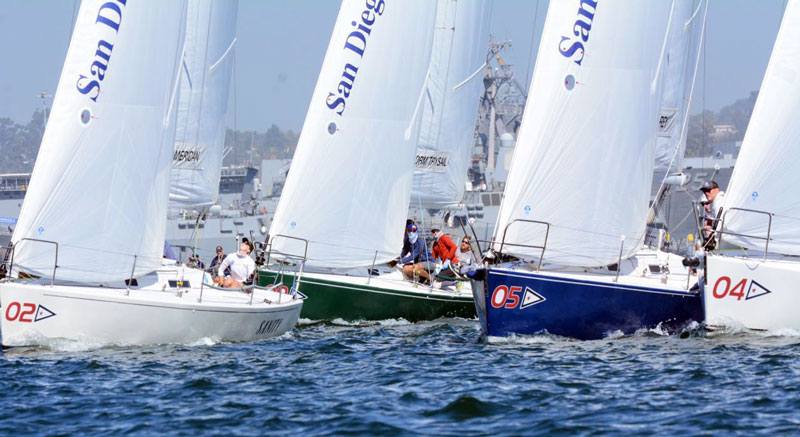 Commodore Jeff Tadder congratulated SDYC on another job well done. "It's a great honor to keep the trophy at home. Thank you to all the yacht clubs that came out to compete in SDYC's signature event, and to all of the volunteers who made this an amazing weekend on and off the water."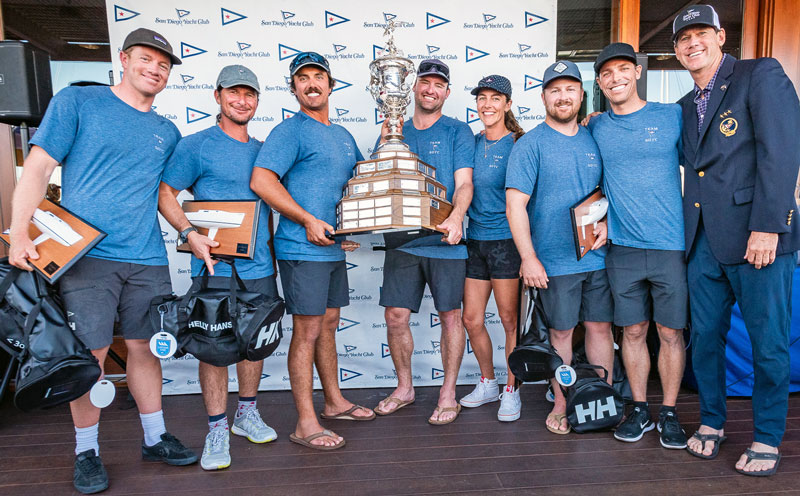 For complete results, see https://sdyc.org/assets/results/results22/liptoncup22-res.htm.
Receive emails when 'Lectronic Latitude is updated.
SUBSCRIBE