From a high point of 90 boats plus a waiting list, natural attrition, plus a few pandemic-driven issues, pared down the list of Pacific Cup starters to 63. "It's around what we expected," says Jim Quanci, commodore of the Pacific Cup Yacht Club. "Things happen in life and on the water. Low 60s makes for a nice comfortable crowd at both ends of the race."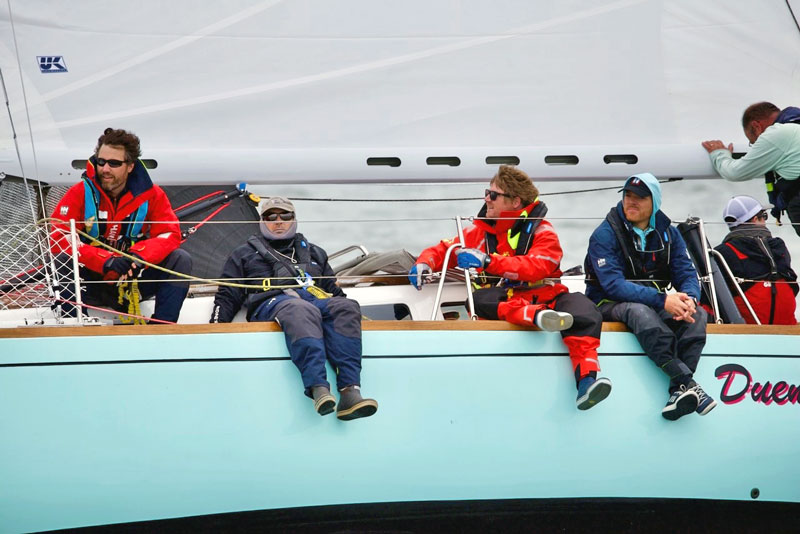 Monday, July 4
Monday's starters struggled to get offshore. In light wind and the uncertain currents, boats tried different directions.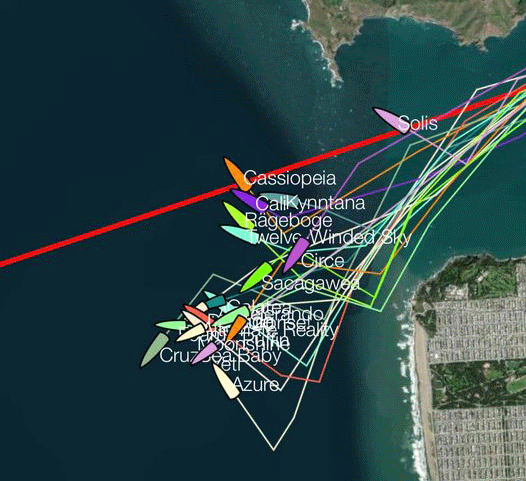 Circe, Tony Bourque's Freedom 40/40, sailing with family in the Cruising Division, encountered a number of issues underway, the most alarming of which was a leak at the propeller shaft. They made the difficult decision to turn back during the night.
"We got off to a grand start, and then things just started failing," reported Tony. "One after another. New things. Things that had been gone through carefully. Things that had been fully tested in our much-more-difficult-conditions qualifying sail. And some of those things could become serious safety issues. So I made the difficult decision to turn around. We are back at  Richmond YC licking our wounds and figuring out next steps. Obviously we are very disappointed."
One of Friday's scheduled starters, Wizard, a Volvo Open 70, was discovered to have suffered damage at the head of the keel, which led to delamination around that area — not suitable for an ocean crossing. They'll get that fixed before heading Down Under for the Rolex Sydney Hobart race in December.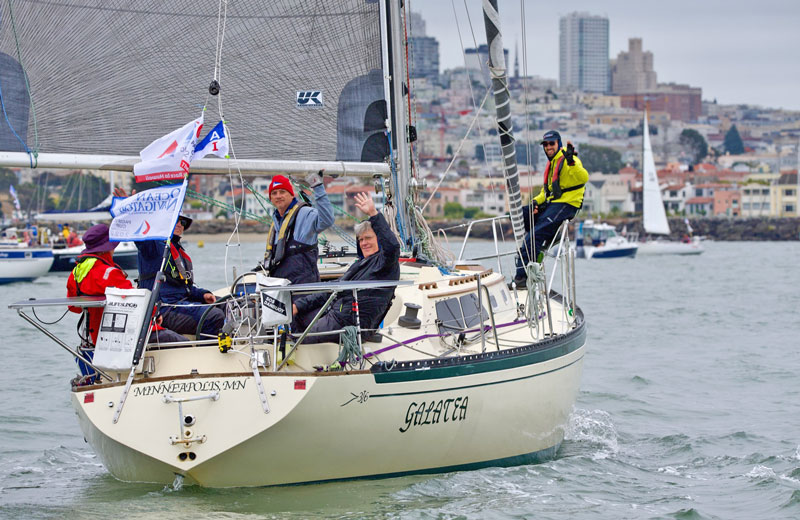 One of the crew on a boat that withdrew earlier, Amber Moffat, just found out on Monday that she'd gotten a ride on the Express 37 Limitless that started on Tuesday. "It was last-minute, as they lost a crew member due to catching COVID. I had a few hours to pack my bags."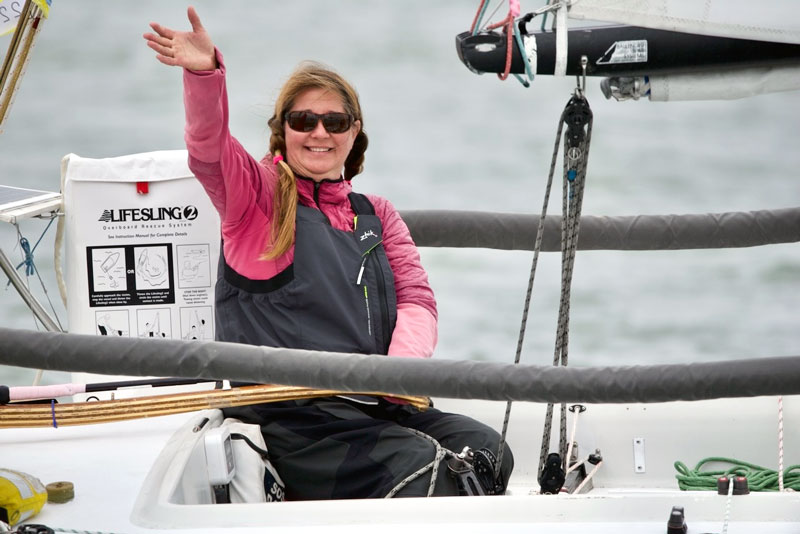 Three doublehanded Moore 24s, Accelerando, #128, with Erica Mattson Siegel and Robin Jeffers; Foamy, #129, with Bill and Melinda Erkelens; and Puffin, #62, with Kelly Gregory and Patrick Haesloop, were among the Monday starters. This is the closest group to a one-design class in the race. As of this morning (July 6), Accelerando, sailing closest to the rhumbline, was leading the threesome.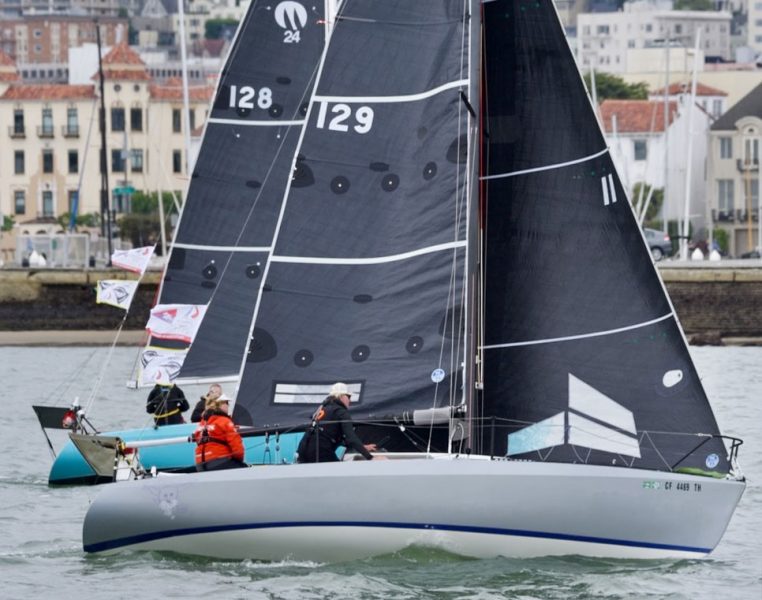 Tuesday, July 5
The Monday starters endured a long, tedious night at sea in light but comfortable conditions. The fleet divided. Some boats headed north, and some south. A couple split the difference. Light winds make for a wide array of responses.
Wednesday, July 6
A check of the tracker this morning shows almost all the boats sailing south of the rhumbline, some, including the Erkelens on Foamy, taking a deep dive. The only two north of the rhumbline are Brian and Amanda Turner, doublehanding the Beneteau 10R CruzSea Baby, and Rodney Pimentel and crew on the Cal 40 Azure.
Currently leading their division by dint of heading more toward Hawaii than other boats, the couple on CruzSea Baby are now taking the turn south. Will they be able to get far enough south to avoid the light stuff?
Pacific Cup starts take today off and resume on Thursday and Friday. However, the SSS Great Pacific Longitude Race (LongPac for short), starts today. That fleet has dwindled down to five singlehanders making their way out the Gate to an invisible turning mark 200 miles to the west.
Family Boats
Circe's withdrawal brings the number of boats down from 10 to 9 vying for the Fastest Family Afloat trophy, which requires a degree of familial relationships on board. The remaining family boats are Alternate Reality, City Lights, CruzSea Baby, Free Bowl of Soup, Rägeboge, Raku, Rufless, Sacagawea, and  Vera Cruz. A comment from Free Bowl of Soup: "19-year-old Sam Hopper on the crew for his first Hawaii race. We had to make sure he wasn't stowed away in 2014 when we last did Pacific Cup."
Weather
A lot of light air and a disorganized, sprawly Pacific High lies in the path of the racers this week. A big blob of no wind directly blocks the path of the fleet. After about July 11, however, the forecast shows wind filling in. Conditions could even get a bit 'interesting' as the remnants of a tropical depression south of Baja California make themselves felt across the Pacific.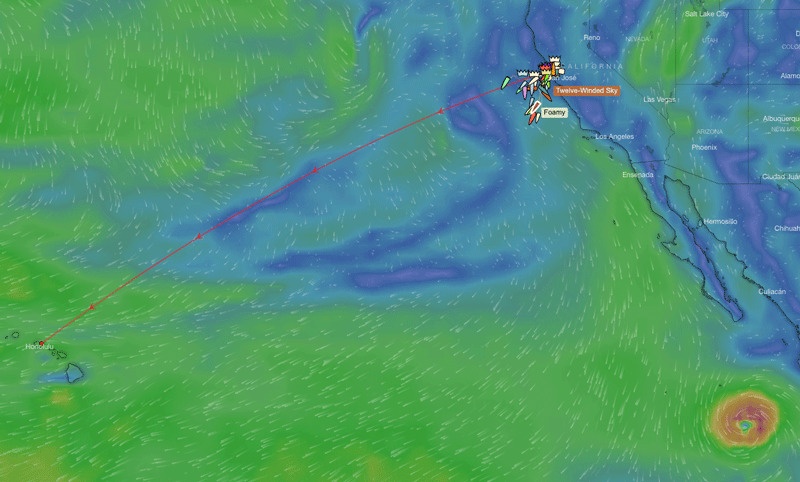 Following the Fleet
The Pac Cup tracker is live. You can download the YB Races app to your Android or iOS device and then add the Pacific Cup race. On a computer, just head on over to yb.tl/paccup2022. Note the four-hour delay.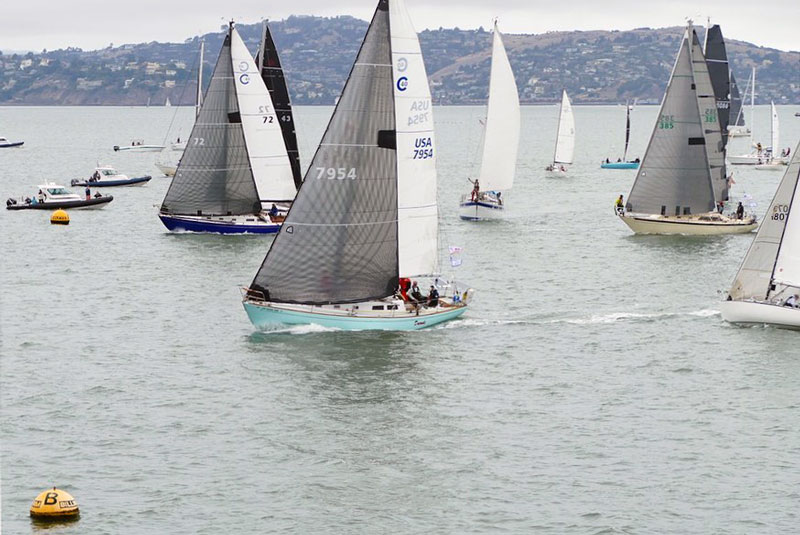 Like the Monday and Tuesday starts, PCYC will live-stream Thursday's and Friday's starts on Facebook. The media team is also posting videos and photos on Facebook and Instagram (@paccuprace).
Receive emails when 'Lectronic Latitude is updated.
SUBSCRIBE