Sailing into June
California Offshore Race Week, which begins tomorrow with the Spinnaker Cup (San Francisco to Monterey) and continues with the Coastal Cup (Monterey to Santa Barbara) that will start on Memorial Day, May 30, will race into June with the Santa Barbara In-Port Race on June 1, followed by the SoCal 300 (Santa Barbara to San Diego) starting on June 2.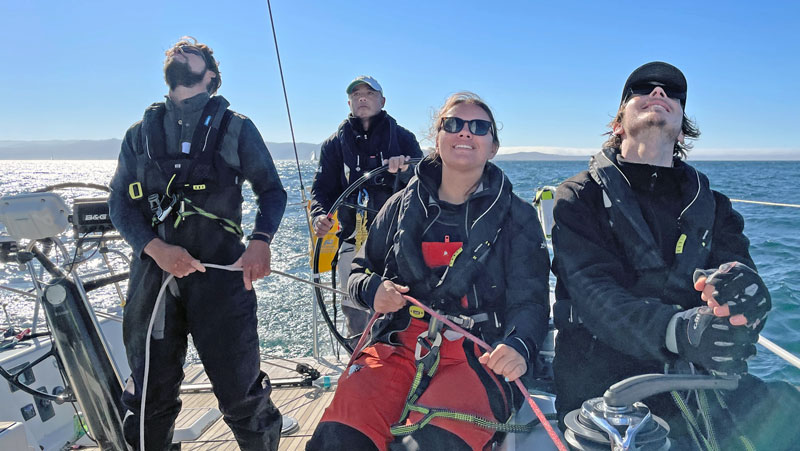 Long Beach Yacht Club will host the 48th Seawanhaka International Challenge Cup, a match-racing event, on May 31-June 5. The 10 teams will come from all over the world to sail in provided Catalina 37s. California teams include the defending host club and St. Francis YC. LBYC is hosting the regatta because they won the previous edition in 2019, sailed in Match 40s in Oyster Bay, New York. The finals came down to LBYC and the host, Seawanhaka Corinthian YC. The LBYC team consisted of Scotty Dickson, John Busch, Ben Wheatley, Daniel Gorman and Trent Turigliatto.
Gold Country Yacht Club's Go for the Gold Regatta splashes down on Scotts Flat Reservoir on June 4-5, with pre-registration starting at 5 p.m. on Friday, June 3. GCYC will host a pancake breakfast on Sunday morning at 9 a.m. on June 5. The scenic venue is nestled in the forested foothills near Nevada City.
The OYRA Full-Crew Farallones Race will sail out the Gate on June 4.
San Diego YC will host a US Match Race Championship Qualifier in J/22s on June 4-5. Also on that weekend: California YC's Cal Race Week in Marina del Rey. Invited classes include: Farr 40, J/111, J/109, J/105, J/70, J/24, Martin 242, Santana 30/30, Schock 35, Star, Tartan 101, and Viper 640.
Mid-Month Regattas
St Francis YC will hold a US Women's Match Race Championship Qualifier and Clinegatta on June 10-12. "This is a woman-driver/open crew event (teams of four)," explains Nicole Breault. "The top two skippers get invitations to the Women's Match Race Championship in August (for all-woman teams), but it will be a grade 4 event with coaching (by me) so will be a great on-ramp for getting into match racing, in and of itself." Request an invitation here. "Don't be intimidated," says Nicole. "You belong if you show passion and focus. Add info about all your racing, not just match racing, not just skippering. Even add info about your crew, especially if they stand out as crackerjacks and have match- or team-racing experience."
Race from Richmond Yacht Club to Stockton Sailing Club in the Delta Ditch Run on June 11. Sign up by June 5 to save $25. Last call for entries will be June 8. They offer a cruising division too, with a head start and a motoring allowance. The Ditch Run is an official Delta Doo Dah event, but registration is separate.
Also on June 11, San Francisco YC will host the S.F. Schooner Regatta, and Sausalito YC will kick off their Classic Boat Invitational Series.
In the sixth Race to Alaska, 50 teams will embark on Stage 1, The Proving Ground, from Port Townsend, WA, on June 13 at 5 a.m. They'll have 48 hours to cross the Strait of Juan de Fuca and make it to Victoria, BC. For 38 of the teams, June 16 at high noon will see the start of Stage 2, To the Bitter End, the 710-mile trek from Victoria to Ketchikan, Alaska. R2AK had to take two years off due to the pandemic. This year, the removal of one of only two waypoints between Victoria and Ketchikan, the Seymour Narrows, gives racers the strategic decision of going up the inside of Vancouver Island or going out of the Strait of Juan de Fuca into the Pacific Ocean. The public is invited to the Northwest Maritime Center on June 12 to meet the teams and celebrate their impending adventure at the Ruckus, a free block party.
Father's Day Weekend
There will no doubt be some proud papas at the US Youth Match Racing Championship/Rose Cup, hosted by Long Beach YC on June 15-19.
Corinthian YC will host the 2022 PICYA Lipton Regatta on June 17-19, Father's Day Weekend. StFYC is again supplying their 10-boat fleet of J/22s, and nine clubs — Berkeley, Encinal, South Beach, Sausalito, St. Francis, Corinthian, Inverness, Richmond and San Francisco — are signed up. So one more boat is available. Click here to enter. Saturday afternoon festivities will include music and games: a liar's dice tournament, cornhole toss and jumbo Jenga.
US Open Sailing Series will race in San Diego on June 17-19. ILCA 4, ILCA 6, ILCA 7, Nacra 15, 29er, International 420, Finn and Snipe are the invited classes. (Finns and Snipes race on the weekend only.) New this year: Sailors competing in Olympic classes will be eligible for prize money at each event. Athletes can win $1,000 for first place, $500 for second, and $250 for third.
BAMA's Doublehanded Farallones Race, postponed from stormy April 9, will get another chance on June 18. Register by June 16 at 9 p.m.; 49 boats had signed up as of this morning. The DHF is also an official Summer Sailstice event.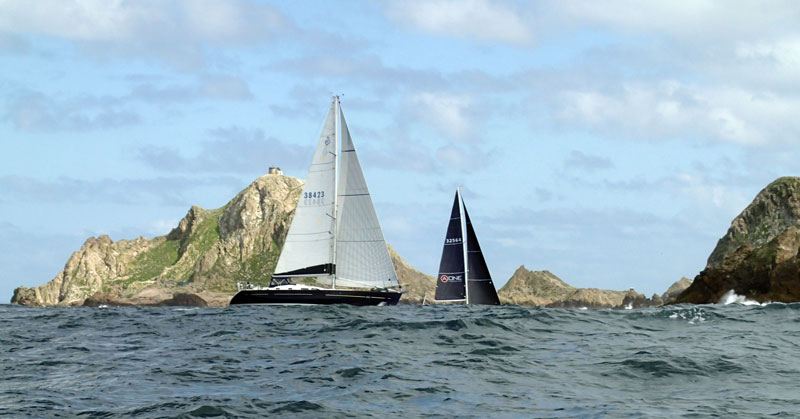 Later in the Month, North and South
Register for Anacortes Race Week before May 31 to avoid the late fees. The event dates are June 20-24. As in 2021, the racing area will be off the northeast shores of Guemes Island, but racers can expect more creative courses in 2022, and also some fun distance races. There will also be a casual cruising race each day for cruisers. This regatta is the grandchild of the famous Whidbey Island Race Week.
Co-hosted by Alamitos Bay YC and Long Beach YC, Ullman Sails Long Beach Race Week will return on June 24-26 after a two-year hiatus. The regatta offers "superb racing by day and sublime partying by night." Bruce Cooper will present a weather briefing on Friday morning before the racing begins. Sign up at www.lbrw.org by June 1 to avoid a late entry fee. "Enter by June 21 — or sit on the sidelines and cry."
Mission Bay YC in San Diego will host the US Youth Championship on June 23-26.
Many more worthy regattas and events crowd the June calendar, but we've run out of room on the space/time continuum. Turn to the Calendar pages in the June issue of Latitude 38, coming out on Tuesday, May 31, for oh-so-much more.
Looking Ahead (Waaay Ahead) to Summer 2023
The 2022 Pacific Cup hasn't even started yet (that will be on the week of July 4), but entry opened today for the 2023 Transpac. John Raymont's Ker 51 Fast Exit II is the first entry, but Chip Merlin's Bill Lee 68 Merlin and John Sangmeister's Andrews 68 Rock 'n' Roll have also signed up already. The start dates will be June 27, June 29 and July 1, 2023.
Receive emails when 'Lectronic Latitude is updated.
SUBSCRIBE