Max Ebb — Hooked … or not: A Diabolical Halyard Device
In this month's Latitude 38, Max Ebb explores the halyard hook — a device that locks the main halyard at the top, and eliminates extra compression in the mast  — while sailing a classic yacht in a "gentleman's race."
"Mousetrap engaged," the bow crew reported back to me. He was referring to the halyard hook, a diabolical device at the top of the mast that locked the main halyard at the top, taking the load off the part of the halyard that goes down the mast to the halyard cleat. It eliminates extra compression in the mast caused by the halyard.
"Roger," I acknowledged. "But I really hate those things," I had to add. "It's bad seamanship to have a mainsail that doesn't come down unless you raise it first and then line it up a certain way just to get the darn thing to release. I can think of too many situations where you need to get the main down quickly, without having to go dead upwind and remember the correct incantation."
"That's 'cause you grew up sailing back East, where they have thunderstorms on summer afternoons," he reminded me.
"Maybe," I said. "I still don't like them, but with the noodle of a mast on this old boat, I guess we risk the rig if we don't use it when the wind is up."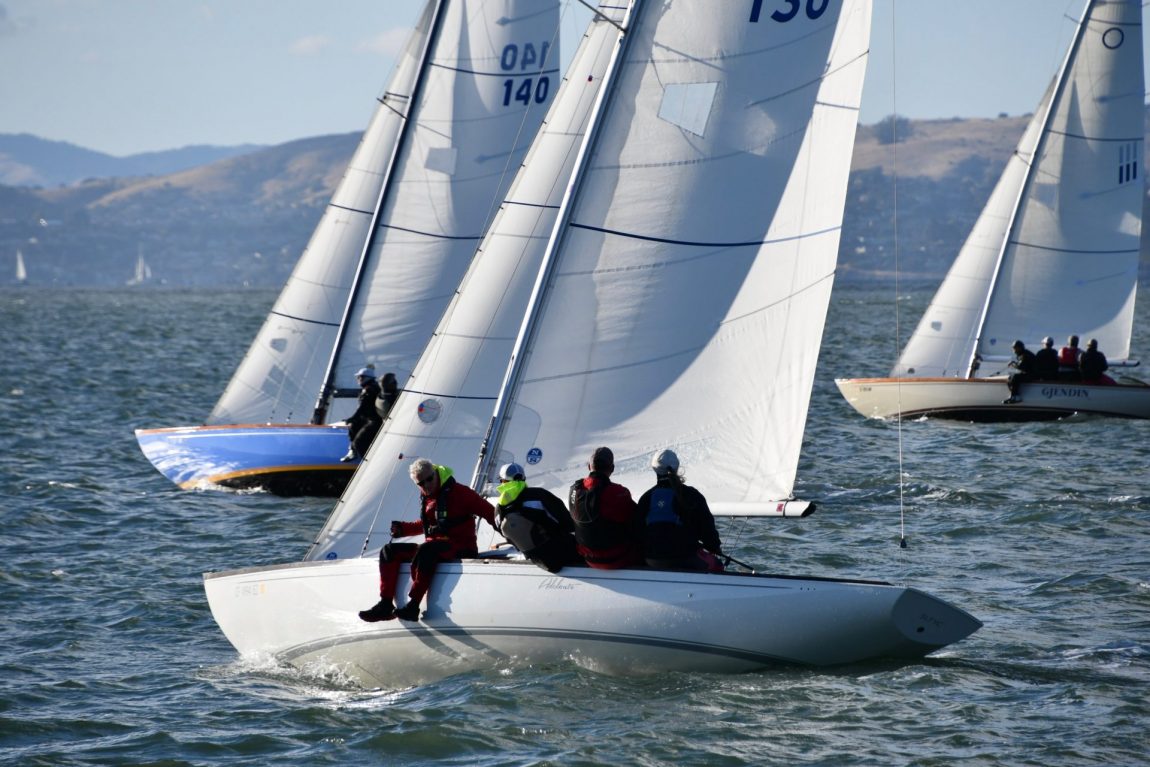 It was not my own boat. It was a classic day-racing sloop, designed early in the last century. The owner, away on a business trip, had asked me to race the boat for him in order to keep his series standing from suffering a missed race.
This would be a treat, driving an old classic design. It was billed as a "gentleman's race:" no spinnaker, small fleet of one-designs, protests discouraged. On the other hand, on race day, the summer sea breeze had come up early, and this boat was all open cockpit, not self-bailing, and probably not having nearly enough flotation to keep it from going straight to the bottom if it flooded. And I had been told by the absentee owner that the way to make the boat go fast upwind was to let it heel way over: "The narrow hull likes to heel," he advised, "so don't be afraid to put the rail in the water."
"There's no reef point in the main," I said to my crew. But I noticed that it had the old-style sliding gooseneck and downhaul instead of a Cunningham for luff tension. "Let's keep the boom down at the bottom of the gooseneck track, and fly the mainsail a little lower down to power it down just a little."
"No can do, with that halyard hook," the bow crew reminded me.
"Max, we can lose the halyard hook," said Lee Helm, who had come along to be the middle crew and call tactics.
"Doesn't the halyard hook reduce the compression on that thin mast?" I asked. "I have to assume there are halyard hooks on these boats because they need them."
Continue reading at Latitude 38.com.
Receive emails when 'Lectronic Latitude is updated.
SUBSCRIBE