Ken-Ichi's Return
July 18 - San Francisco
Certainly one of the most accomplished, dynamic and engaging sailors of our generation is Ken-Ichi Horie. "Ken who?" you might say. Well, we should probably add that he is also among the least known on this side of the Pacific. But in Japan, Horie is a folk hero and national treasure on the order of Sir Edmund Hillary.
Yesterday, the 63-year-old sailor completed the latest in an ongoing series of remarkable voyages - a singlehanded crossing from Japan to San Francisco in a 19-ft boat. Malt's Mermaid III passed under the Golden Gate about 4 p.m., completing a journey that began on May 12 in Nishinoimiya (near Osaka).
In a larger sense, the 5,300-mile crossing completed a circle begun 40 years ago when Horie, then 23, sailed into San Francisco on the first Mermaid - unannounced and with no passport, no money, no English, and no idea what to do next. He was befriended by a local boater and brought into a marina, but nobody knew quite what to do about him politically. World War II was still fresh in the national psyche, and by all legal rights, immigration should have repatriated him immediately.
San Francisco Mayor George Christopher called his old boss for advice. Ex-President Dwight Eisenhower (on whose staff Christopher had served) basically said that Christopher should do what was right, for Japan and for young people. So Mayor Christopher welcomed the bold young seafarer with open arms, awarding him the key to the city and a special 30-day visa. That voyage - and San Francisco's warm welcome - hit papers nationwide. It catapulted the then-unknown Horie to cult hero status here and in Japan, reportedly helped to 'open' Japan (which started issuing passports for the first time the next year), and undoubtedly helped heal a few more lingering wounds between the two countries. Ike even called Christopher to congratulate him on a decision well made.
Horie didn't know this part of the story until 1999, when he was preparing to set sail from San Francisco to Japan in Malt's Mermaid II, a catamaran whose hulls were made entirely of aluminum beer kegs. (Over the years, he has made a series of trans-ocean voyages aboard tiny boats, pedal boats, solar powered boats - all aimed at inspiring young people and bringing attention to the environment and the importance of recycling.) Indeed, no one knew it until Christopher, then 91, told the story at a press conference for Ken-Ichi. Horie conceived the latest voyage to honor Mayor Christopher. When the old ex-mayor passed away in 2000, the voyage was dedicated to his memory.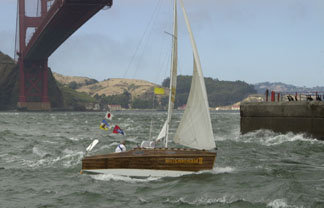 MALT'S-Mermaid III crosses under Gate . . .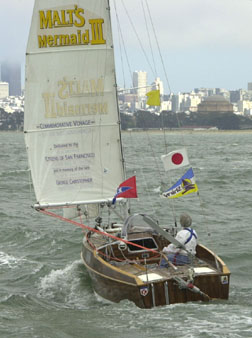 . . . and heads for the City.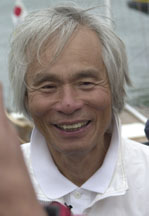 Ken-Ichi Horie
Photos Latitude/JR
Horie's original Mermaid has been on display at the San Francisco Maritime Museum since her historic voyage. Malt's Mermaid III, a 'modernized' facsimile, is built entirely of recycled materials including whiskey barrels, plastic pop bottles and aluminum from old beer kegs.
For the complete story of Horie's latest voyage, see the August issue of Latitude 38. Also see www.malts-mermaid3.com.