Kenichi Horie, 83, is planning to set sail under the Golden Gate Bridge at about 10 a.m. tomorrow, Saturday, March 26, for a solo, nonstop voyage to Japan aboard his 19-ft sloop Suntory Mermaid III. If you're planning to be on the water for SailGP, you could make it a day of epic sailing events by starting out escorting Kenichi under the Gate. He intends to do the 6,000-mile voyage in about 70 days. Corn flakes will be among the main staples in his diet.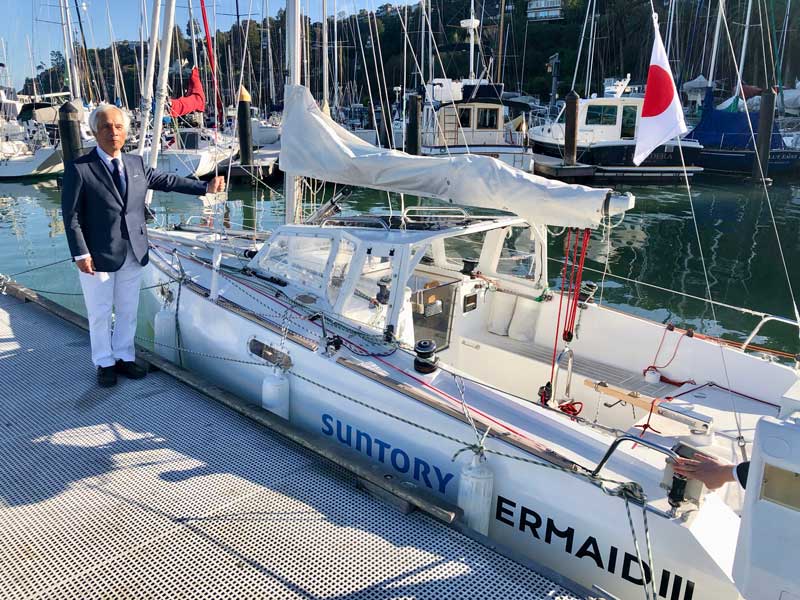 Sailing solo across the Pacific in a 19-ft boat at age 83 sounds like a monumental undertaking, but to hear Kenichi talk about it, as we did at the San Francisco Yacht Club on Wednesday, you'd think it's just another afternoon daysail. He spoke calmly about this next trip and clearly said he'll be planning another one after this. Many people may not realize this is the 11th major voyage he has taken, including his first solo transpacific crossing from Japan to San Francisco at age 23 in 1962. His voyages are too numerous to list, but they include a pedal-powered passage from Hawaii to Japan, solo Pacific crossings on a boat made of recycled whiskey barrels, a boat of recycled plastic, another of recycled aluminum cans, and wave- and solar-powered boats, plus two solo circumnavigations.
We asked Kenichi about the environmental statement he was making with each of these boats. While he insisted he wasn't an 'activist', he wants to live demonstrating the principle of the circular economy, where we step lightly on the planet, reduce/eliminate fossil fuels, and reuse resources. Each voyage highlights another opportunity to change the way we think, and stretches our imagination. For Kenichi, it's another carefully crafted, unique way to explore the planet under sail.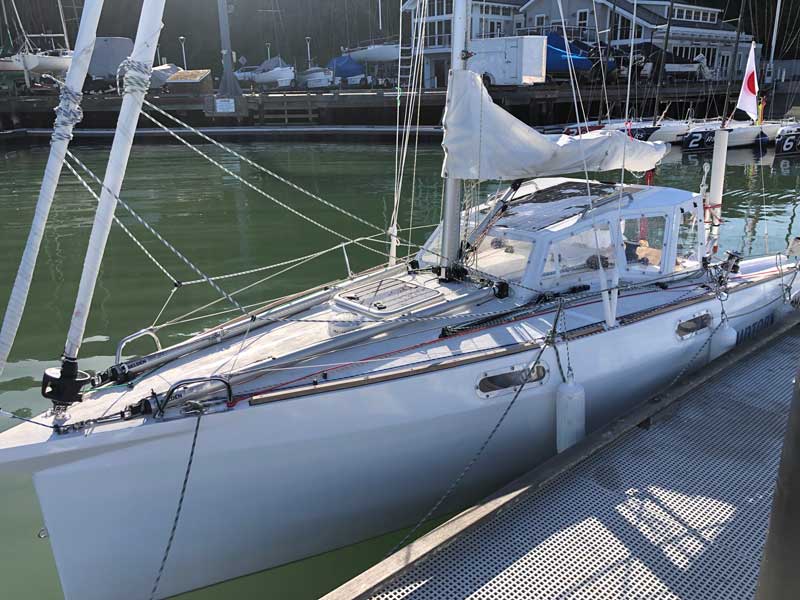 His cheery, serious and calm demeanor has you thinking he's going sailing but will be home in time for dinner. He has found times when he's been scared by big storms at sea or faced extreme discomfort in the icy cold of the Northwest Passage, but he says surviving each episode left him with more experience and faith that he could survive each of his subsequent adventures. When asked what he liked about sailing, he replied, "I like the whole thing from end to end. I like not using gas or oil. I like planning the voyage from the beginning to pushing off and then arriving at my destination." Asked what he does at night, he said, "I go to bed when it gets dark." He says he now likes sailing in warm places. Pedaling across the Pacific was very hard, and he wouldn't do that again.
Kenichi's voyaging has made him a hero in Japan, where he's supported by the health and beverage company Suntory. You have the impression that if Mick Jagger and Kenichi Horie were walking the streets of Tokyo together, it might take Mick a while to realize that all the waves and photos were happening because he was with Japan's most famous sailor.
Amongst well-wishers at SFYC were members of the Silicon Valley Sailing Club, which consists of Japanese sailors from Silicon Valley. They originally formed in 2010 after the Japanese entry in the 2009 Transpac, Leglus, returned from Hawaii to San Francisco Bay. They now sail out of Emery Cove Marina aboard the shared Jeanneau Sun Odyssey 389 Lovely Day. They all drove from Silicon Valley to meet the sailing legend, and also plan to be on the Bay Saturday morning for the send-off before turning their attention to SailGP. Speaking of which, in the crowd was Kazuhiko Sofuku, chief operating officer of the Japan SailGP Team, who also came to see a fellow countryman take on a completely different kind of sailing challenge.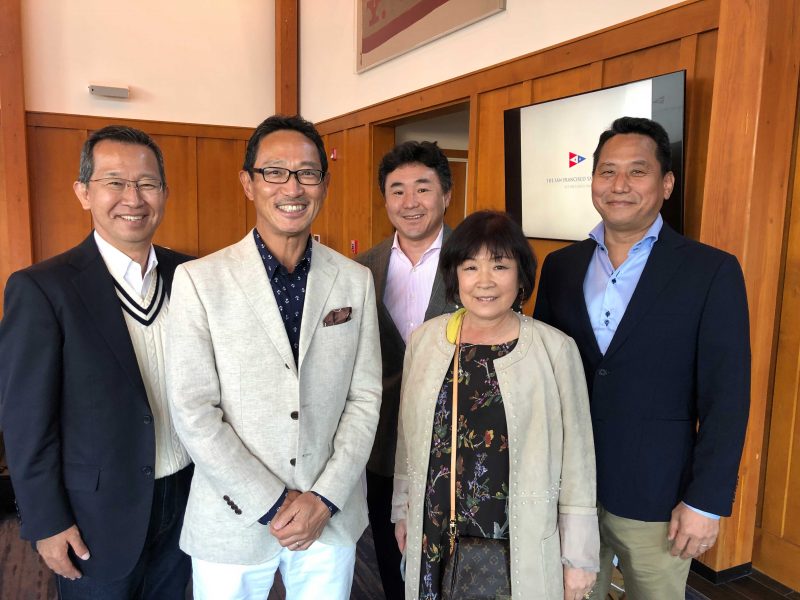 The modern Suntory Mermaid III was designed by the son of the designer of the first, wooden Mermaid Kenichi sailed into San Francisco Bay in 1962. The San Francisco Maritime Museum wrote in to say, "The original Mermaid is back in the lobby of the Maritime Museum, open Wednesday to Sunday 10-4. Free Admission." The new boat is all aluminum and equipped like a full ocean cruiser in miniature. She's 19-ft long with a 5-ft draft, and weighs just 2,187 lbs with a keel of 661 lbs. There's an aluminum hard dodger and twin furling headsails, all rigged back to the small cockpit. A Furuno tracker will let us follow along.
Those of us who have a hard time comprehending these extreme challenges are only more confused when in the company of such a pleasant and unassuming character with a big voyage ahead and a big message for humanity. We're inspired by his message and example. We look forward to following this voyage and his next one.
Addendum: If you would like to follow Kenichi Horie you can click here. You will see a blue box like the one below. Click that, though it's all in Japanese, you should be able to follow along.

Receive emails when 'Lectronic Latitude is updated.
SUBSCRIBE