US Sailing Announces 2021 Rolex Yachtsman and Yachtswoman of the Year
The future is in good hands. On Thursday evening St. Francis Yacht Club hosted the awards for the US Sailing Rolex Yachtsman and Yachtswoman of the Year. Held on the eve of SailGP, the ceremony added to the festivities and the yachting royalty visiting or living in the Bay Area.
Amid a crowd of sailing legends, and flanked by other very accomplished Rolex award nominees at a live ceremony in San Francisco, awards MC Gary Jobson announced that Harry Melges IV of Lake Geneva, WI, and Daniela Moroz of Lafayette, CA, are the 2021 Rolex Yachtsman and Yachtswoman of the Year.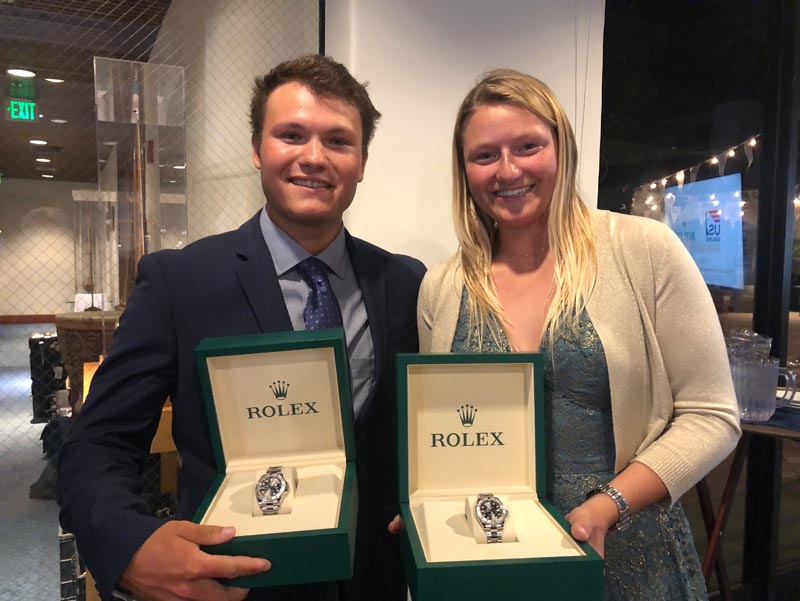 Daniela Moroz — 2021 US Sailing Rolex Yachtswoman of the Year
At only 21 years old, kiter Daniela Moroz has been named US Sailing's Rolex Yachtswoman of the Year three times now. "It's such an honor to win this award for the third time," said Moroz. "All year I was just focused on being the best sailor I could be, so this is a pleasant surprise."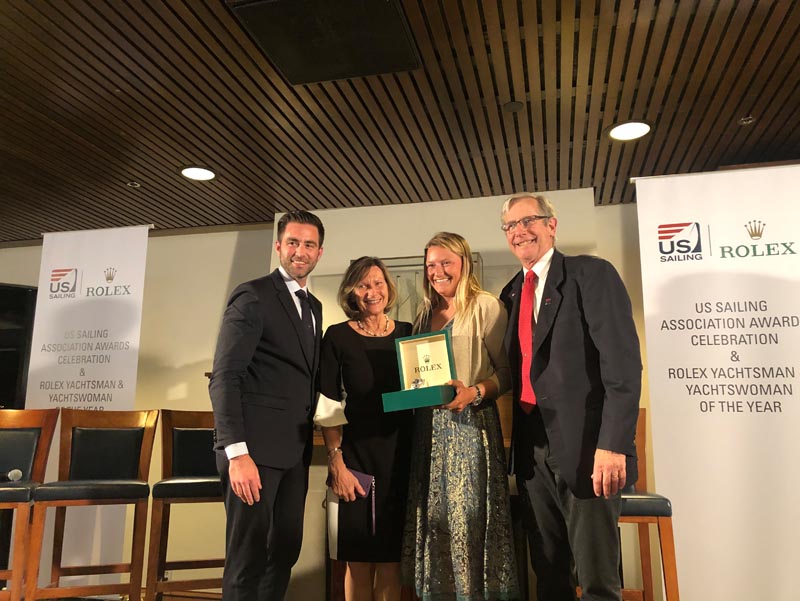 In 2021, Moroz dominated the female Formula Kite class, winning the Women's Formula Kite Worlds and the Formula Kite European Championships. She was the top female athlete at the San Francisco and Clearwater US Open Sailing Series events.
Raised in the San Francisco Bay Area, Moroz competed in her first international event at age 14, winning her first world championship only a year later, at 15. Since then, she has won five world championships and four European championships. Moroz is currently a student at the University of Hawaii. She's campaigning for the 2024 Olympic Games, where the Formula Kite will make its Olympic debut.
Daniela credited her parents and her local sailing community, saying, "It takes a village, and this is my village!" She's surrounded by many boosters, supporters and competitors, whom she credits for having raised her game. She's clearly risen to the challenge.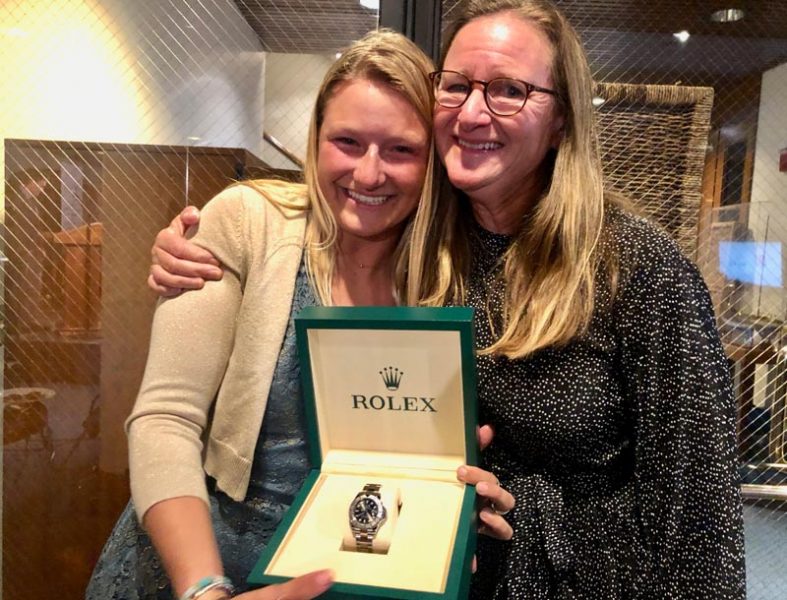 Harry Melges IV — 2021 US Sailing Rolex Yachtsman of the Year
Winning his first-ever Rolex Yachtsman of the Year award, Harry Melges IV, also just in his 20s, brings a vast amount of experience to the table for his young age. In 2021, Melges was a two-time E Scow national champion (the rescheduled 2020 Nationals were sailed in 2021), Melges 24 Gold Cup winner, and a member of the winning IC37 East Coast Championship crew, among others.
"Winning this award is such an honor to me, since my grandfather won it 60 years ago," said Melges. "I've worked hard this season, and I am so glad to be able to take home this trophy."
Growing up around such accomplished sailors (his grandfather, Harry 'Buddy' Melges, won Olympic gold and bronze in the Soling and Flying Dutchman), it was only natural that Melges got an early start. He began racing at age 6, hitching rides on the assortment of Scows sailed on his home waters of Lake Geneva, Wisconsin.
In addition to his experience in Scows and sport keelboats, Melges was also a member of the US Sailing Team. He campaigned for the 2020 Olympic Games in the 49er with fellow Wisconsinite Finn Rowe.
Harry Melges IV credited his family for great support without pressure to succeed. He commented, "Sailing has given me a love for the outdoors, and sailing is just playing with the outdoors." It's a big legacy to live up to, but the water in Lake Geneva seems to breed champions. The Melges family certainly knows how to both race and enjoy the game.
Attending the awards, in addition to Rolex contenders, were many members of the US Sailing executive team and board, which includes president Rich Jepsen from the Bay Area and a recent addition, Bay Area Star sailor Doug Smith. Executive director of the US Sailing Olympic Team and past Rolex winner Paul Cayard was also on hand to congratulate the winners, along with past winners JJ Fetter, Terry Hutchinson, Stan and Sally Honey, Mike Martin and Caleb Paine.
Background
Established in 1961 by US Sailing and sponsored by Rolex Watch USA since 1980, the annual presentation of US Sailing's Rolex Yachtsman and Yachtswoman of the Year awards is considered the sport's ultimate recognition of an individual's outstanding on-the-water achievements for the calendar year. Winners are chosen from a pool of nominees selected by panels of past winners and eminent sailing journalists and dignitaries.
The partnership between Rolex and US Sailing is natural, considering the Swiss watchmaker's long-term commitment to fostering yachting excellence worldwide. Rolex is a committed partner of the most prestigious yacht clubs around the country, including the St. Francis. Rolex shares the highest standards of excellence and superior performance with US Sailing, acting together as joint custodians of yachting's finest spirit.
Becoming a Rolex winner for the first (or third) time puts you in elite company and establishes you as an ambassador for the sport of sailing. It was clear from the comments of both Harry and Daniela that the future of sailing is in good hands.
Receive emails when 'Lectronic Latitude is updated.
SUBSCRIBE