We awoke Saturday morning to get ready for the Corinthian Yacht Club Midwinters with a pleasant forecast of partly sunny, strong ebb, light winds and — oh yeah — a tsunami. What? While it's easy to shrug off these warnings, we remember how the Fukushima tsunami in 2011 left most of the West Coast unharmed; however, it had very significant impacts on certain harbors depending on the local geography.
We drove down to Tiburon at 9 a.m. and had to get into the lefthand lane by the Cove Shopping Center to avoid the high water that often comes through the storm drain during king tides. When we reached downtown Tiburon, we did notice there wasn't any of the flooding that occurs near the post office during king tides. Huh? It was one of the few effects we think we saw from the tsunami. The video below shows the water rushing through the Cove apartments at the head of Richardson Bay, which would have been happening right about the time we drove by, and was the likely source of the water flooding Tiburon Blvd.
Scary moments for neighbors in Tiburon after #tsunami surge rips boat dock from building, casting it adrift. @LiveDoppler7 pic.twitter.com/2qCO46kIHE

— Cornell Barnard (@CornellBarnard) January 15, 2022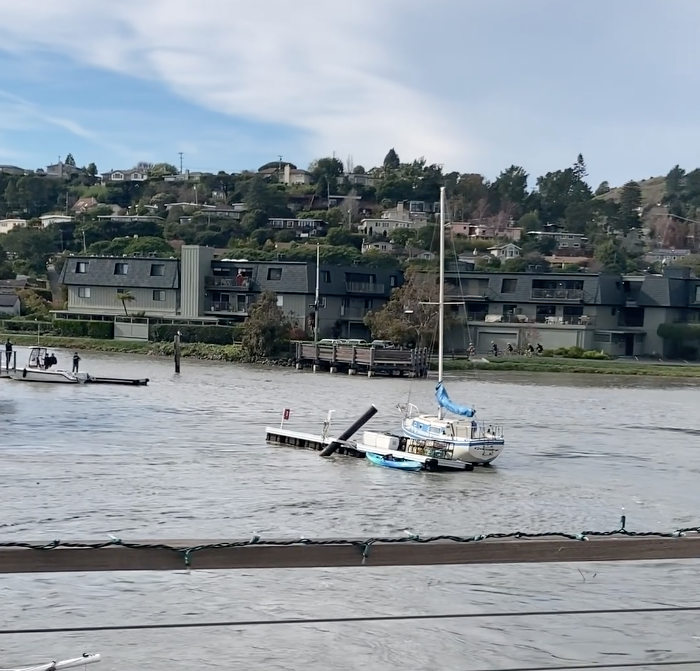 When we arrived at the Corinthian Yacht Club all was calm. Seeing the video above demonstrated the difference that can occur when the fickle finger of fate selects your location to bear the brunt of the impact. 99% of the coast received insignificant impact from the tsunami, but the surge did zero in on some particular harbors causing damage to boats, piers and docks. Below, the normally sleepy Soquel Creek had a raging current going 'uphill' as the tsunami washed inland.
Soquel Creek in Santa Cruz flowing *backwards* because of a tsunami ? pic.twitter.com/JxFsllhhdX

— robwormald (@robwormald) January 15, 2022
In Berkeley, the liveaboards were evacuated from boats and floating homes — Berkeley Marina did experience some damage during the Fukushima tsunami. "I went down to the marina at around 1 p.m. on Saturday and nothing seemed amiss," reports Baylis Weaver, who keeps a large sailboat on K Dock.
Santa Cruz was not so lucky. KCBS Radio reported this morning that Santa Cruz Harbor has "hundreds of thousands" of dollars' worth of damage. The power is back on in the lower harbor, but the North Harbor is still (as of 8:30-ish) without power and water, and two docks remain closed. Boats that float fared better than cars that don't in Santa Cruz.
The scene at the Santa Cruz Harbor as a tsunami generated tidal surge causing damage Saturday morning #TsunamiAdvisory pic.twitter.com/9ijKU9ZVaK

— Vern Fisher (@VFisher45) January 15, 2022
At the CYC Midwinters, the day's concerns shifted to dealing with light breezes and a big ebb. A fleet of 75 boats signed up to do battle in what turned out to be a very pleasant sailing weekend. Aboard our Sabre 38 Finistere we experienced a few large, unusual swells going east to west that we thought might have been reflective tsunami effects. We also felt the ebb and current lines were much stronger and more pronounced on Saturday than on Sunday.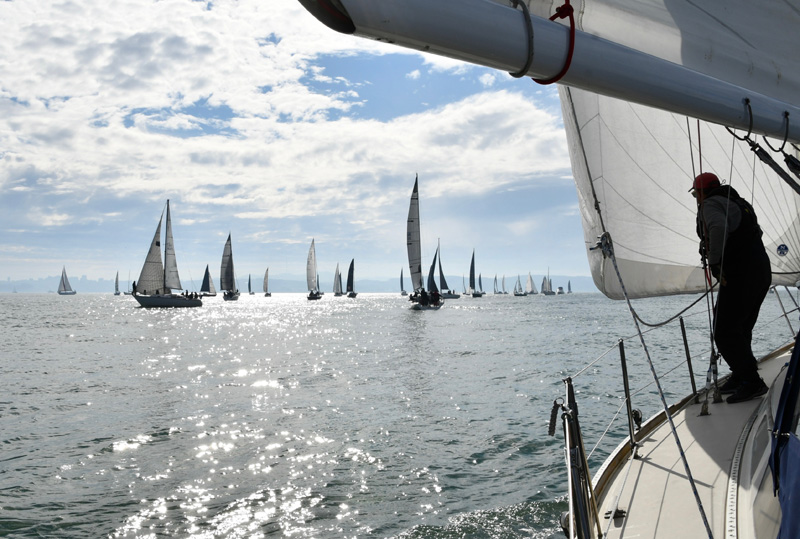 Fortunately, the light breezes were just strong enough to allow boats to overcome the ebb and make their way around a variety of courses. Numerous recreational sailors also dotted the Bay. See results from two very enjoyable days of racing here. We'll have more in Racing Sheet in the February issue of Latitude 38.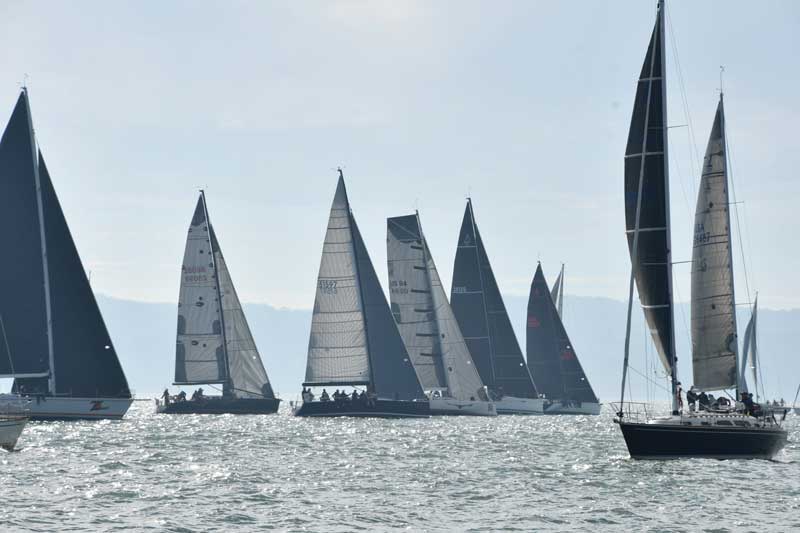 The drama in Tonga sounds significant and is still unfolding. Here on the West Coast most of us were fortunate to wake up Saturday morning feeling unthreatened by the volcano-generated tsunami created some 5,300 miles away. However, the pinpoint damage at certain harbors and docks is a reminder that you should never turn your back on a tsunami.
Receive emails when 'Lectronic Latitude is updated.
SUBSCRIBE