Lauren Sloss got into sailing through her then-boyfriend (now-husband), Alex, about 11 years ago. "We were both living in San Francisco when we met. He and his friend had gotten in the habit of going in on pretty cheap boats they found on Craigslist together, teaching themselves to sail on the Bay. Because it was a lot of fun but also because Alex and his brother Nick wanted to sail around the world, and they wanted to get some experience and get a little more comfort and familiarity with everything. We started dating; I found out he had a boat — I thought that was pretty cool."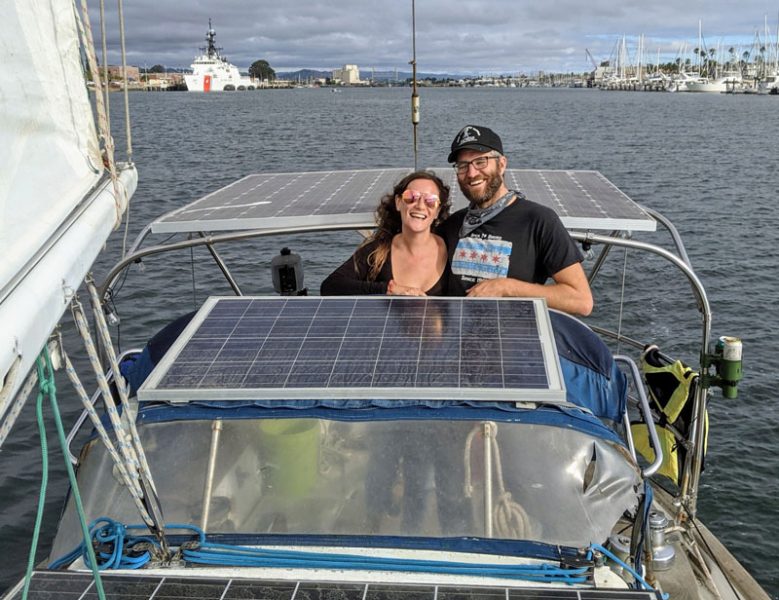 Lauren started going out sailing with Alex. Then she moved to New York to pursue her postgraduate degree in journalism at NYU. Alex left on his circumnavigation aboard the 1979 Valiant 32 Saltbreaker. She met up with him in Central America and sailed down the coast of Nicaragua. Nick and Alex made it to New Zealand, and Nick continued on with the boat from New Zealand through Indonesia.
Alex and Lauren picked up the boat in Bali and spent a few months sailing around Indonesia, making their way to Singapore. "That's the time that I developed my sailing instincts and experience," she says. "It was just the two of us, it was a 32-ft boat, and we did a number of three-night passages. In the China Sea there was a ton of shipping traffic and a ton of fishing boats, so it was a lot of learning, being on watch, knowing when to change course, and dealing with a lot of weird weather at the equator and a non-functioning diesel, which made everything extra-exciting, with a lot of sailing into anchorages.
"After that, my brother-in-law brought the boat from Singapore to South Africa. We joined back up, and four of us crossed the Atlantic together to Martinique. Nick brought the boat back to San Francisco Bay, having done the bulk of the circumnavigation. "Alex probably did two thirds of it." You can read Saltbreaker's blog from that time, but it hasn't been updated since 2015.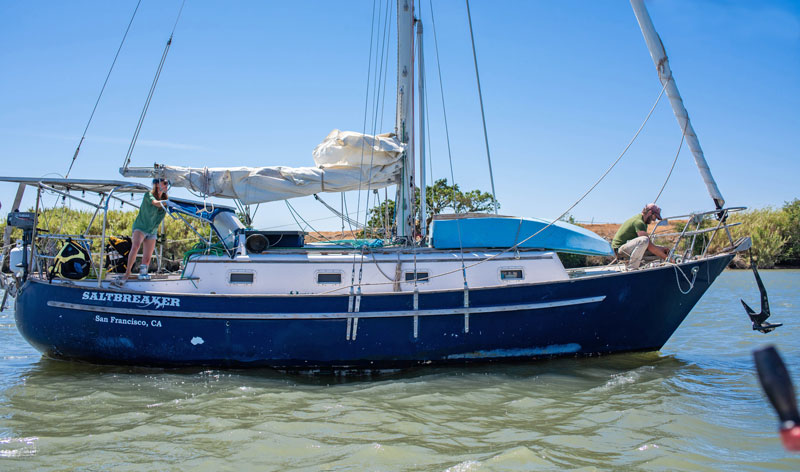 Lauren and Alex also share a San Francisco-based Catalina 25 with a bunch of friends. "We bop around the Bay a lot. So dealing with currents and strong winds and all that fun stuff that makes daysailing so fun and so exciting."
When the couple took Saltbreaker to the Delta earlier this year, it was Lauren's first time in the area. "I had driven past it a lot going to Sacramento, going to Tahoe, but had never explored any of the towns. It was amazing. There was so much to see, so much to explore."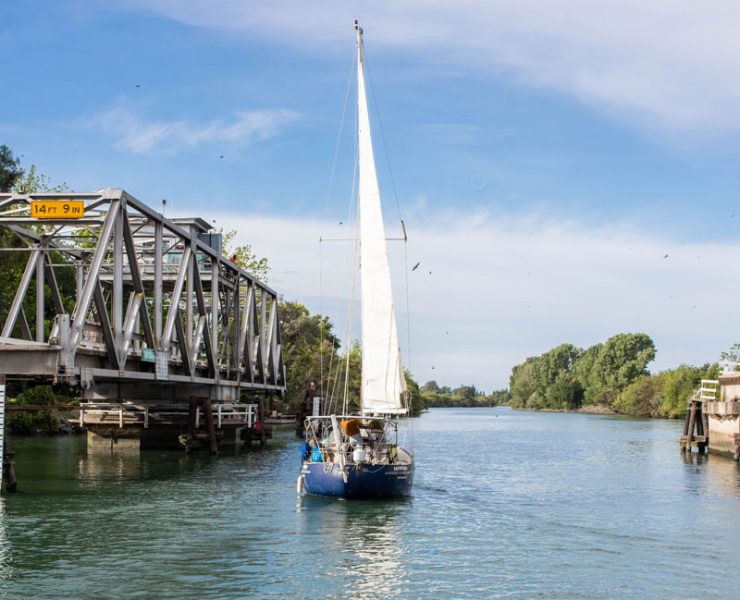 Saltbreaker has been back in Alameda for a couple of months now. "We've been talking about bringing that same boat up to Tomales Bay at some point and hopefully finding an anchorage or mooring where we can leave the boat for a little bit and have it as a base to go spend time up there, a real favorite spot of ours."
Although she left the Bay Area to go to college and grad school, she returned because, as she says, "It's kind of a hard place not to come back to." (We agree!) Lauren is a full-time freelance journalist. "Right now I tend to focus on travel, which has been extra-interesting in the last year and a half when travel has become kind of a fraught thing. In the past I've covered food; I've covered music. I've done a lot of writing in the Bay Area for local publications. In the last four or so years have been doing more national stuff, but often with a focus on California. I contribute to the New York Times pretty regularly.'
You can read her beautifully written report on cruising the Delta in the NY Times here (free, but registration is required). Longtime Delta Doo Dah sponsor and Latitude 38 advertiser Owl Harbor Marina is included in the piece.
Drew Kelly took the photos for the Times story. "They assigned him; I never met him. At no point were we up there together, the idea being that I'm meant to be under the radar, rather than showing up with a photographer and making it pretty clear. I write a story; when it's in the process of being edited, we'll put together a photo memo with suggested shots of things that could be worth capturing. They hire a photographer and send that photographer up to take photos. They have people everywhere they can tap. In the past, I've taken my own photos. It totally depends on the publication."
Learn more about journalist Lauren Sloss at https://muckrack.com/lauren-sloss/portfolio/list and on social media at https://twitter.com/laurensloss and www.instagram.com/lsloss.
Receive emails when 'Lectronic Latitude is updated.
SUBSCRIBE