We've all had that experience: the one where you discover a connection to your sailing life at an unexpected moment, whether it's a cruiser you met once in some faraway place, an old friend who you didn't even know was a sailor, or in the case of Carole and Pat McIntosh, a wandering sailor in a laundromat in the middle of Arizona. Pat sent us this story of their recent encounter with a young dinghy sailor traveling through Arizona.
This year Carole and I were not destined to go back to Mexico. Friends told us to go to Arizona and quit our bitching, be warmer than we would be staying at home, and try to make some new friends, even if they weren't sailors. That's what we did, and where we are.
Last week we were walking by the laundromat at the Crazy Horse RV Park in Lake Havasu City, AZ, where we are spending a couple of months. All of a sudden I spotted an SUV with a small sailboat tied to the roof rack. So in I went and asked in a loud enough voice to be heard over the noise of washers and dryers swishing and thumping, "Who's got the car with the sailboat on top out here?"
All the RV'ers looked at me as if they had never heard of a sailboat before. There was silence, except for the noise of about 20 washers and dryers. Then a young man named Jason Durie, who was folding clothes and now trying not to be noticed by the RV'ers, said that that would be his car, and is everything OK? He was relieved when I started asking him questions about his classic dinghy, and exactly what it was, maybe a Fatty Knees? We were having an animated conversation about where he had been traveling and sailing and camping, and his boat.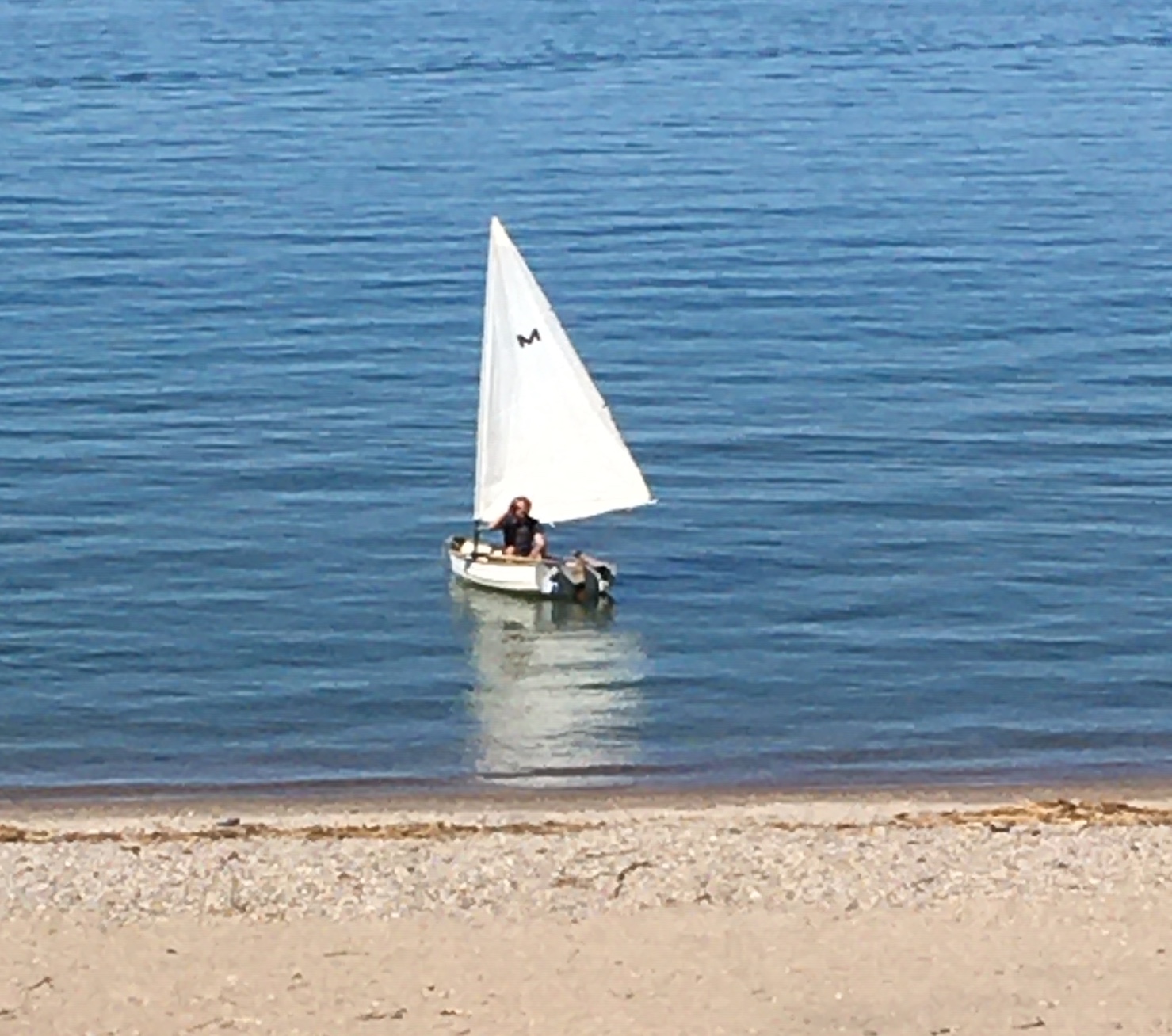 It is a Montgomery, and it's the dinghy to his other boat. He has mounted small wheels on the transom like an inflatable dinghy so he has an easier time getting to and from the water, and he says he never has engine problems because he has no outboard! When he runs out of wind, he just pulls out his oars and rows where he needs to go. So far, he has been tent-camping, doing some work on his computer, and sailing along the coast and inland in every body of water that looks inviting. He says he is on a voyage of rediscovering himself.
Jason hails from the Bay Area, where he sails a 1977 Albin Vega 27 Mklll that he is fixing and updating and expects to sell before long so he can upgrade to a larger boat and head out over the horizon. He does a great job of sailing and camping, and he has no problem with taking the Montgomery dinghy out and mixing it up with any other boats around. Talking with him was like a homecoming, because we hadn't had a boat on the Bay in several years.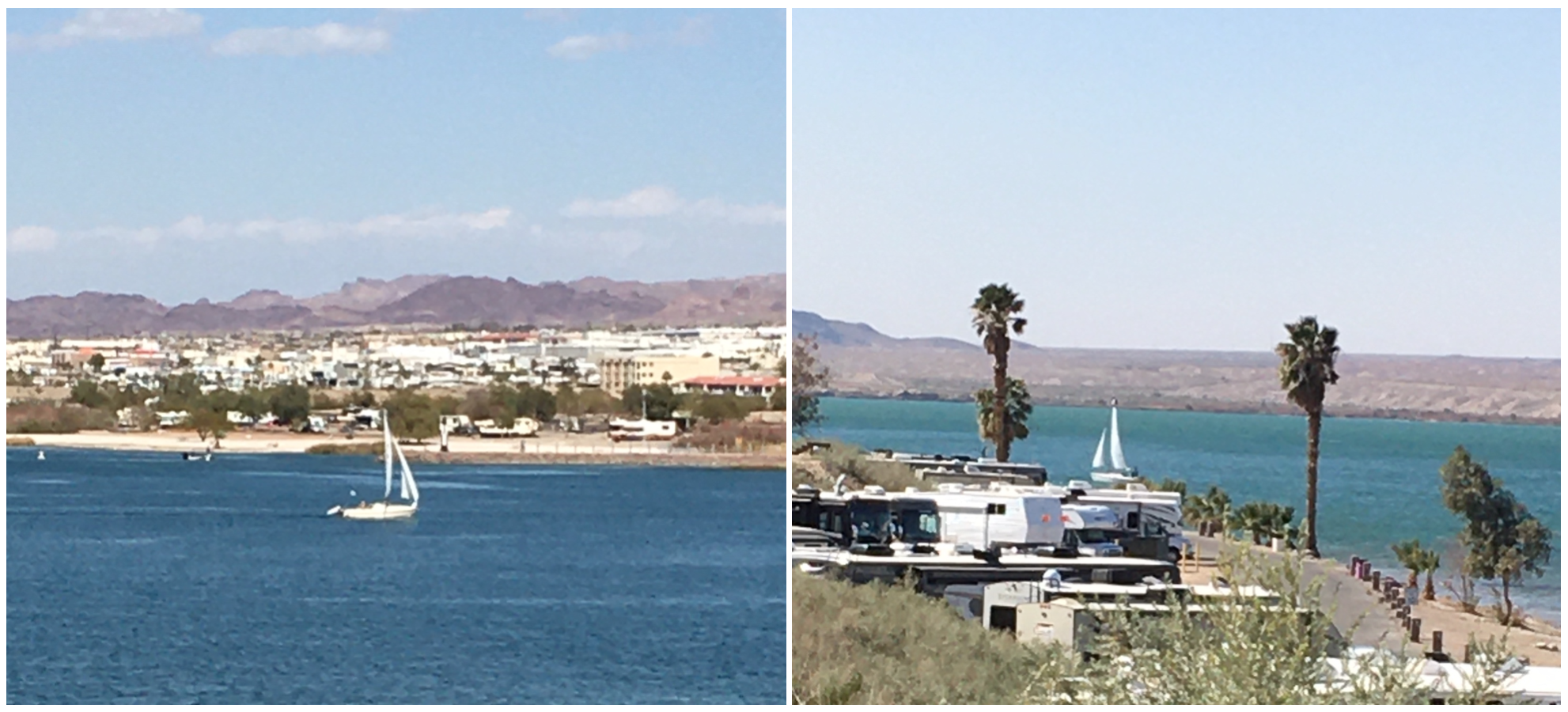 In the midst of talking and visiting with Jason last week I have been texting and exchanging emails with the cruisers in Barra de Navidad who are launching this year's Cruise-In Week (on now). One of the fantastic volunteers, now in her third year of volunteering in Barra, is Elinor Craig of the Island Packet 380 Nakamal. We've only known Elinor a few years, but she is a classy and classic cruiser. Her boat is no stranger to Latitude 38, because Elinor's boat did the 2006 Baja Ha-Ha when her name was Charm, and she was skippered by Doug and Marcy Sanford from Lacy, WA.
Carole and I became friends with Doug and Marcy on the Ha-Ha and still continue crossing wakes whenever there's an opportunity. This week, "opportunity" happened when they came through Lake Havasu City from seeing kids in Texas and a long stay in Mesa, AZ, and are now heading back home to Washington.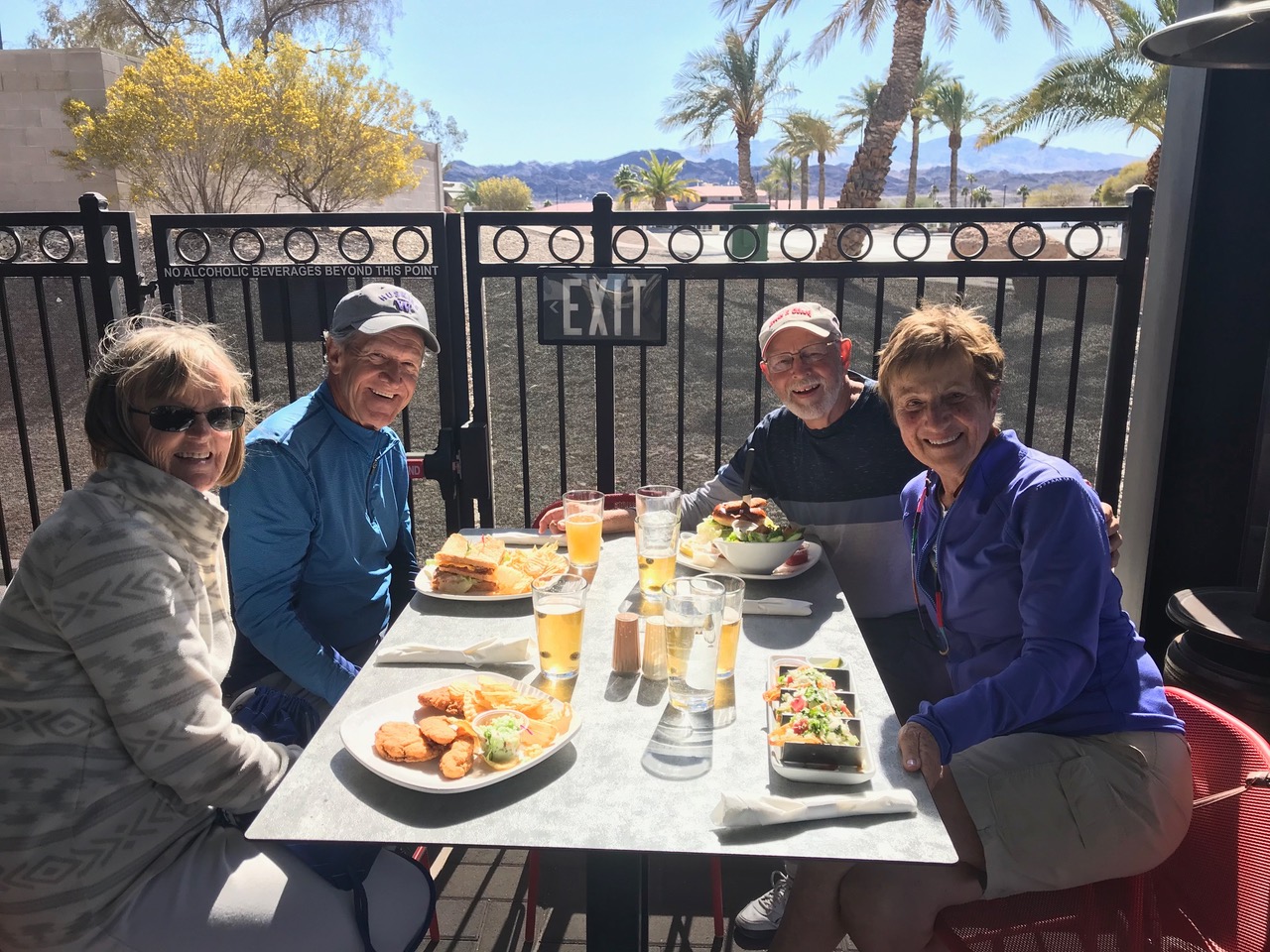 The only boating Carole and I got in was the ferry/sightseeing ride on the lake. For only $2 each it is the best deal in boat rides anyplace!
'Tis indeed a small world we all sail in. Sailors make up a community that seems a bit unique: Maybe it is "rediscovering" as expressed by Jason. Part of the glue that holds the cruising community together is what Elinor and others are doing in Barra, "Z" town, and lots of other places — they are giving of themselves to help communities they visit. And for sure, part of that glue is the continual weaving of the fabric of longtime friendships that overlap and connect, and then re-connect us in ways that keep surprising us.
Thank you, Latitude 38 and your whole crew, for being an important part of that "glue" that keeps the cruising and sailing communities unique, fun, and viable. – Pat and Carole McIntosh, Ramblin' Rose, WWP-19, Folsom Lake, CA (temporarily in Arizona).
What's the strangest place you've met sailing friends, old or new? Tell us about it here: [email protected].
Receive emails when 'Lectronic Latitude is updated.
SUBSCRIBE