Yacht Racing Ramps Up in March
We predict that March will come in like a lamb and go out like a lion. And we're not talking about the weather.
Race Cancellations in the Bay Area
We'll start with the bad news. But stay with us — there's plenty of good news to follow.
The announcement this week that youth sports can resume in some California counties comes too late for the PCISA high school NorCals next month. St. Francis and San Francisco Yacht Clubs had planned to run those on March 13-14. PCISA says they're committed to resuming competition this spring — but only in compliance with state and county regulations.
St. Francis Yacht Club has also canceled their Race Clinegatta scheduled for March 6-7 and Spring Dinghy on March 20-21. The San Francisco Cup, in which StFYC will host SFYC, stays on the calendar for March 27-28. San Francisco YC canceled the BAYS Winter regatta weekend of March 6-7. Intraclub races at both clubs remain on the schedule for now.
And Beyond
In the Caribbean, St. Maarten YC has canceled the St. Maarten Heineken Regatta on March 4-7. St. Barth YC has canceled the St. Barths Bucket Regatta on March 18-21 and Les Voiles de St. Barth on April 11-17. The BVI Spring Regatta on March 24-April 4 has been canceled. Antigua Sailing Week on April 24-30 has likewise been cut.
Looking farther out, Alamitos Bay and Long Beach YCs have canceled the 2021 Ullman Sails Long Beach Race Week. Citywide pandemic restrictions have prompted the decision, according to event co-chair Steve Mueller, including constraints on dock space and parking lot permits, which would limit the participation of several classes of boats. "If we are forced to eliminate a lot of our competitive classes, and can't have our traditional parties, it just won't be Long Beach Race Week! As we cannot run it in the fashion it deserves, and history demands, we regrettably have decided to cancel." June 25-28 had been the intended dates.
March Midwinter Madness
Several Bay Area midwinter series conclude in the month of March. Among them are series that would normally have concluded in February, but due to the December-January postponements, added dates for next month. Those are Corinthian YC's Midwinters on March 6-7 and RegattaPRO's Winter One Design on the 13th.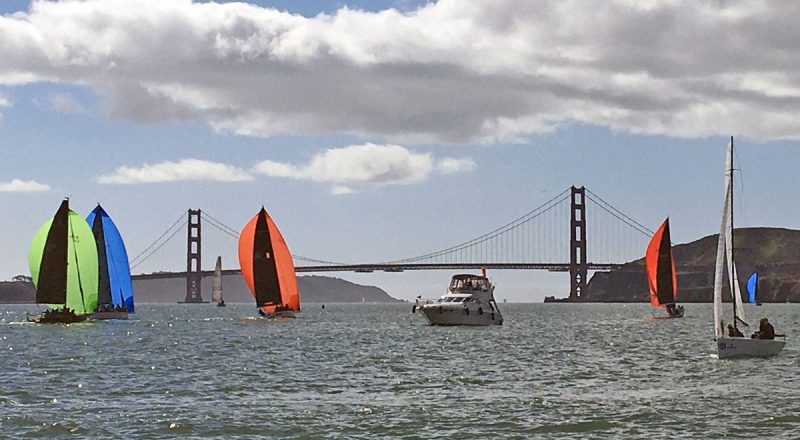 Spring Regattas in the Bay Area
Encinal YC in Alameda will put on on a five-race day for the Mercury fleet on March 6 to kick off the spring NorCal Series. EYC's parking lot, boatyard and hoist will be open to all Mercury sailors. Wear your mask and observe social distancing. The outdoor bar will be available for post-race gathering. EYC is cashless, so plan on using plastic to buy drinks.
Oakland YC will hold their traditional Rites of Spring on the 13th. This year they're offering divisions for singlehanded and doublehanded entries only.
The Yacht Racing Association has just announced their newly revamped Shorthanded Sunday Series, to be run on March 14, May 2, May 23 and July 11. "This four-race series, with spinnaker and non-spinnaker divisions, will consist of longer-leg courses ideally suited to doublehanded crews. It will be open to all boats with a current PHRF certificate and YRA membership. One-design classes that get at least five boats to enter will have their own division." Registration is open on Jibeset.
The YRA also announced that the Great Vallejo Race will move from May 1-2 to August 21-22, "with the hopes that by mid-summer the pandemic will be well in hand, and most everyone will be vaccinated."
Santa Cruz YC will run a doublehanded Three Buoy Fiasco on the 13th. Their Winter Weather Window Timed Race is still open through March 17.
It looks like Richmond YC's Big Daddy Regatta will be a Saturday-only regatta this year, with racing on the 20th.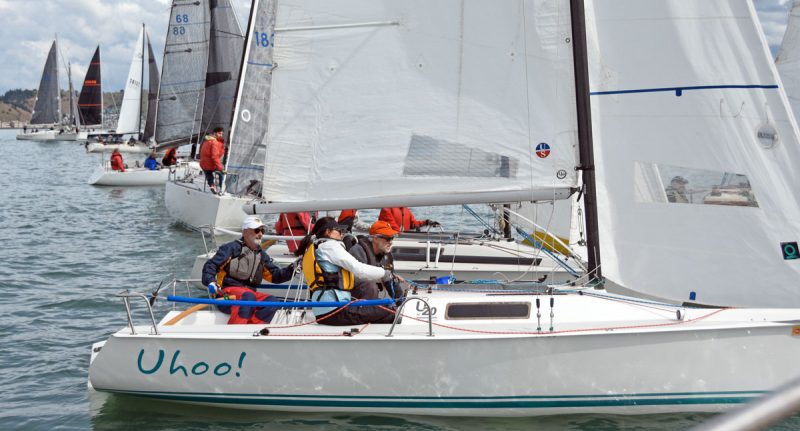 The Singlehanded Sailing Society will offer their third race of the 2021 season, Round the Rocks, on March 27, with a skippers' meeting the previous Wednesday evening. If you're interested in the SSS Singlehanded Transpacific Race, note that the entry fee goes up after March 15.
Sausalito YC will run their Jaws Pursuit Race on the 27th, and we predict that they'll cross paths with Round the Rocks at some point in their race.
Island YC may have lost their Alameda Marina clubhouse, but they haven't lost their spirit, or their ability to run events. Their Sadie Hawkins female skippers' race will take to the Estuary on Sunday the 28th. Normally a full-crew race, this year's edition will be for single- and doublehanders only.
And Beyond
On Folsom Lake, FLYC's Spring Series will begin on the 13th, and they offer up the Trans-Folsom on March 28.
SDYC and Coronado YC will host the San Diego NOOD Regatta on March 19-21. Also on San Diego Bay, the America's Schooner Charity Cup is scheduled for March 27. Silver Gate YC hosts.
Roll Out the Beer Cans
We're really on a roll now! Daylight Saving Time will start on March 14. Some clubs will take advantage of the extra daylight to kick off their beer can series ASAP.
In Santa Cruz, Tuesday Night Races kick off on Tuesday the 16th, followed by Wednesday Night Races on Wednesday the 17th.
Also on March 17, Monterey Peninsula YC will begin their weekly Wednesday night Sunset Series with the Rick Srigley Memorial Race. Srigley, you may recall, perished when he fell from his Moore 24 during the first Sunset Series race in 2019.
Normally starting in April, RYC's super-casual weekly Wednesday Night Beer Cans will get a jump on the action on the 17th.
Throughout February, the return to yacht racing has been gentle and careful, but by April, with the return of weeknight sailing, we expect to be in full roar!
Receive emails when 'Lectronic Latitude is updated.
SUBSCRIBE