Jean Le Cam's fifth participation in the Vendée Globe is rapidly turning into a nearly mythical performance to be remembered. As if running among the leaders in a nearly 14-year-old non-foiling boat weren't enough, the 61-year-old Le Cam has now added a rescue at sea to his stat sheet for this edition of the solo nonstop around-the-world race.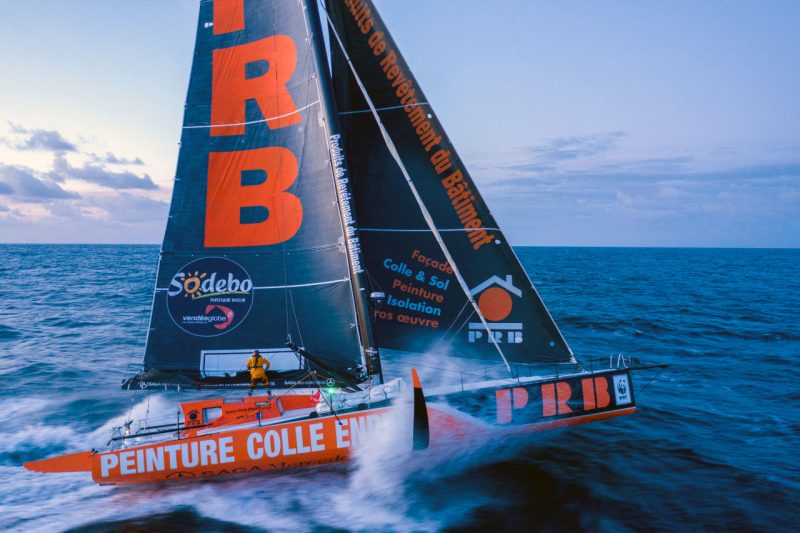 Sailor in Distress
At approximately 1346 UTC on Monday afternoon, while sailing in third place 550 miles southwest of Cape Town, Kevin Escoffier's yacht PRB nosedived into a wave and "literally broke into two," according to the 40-year-old veteran ocean racer. One of the onboard EPIRBs activated itself automatically and sent PRB's position to the race committee. Escoffier sent one concise message to his team: "I need assistance. I am sinking. This is not a joke." With very few details available to him at the time, fourth-place Jean Le Cam immediately sprang into action and altered his course slightly to meet with Escoffier and attempt to offer assistance.
The Rescue
Once on the scene, with no headsail and a deeply reefed mainsail, Le Cam was able to locate the beleaguered PRB skipper despite the 15-ft-tall breaking waves and strong southwesterly winds. With night falling and Le Cam eventually losing sight of Escoffier, the race organizers sent three more skippers to the area to conduct a triangular search pattern. Miraculously, after seven scans in the area, Le Cam reestablished visual and voice contact with Escoffier and his liferaft in the middle of the night.
"I put myself to windward of him. I saw Kevin. Kevin asked me, 'Will you be back?' I said, 'No we are doing this now!' Then at one point the boat was falling backward, too fast in reverse, and he was just there, two metres off the stern. And thank goodness I had prepared the red life ring that is usually in the cockpit. I threw him the life ring. And he caught it and then he managed to pull himself in to catch the transmission bar (rudder link arm). And that was it."
With Escoffier safely on board Yes We Cam!, the duo are again sailing in close contact with several other boats in the fleet. The race director is reportedly planning for Le Cam to transfer Escoffier onto a French navy frigate at the Kerguelen Islands, but this has yet to be confirmed by the authorities.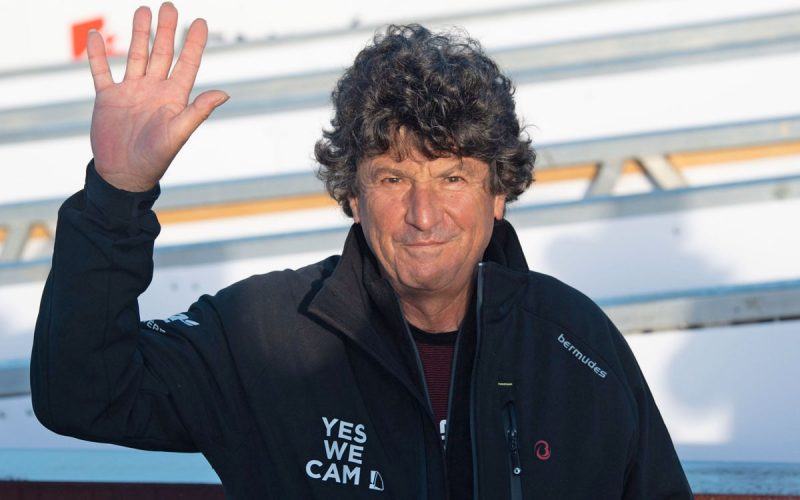 More Damage
While third-placed PRB has now sunk, pre-race favorite Alex Thomson and Hugo Boss are headed to Cape Town with the loss of a rudder, making retirement inevitable. Just a day after resuming racing following major structural repairs, Thomson's fifth Vendée Globe has now come to a close. Another pre-race favorite has also recently faltered. Sebastien Simon on Arkea Paprec hit a UFO and destroyed a foil and casing, which have proved to be the Achilles heel on his new Juan K design. Now sailing at reduced speed, Simon looks destined to tumble down the rankings.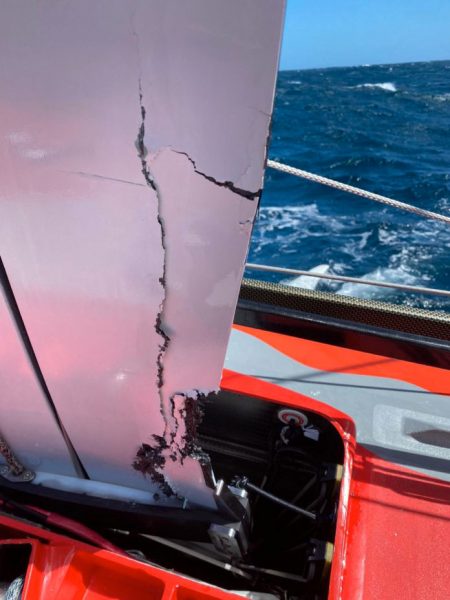 The Fleet Leaders
Alone at the front of the fleet, Charlie Dalin and Apivia continue to lead the race across the Indian Ocean. Louis Burton on Bureau Vallée 2 is in second place 250 miles astern. Thomas Ruyant's LinkedOut rounds out the top three. Previously running in third and then fourth place, Jean Le Cam and Yes We Cam! are currently in seventh place following the rescue of Kevin Escoffier. Again sailing at full speed, Le Cam is already working his way back up in the rankings. He'll also be due redress from the international jury, which should convene shortly to discuss Le Cam's fate.
Receive emails when 'Lectronic Latitude is updated.
SUBSCRIBE