Most Bay Area sailors know the ins and outs of our local sailing grounds. And most of them have probably sailed under the Golden Gate Bridge — perhaps to the Farallones and back, or perhaps just for a look-see and a turnaround. Some, however, make that extra tack and keep going. One local sailor, who goes by the name Whye Wait, sent us this story about when he did just that, aboard his Catalina 470 No Plans.
What it Feels Like to Turn Left
Months, even years, of sailing didn't prepare me for this moment. I'm not sure I'm ready. Not sure the boat is ready. Are there things I've missed? Could I have done more? Should I have done more? Am I irresponsible? These questions are spinning in my head like a circus ferris wheel.
Turning left under the Golden Gate Bridge and sailing off into the sunset has been my dream for years. You've felt the pull, right? Tell me I'm not alone. I'm sure if you have saltwater in your veins, you can relate. You can see the freedom just sitting there, whispering in your ear, waiting for you to make the first move, yet you don't. I'm scared.
Sailing under the Golden Gate has been a goal for many San Francisco Bay sailors over the years, and it's now staring me square in the face. It's a rite of passage, a bucket-list milestone, a new lease on life, and I'm about to do it.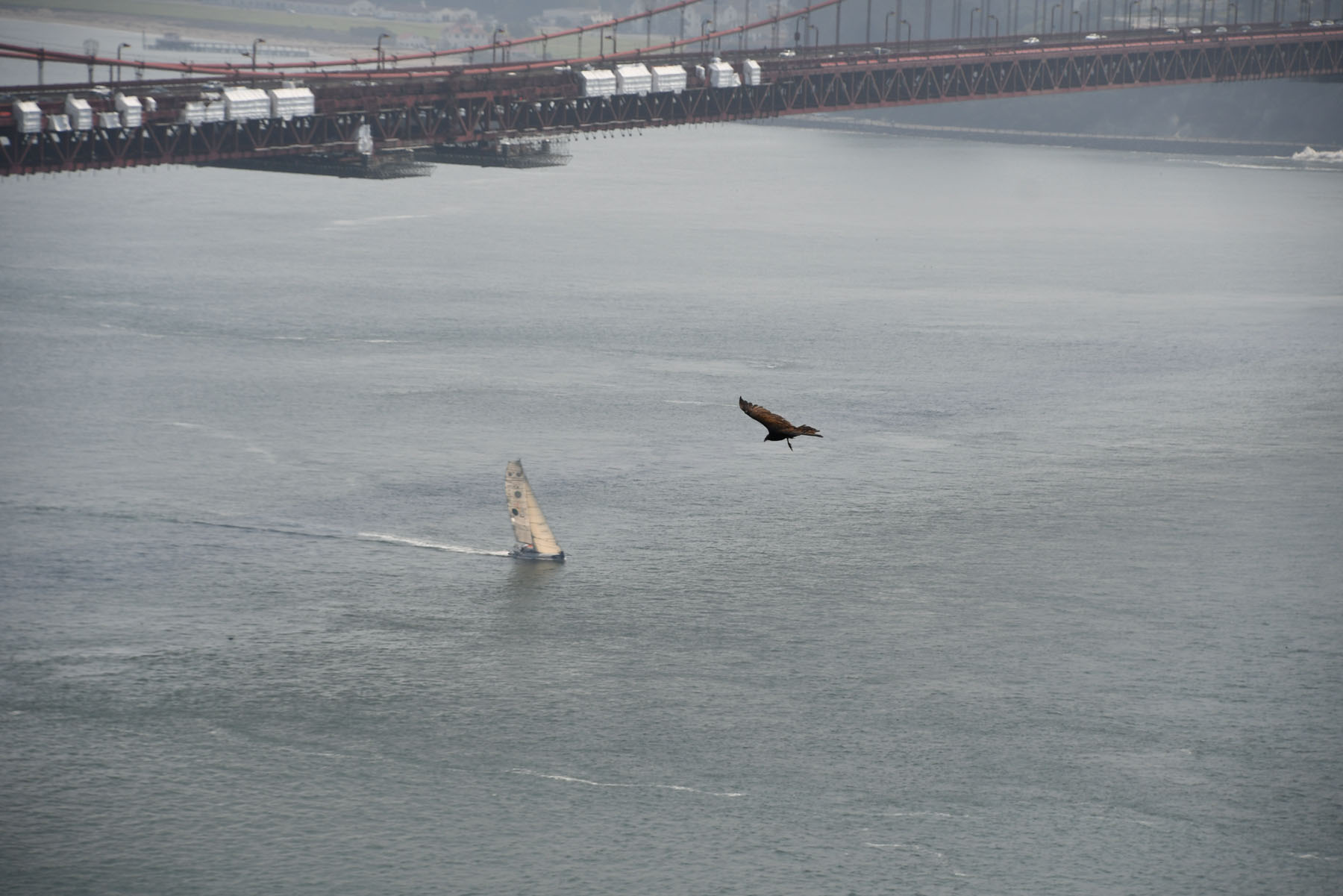 Imagine being on a boat, looking up at the orange splendor of this fabled bridge, turning left, and not looking back, feeling the pull of the swirling currents taking you where they want, not where you want — the funneled blast of frigid Pacific wind numbing your ears.
Now imagine sailing your boat under this bridge. Yes, your very own, bought-it-yourself-with-hard-earned-money sailboat. Scary, right? These feelings are hard to describe, but I'll try.
I feel I'm in way over my head as my lovely, smiling bride glances at me for reassurance. Have we made the right decision?
I flash a smile of confidence. Yet inside, I'm twisted in a knot. Hearing the rumbling of cars overhead, I glance up. A tingling wave of accomplishment unties the twisted knot and sends peaceful goosebumps across my neck and down my arms. Tears of satisfaction fill my eyes then race down my cheeks to be cast into the sea by the gusting wind.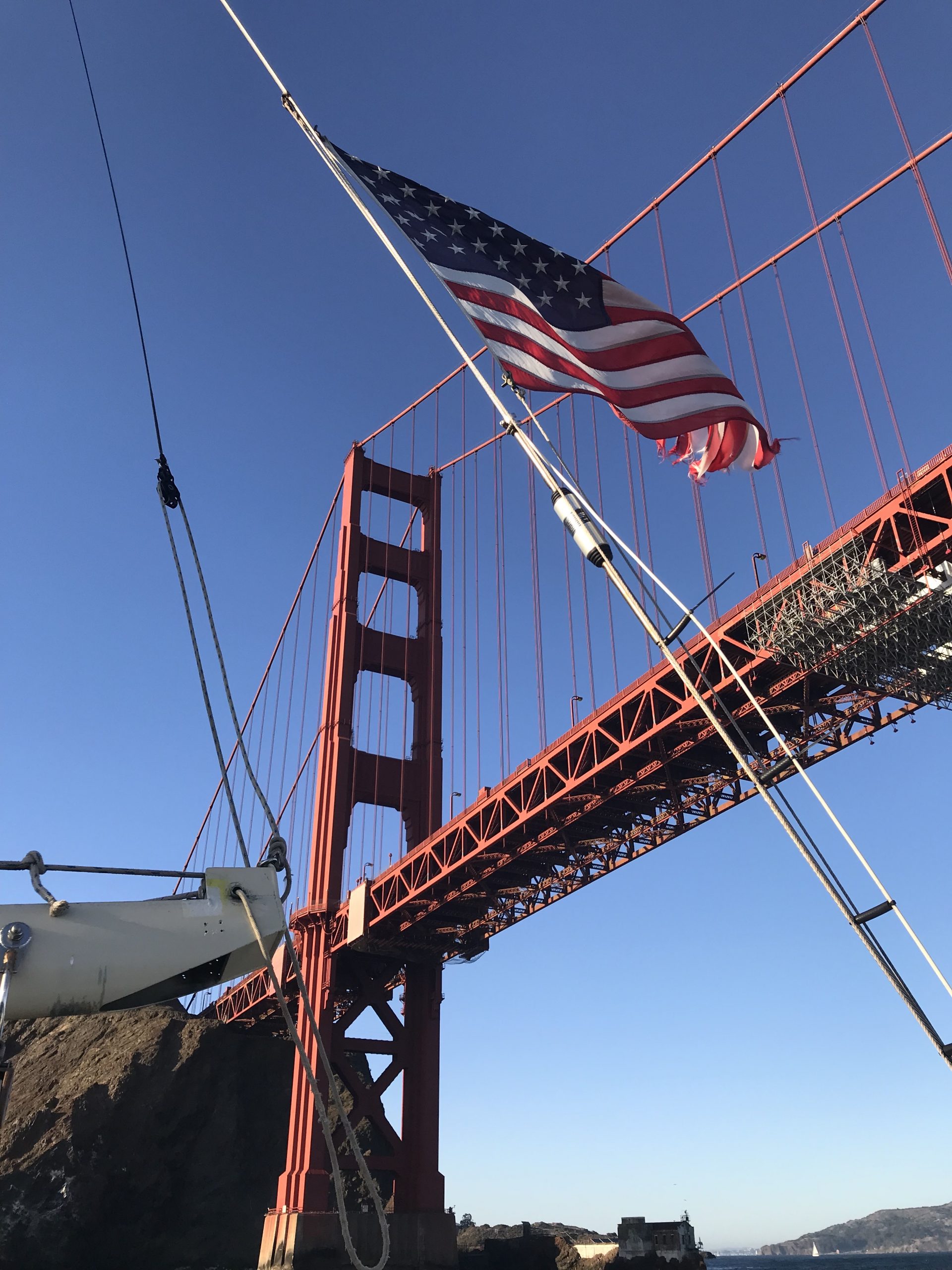 I feel alive. The world lies at my feet, open, waiting for me to take the next step, the next breath. I feel free. Free to go faster, or slower, or turn the boat in lazy circles if I want.
I feel humble. How can I be so fortunate? How can I share this moment with my family and friends? These feelings fill me to the brim. If I speak, I'll turn into a puddle on the deck, so I don't say anything for fear of ruining the moment. I feel joy, and smile the biggest shit-eating grin. The world has just shown me one of its secrets.
Receive emails when 'Lectronic Latitude is updated.
SUBSCRIBE