Photo of the Day
July 9 - San Francisco
Today's Photo of the Day is from yesterday's first start of the West Marine Pacific Cup from San Francisco to the Kaneohe YC on Oahu. In recent years, the Pacific Cup has been attracting some of the hottest boats in sailing - Mari-Cha and Zephyrus this year - and that's had some Pacific Cup honchos worried. The Pacific Cup was started as the amateur 'fun race' to Hawaii, and they don't ever want to lose that tradition. Chalmers Ingersoll's San Francisco-based Tayana 37 Gaea should put their fears to rest.
Far be it from us to criticize another's boat, but in a quarter century we can't remember seeing an entry less geared for a fast race. In a downwind competition to Hawaii, the keys are light weight and keeping the weight toward the center of the boat - neither of which has been done in this case. Nor can we remember a race entry with so much gear hanging off the back - liferaft, fenders, spare line, BBQ, wind generator, self steering, outboard, and so forth. As for the big roller thing, is Gaea going to be doing some purse seining on the way to the Islands?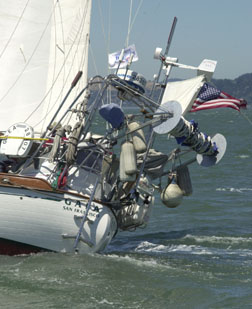 Photo Latitude/Rob
It's fortunate that early sailing conditions have been so mild, for if it had been typically rough off San Francisco, half that stuff probably would have been washed away, and the liferaft torn off or at least completely soaked.
Once again, we don't mean to be critical, but properly stowing gear is a basic part of good seamanship, and we don't think that's the case here.