As detailed in Monday's 'Lectronic, the YRA and Vallejo Yacht Club canceled the 2020 Great Vallejo Race. But that doesn't mean there's no racing. Au contraire!
October 3-4
This weekend, Berkeley YC offers the S.I.P. Escape — a Make-Up Race on Saturday, October 3. BYC is offering divisions for singlehanders, doublehanders, household/social bubble crews, and spinnaker and non-spinnaker boats. Then, BYC plans to start running their casual Sunday Chowder Series on October 11, continuing on most Sundays through March.
Also on October 3, Sequoia YC will host their Moonlight Marathon. The 37-mile race will start in Redwood City in the late afternoon, round Treasure Island, and finish under the light of a nearly full Harvest Moon. "It's a semi-pursuit style race, with start times aimed to get everyone to the top of Treasure Island at the same time," explains race chair Tom Borgstrom. Another race on the same evening taking advantage of the just-past full moon will be San Francisco YC's Midnight Moonlight Maritime Marathon. A pursuit race, this one starts in the afternoon in Raccoon Strait and rounds the central pier of the Carquinez Bridge as its turning mark.
Richmond YC will host the Multihull Invitational, a two-day event this weekend. Because non-RYC members will be participating, the regatta will be staged out of the Marina Bay Yacht Harbor and sailed on the waters off Brooks Island. There will be no gathering at RYC. Also a two-day event, the Mercury Class Pacific Coast Championship will be contested at Los Angeles YC in San Pedro this weekend.
October 10-11
On October 10, Encinal YC will run the YRA Doublehanded Encinal Race, with a course from west of the Berkeley Pier to Point Bonita, then back inside the Bay past the Bay Bridge to a finish near the entrance to the Estuary (away from Port of Oakland shipping). In case of rough conditions west of the Golden Gate, the race committee can choose an alternative in-the-Bay course.
That Sunday, the 11th, EYC will join forces with Island and Oakland YCs to offer the Estuary Extravaganza. Divisions are offered for singlehanded, doublehanded, fully crewed and one-design boats. Registration closes tonight. As of Tuesday night, 63 boats had already signed up! Sequoia YC's Quarantine Cup Series will conclude on October 11.
October 17-18
It's back to RYC again for October 17's Mercury Fall Invitational. Oakland YC's Oktoberfest will move to the Estuary this year, on the 17th.
With the Vallejo YC closed and unable to host visiting regattas, the Singlehanded Sailing Society is looking at alternatives for the Vallejo 1-2 (could it be a Benicia 1-2 this year?) on October 17-18. So far, the SSS has managed to get in every race they'd planned — with the notable exception of the Singlehanded Transpacific Yacht Race, which they moved to 2021. The usual idea is to race up singlehanded on Saturday and return doublehanded on Sunday.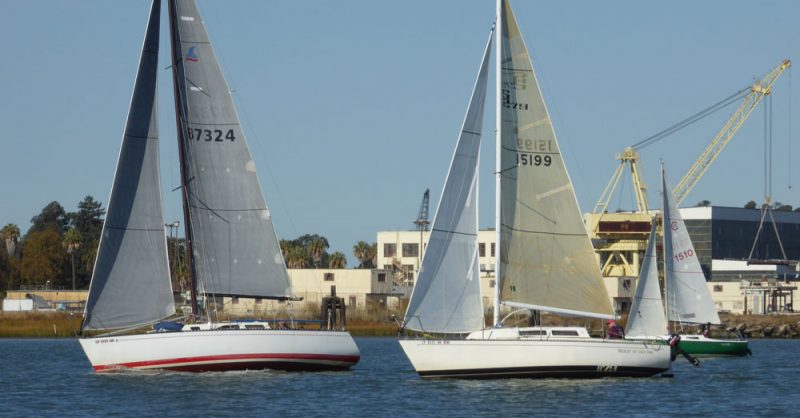 October 24-25
What would October be without the Great Pumpkin Regatta? Weird and creepy, that's what. So RYC has adapted the event for the pandemic. There will be one race day — Saturday, October 24 — instead of two, and no party. It will be a pursuit race with an on-the-water-as-you-finish trophy presentation. "We're still working out the details of costumes, pumpkin dropping and trick-or-treating," says the club that was "built for fun."
October 31-November 1
Tiburon YC has been managing some racing in these trying times. Their Halloween-themed Red Rock Regatta is on the schedule for Saturday the 31st.
November will kick off on Sunday the 1st with RYC's fourth Amazing Grace Cheney Regatta, in a pursuit-race format with another on-the-water trophy presentation.
All Month Long
In between November 1 and today, a new kind of event will span the entire month of October. It's not a race in the usual sense of the word, but a challenge nonetheless. The Farallones Lunar Challenge invites you to sail around the Farallones as many times as you can in one lunar cycle, October 1-31. Email your proof to [email protected]. (By the way, Thursday, October 1, is the full Harvest Moon and Saturday, October 31, is the blue Hunter's Moon — on Halloween no less!)
Tomorrow, October 1, is also the day the next issue of Latitude 38 will come out. Within its pages you'll find Calendar, listing many more worthy races and maritime events than we have room for here. We'll update the online version of Calendar tomorrow too.
Receive emails when 'Lectronic Latitude is updated.
SUBSCRIBE