Beware the Side Effects of Cruising in Mexico
This photo was taken 10 or 15 years ago, at Paradise Village Marina in Nuevo Vallarta.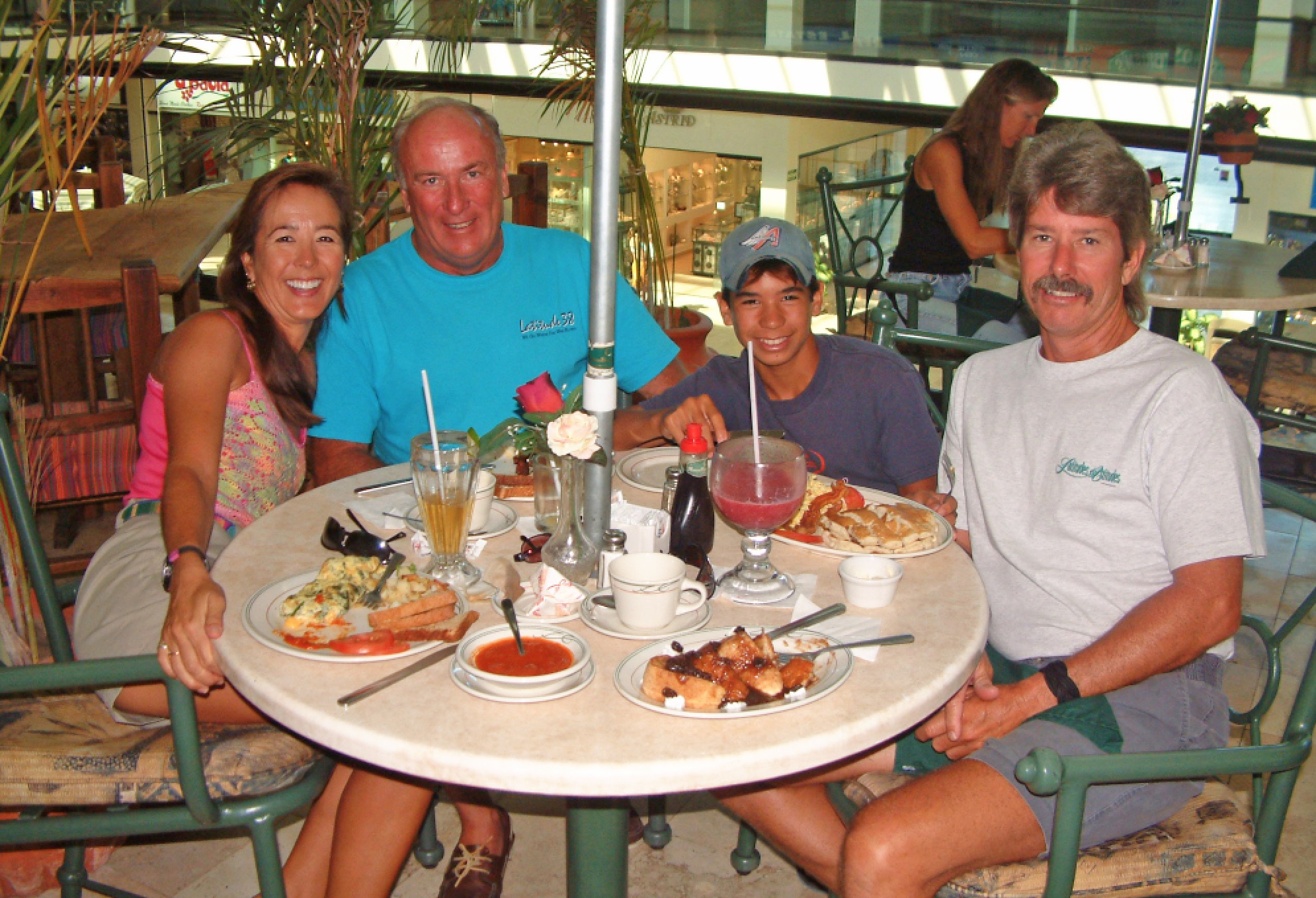 Back in the day, John used to race his Bob Perry-designed 52-ft cat, the name of which I can't remember, against my Profligate, and Dave and Kim once or twice raced their Catana 42 Maluhia.
That was some of the most fun racing I've ever done in my life! Perfect tropical conditions and friendly competition.
But after John and I had done a bunch of Banderas Bay Regattas, we decided we needed a change of pace. Variety being the spice of life and all.
So I challenged John to meet me eight months later in 3,500-mile-distant St. Barth, for the New Year's Around the Island Regatta.
Surprise, surprise, we both showed up! Did the Sint Maarten Heineken Regatta, too.
John later moved to Colombia, where he has photo evidence of getting his cat sailing at 28 knots. Mind you, not that he wanted to go that fast.
So where is everyone today?
A couple of years ago Dave and Kim took off cruising to the South Pacific. For reasons I'll let them explain, not long ago they ended up buying a Burundi 47 cat in Grenada's Windward Islands, where they have since been living out the COVID-19 mess in style. Their new-to-them cat has tillers, for God's sake.
About 10 years ago, John sold his 52′ and bought a day cat. But at age 74, he got the big-cat bug again and bought a hurricane-damaged Catana 52. Damaged in the sense that the carbon mast he was hoping to repair was broken in two places, the boat needed new engines, and there was a bunch of glass work to be done.
A tip of the hat to John, but the last thing I ever want to be doing at that age is trying to put a hurricane-damaged cat back together. But John likes projects that involve reviving stuff from the dead, such as San Diego real estate after the crash. He's made good money doing it, too.
Anyway, there's a good chance that John, Dave, the ever-lovely Kim and I will be reunited on cats sometime soon in St. Barth, all of us with cats we didn't have in Mexico.
The moral of the story? If you go cruising in Mexico, you'd better be careful, because you might still be cruising 20 years from now.
Receive emails when 'Lectronic Latitude is updated.
SUBSCRIBE