Sailors will no doubt debate the particulars of any given moment of weather, but there was some consensus that the preceding three days of wind, which blew from the north-northwest and was marked by 30-plus-knot gusts, was more characteristic of early spring than early June. There was also consensus — among the crew of East Bay windsurfers, anyway — that Friday, Saturday and Sunday's blows were more grueling, confounding and frustrating than glorious and awe-inspiring. The wonky conditions didn't stop anyone from heeding the gale's siren call, but made some of us question our priorities.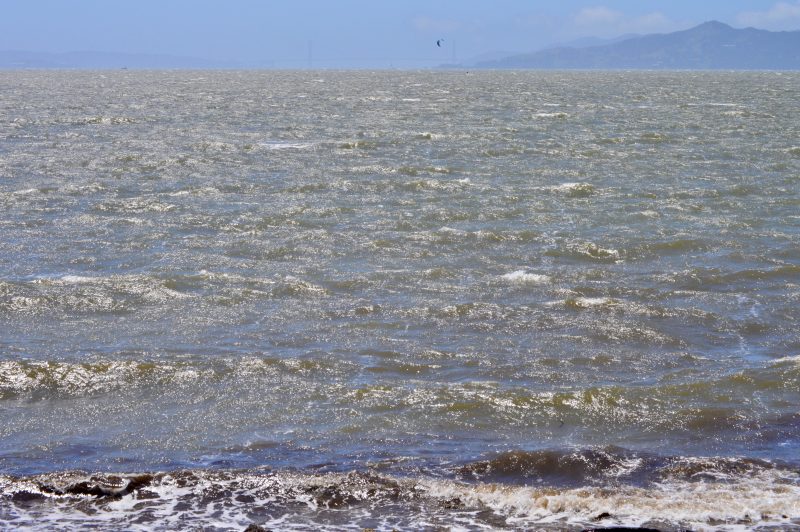 When I arrived at the recently reopened Point Isabel at around 2:30 p.m. on Friday, most windsurfers were just exiting the water. "It's crazy," said one regular. "There was either not enough wind and I was 'slogging' [sailing below planing speed], or there was way too much wind and I had my hands full . . ." Of course, I had to see for myself. I rigged my 5.0, one of my smallest sails, and had a go. The sea state at the normally docile Point Isabel was utterly appalling, with breaking, crossed-up waves that seemed to come from multiple directions. As reports suggested, I was either way overpowered or barely making headway. This radical 'shifting of gears' is exhausting. One must use one's entire body to adapt, rather than finding any rhythm and flow through the water. I only lasted two runs.
On Saturday, the northern component to the wind activated the Rod and Gun Club, which sits at the western end of the San Rafael/Richmond Bridge. There were seven or eight windsurfers on it and rigging their small sails, even though it didn't look that windy from shore. I followed the pack, rigged my 4.5, and waded out into the wind line.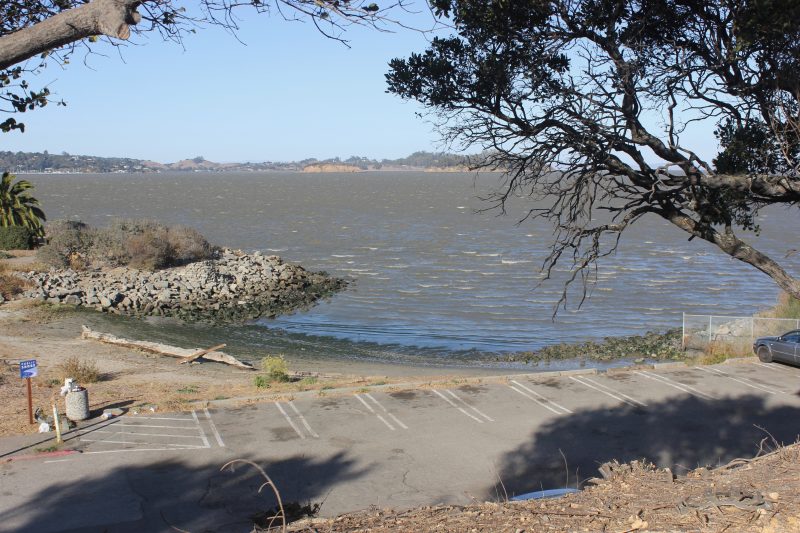 The wind was a little more solid than on the previous day, though still a bit streaky, gusty, and instantly energy-depleting. In the puffs, even the 4.5 was too much, to say nothing of the sea state. The waves were so close together that one was obliged to sail over them — chop-hopping from peak to peak — or bash directly into them and send shockwaves through the body.  I managed two more runs, and came in.
On Sunday, I drove past the Rod and Gun Club, and hoped to find more stable conditions at Point Isabel. I arrived at around 4 p.m. to a freshening breeze that was a tad lighter than that of the days prior. I thought I might finally catch some steady conditions, and rigged the 5.2. With the northerly direction, the angle sailing out of Isabel took me past Albany Bulb and directly toward the San Francisco Cityfront, which was blazingly clear and starting to glow in the evening light. But, in keeping with a theme, the sea state was again hideous, and the gusts built and became oppressive the farther into the Bay I sailed (but the peaks of the roiling seas were lit up magnificently by the sinking sun). I was utterly drained and found myself getting frustrated. But after I got back to shore following a handful of runs, I reminded myself that I was missing the point.

The point of sailing, to me, is just to be there, to see the ocean and Bay at their most dynamic moments. 'Shredding' or finding flow or getting into the zone are certainly things one aspires to, but that's all just gravy. The real privilege is just being there.
How was your weekend? Please write us here, or comment below.
Receive emails when 'Lectronic Latitude is updated.
SUBSCRIBE