Yacht Racing on the Horizon
This Was Not the Delta Ditch Run
Regular readers and regional racers know that Stockton Sailing Club and Richmond Yacht Club canceled June 6's Delta Ditch Run. However, someone forgot to tell the social-bubble crews of 10 Moore 24s and a Melges 24, who braved gnarly gusts into the high 30s to sail the course. They must have wondered where the other 100+ boats were. We'll have more in the July issue of Latitude 38.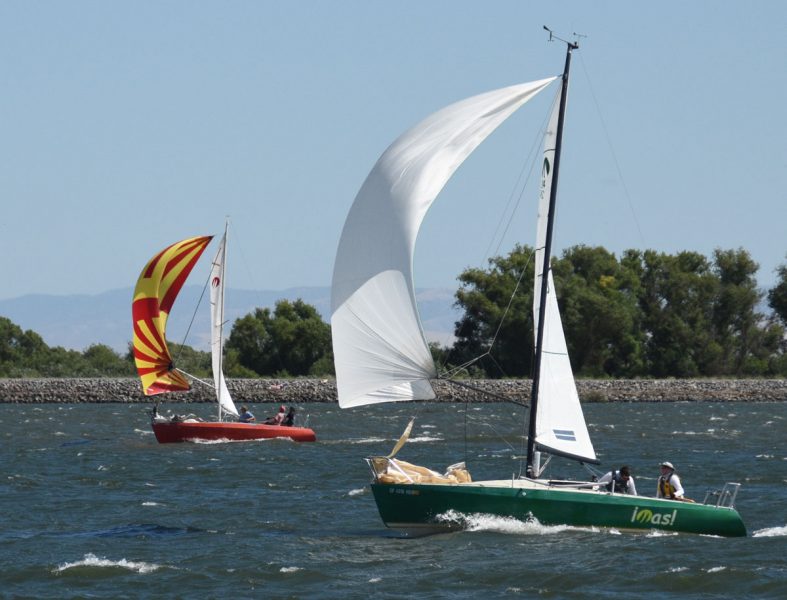 Singlehanded Farallones
The Singlehanded Sailing Society had hoped to pull off the Singlehanded Farallones Race (postponed from May 16) on June 13. However, that plan fell through as the USCG and the counties were unable to reach an agreement. The SSS is still hoping to find a date for the race this summer, and a date for the Round the Rocks Race, with a Bay tour course, canceled in April.
Beer Can Racing
As Tom Burden mentioned in his story on Friday, Richmond YC will kick off their weekly Wednesday night races on June 10. Only RYC member skippers and their household members can sail together. The series is still free, but boats will have to be signed up on Regatta Network, and this is a new practice for what had been a very casual operation. This makes RYC the first Bay Area club to offer 'official' beer can racing. However, sailors out of Coyote Point YC in San Mateo had their first unofficial beer can race last Wednesday, with no skippers' meeting, no post-race gathering, and a rabbit start. (CPYC always uses rabbit starts for their beer cans.) About six boats participated.
Encinal YC canceled their Spring Twilight Series, but they're optimistic for their summer series, to begin on Friday, July 3. The club, based in Alameda, runs their beer can races on the Oakland-Alameda Estuary.
Speaker Series Features Tony Johnson
If you're sheltering in place this Wednesday, June 10, rather than racing around the cans, you might like to check out a Zoom presentation by the Sausalito Yacht Club Speaker Series at 6 p.m. They'll feature Tony Johnson, a circumnavigator, author, songwriter, drummer, philosopher and explorer. The publicity for the event promises "tales of gales, groundings, pirates and a near sinking." If you're interested, email GM@sausalitoyachtclub.org to request access.
Championship Regattas Canceled
The latest J/Newsletter alerts us to the cancellations of the 2020:
J/80 Worlds, scheduled for September 28-October 3 in Newport, RI. The Royal Danish Yacht Club in Hellerup will host the 2021 J/80 Worlds.
J/70 North Americans, scheduled for September 20-27 in Mississauga, Ontario, Canada. The 2021 J/70 North American Championship will remain as planned from May 12-15 at the Annapolis YC.
J/24 North Americans, scheduled for August 11-16 in Blue Point, NY. The same club, Sayville YC, plans to host the class's next NAs on August 18-22, 2021, pending approval by their board.
Receive emails when 'Lectronic Latitude is updated.
SUBSCRIBE