Counting Fish with Sailing Robots
Scientists Turn to Alameda's Saildrone
This week is World Oceans Week. One of our friends shared this story on social media, and we could not resist passing it along. Here's a tale where yesterday's science fiction is today's science fact, with a group of San Francisco Bay Area tech innovators leading the way.
The eastern Bering Sea is home to vast schools of pollock, the largest commercial fishery in the US by volume, and worth around $1.4 billion. Every year, scientists from the Alaska Fisheries Science Center use research vessels and chartered fishing boats to perform scientific, fisheries-independent surveys, so that they can set quotas for this important industry.
This spring, as the COVID-19 pandemic descended worldwide, it became clear that ship-based surveys would need to be canceled. Instead, the biologists at NOAA Fisheries turned to Saildrone, a group on the leading edge of autonomous, sail-powered robotics.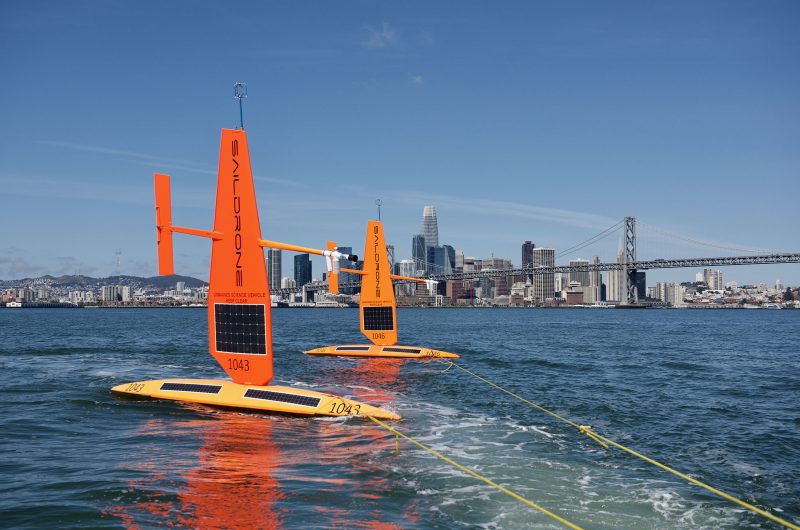 "Extraordinary times require extraordinary measures," said project lead Alex De Robertis. "We knew there was a possibility that surveys may be canceled this year, so we worked on a contingency plan to collect some data just in case. We were able to capitalize on our previous experience working closely with Saildrone and NOAA Research's Pacific Marine Environmental Laboratory (PMEL) to get things off the ground quickly."
Nine days later, in an impressive display of rapid execution, a fleet of three 23-ft robotic keelboats was launched from Saildrone's Alameda base. They are on a six-week, autonomous voyage to the eastern Bering Sea, armed with twin-beam CHIRP (Compressed High Intensity Radar Pulse) scanning sonar, powered by solar panels and propelled by 15-ft-tall wingsails.
"Saildrones are designed to be deployed from any dock, sail to any location in the ocean, and complete their data-gathering missions without putting humans at risk. This makes Saildrone technology ideally suited to these tough times," Saildrone CEO Richard Jenkins told NOAA. "We're proud to be able to contribute to this important mission."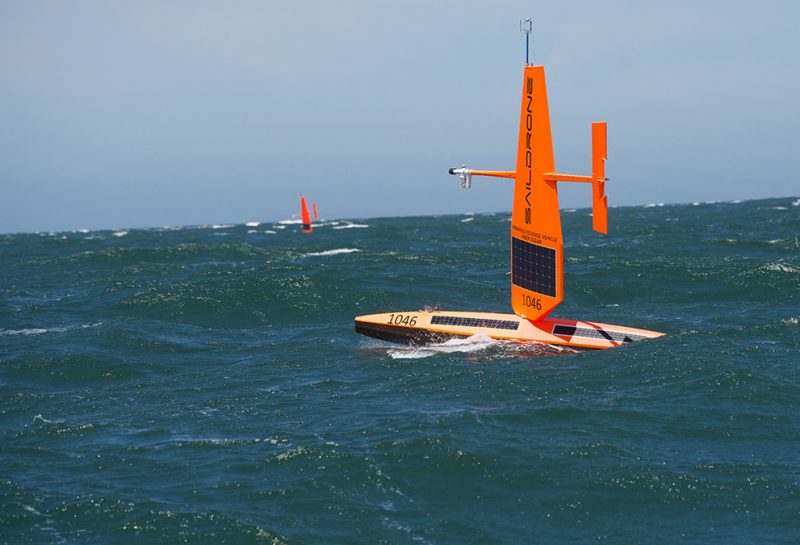 In any normal year, teams of scientists would spend weeks together in close quarters onboard their research ships, collecting specimens in their nets so they could gauge weight, length, health and sex of the fish. They would combine this hands-on data collection with images from their scanning sonar to assess the state of the fishing stock. But this is not any normal year.
Instead, three Saildrones are en route at about three and a half to five knots, expected to reach the fishing grounds in early July for a 60-day survey. They'll cover about the same area as the human-operated survey vessels, working a pattern like the one you see below. The sonar is similar tech to what our bass-boat-loving friends use on the Delta, a scientific version called the Simrad EK80. Its CHIRP draws very low power, while pulling precise and detailed images out of the water column.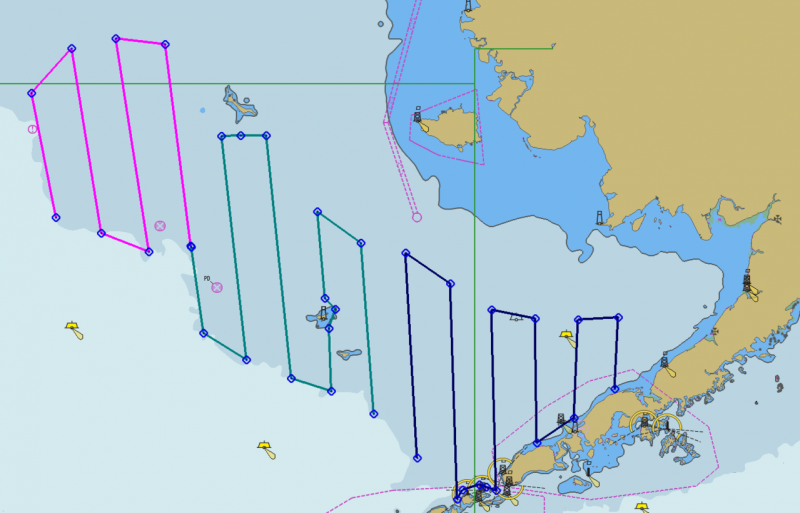 All of this just amazes us! We remember when a sonar drew large amounts of amperage and blasted out kilowatts of power, to produce grainy and difficult-to-understand images. The current technology is so energy-efficient that these robotic sailboats, powered by solar and batteries alone, can autonomously roam for up to 12 months. Top speed is listed at eight knots. Saildrones upload data four times per hour to their satellite constellation, with instruments measuring meteorologic and oceanographic conditions.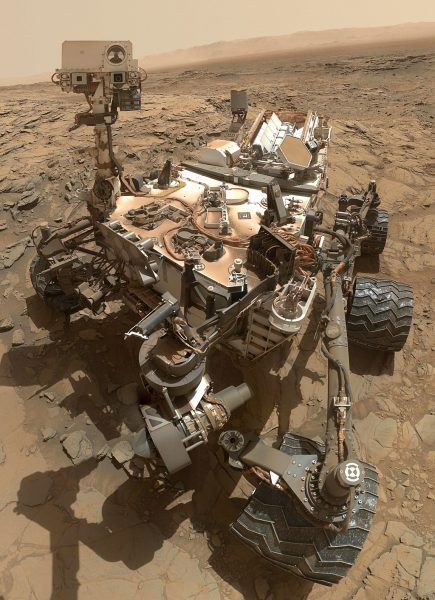 Here at Latitude 38 we go where the wind blows, but nowadays we don't need people onboard to do it. We'll close with a selfie from another drone that's currently hard at work, the Curiosity Rover. It's been exploring Earth's neighbor since 2011, for 2787 "sols" on the mission clock. This inspires us and gives us hope on a Monday.
Receive emails when 'Lectronic Latitude is updated.
SUBSCRIBE