Over the past few weeks, several boats have been stolen from Alameda marinas on almost a daily basis, often in broad daylight, and often with the perpetrators caught on camera while in stolen property. Liveaboards in Alameda are stunned by the audacity of the thieves, who can often be seen returning to flotillas of anchored-out boats, with their spoils visible, on the Oakland side of the Estuary.
"It's gotten kind of scary, the brazenness of it all," said one resident. "It's bad. It's really bad. I mean, these guys come by nightly," one liveaboard told us on Friday. "They're coming in here, whereas they usually don't," said another liveaboard. "The theft is absolutely increasing at an increasing rate," said a longtime sailor who works on the Estuary.
The Oakland Estuary is a confluence of multiple city, state and federal jurisdictions, as well as a focal point of any number of entrenched issues facing all major cities. Jack London Square in Oakland actually has more public dock space than any other location on the Bay, but the Estuary also has swaths of marinas opposite of tucked-away no-man's land, where people on both sides of the law fall through the cracks. Several cities' police marine units appear underfunded and understaffed, and anecdotes suggest that some departments aren't entirely sure how to deal with stolen boats.
Residents of marinas (which, in Alameda, might eventually be considered housing units) have been told that they're basically on their own, inspiring talk of a marina neighborhood watch. We've left out the names of residents we interviewed due to fear of harassment and retaliation.
Thefts New and Old
Last week at the Alameda Community Sailing Center, five of their eight RIBS were stolen from Ballena Isle Marina. Three washed up around various parts of town, but were "trashed and inoperable."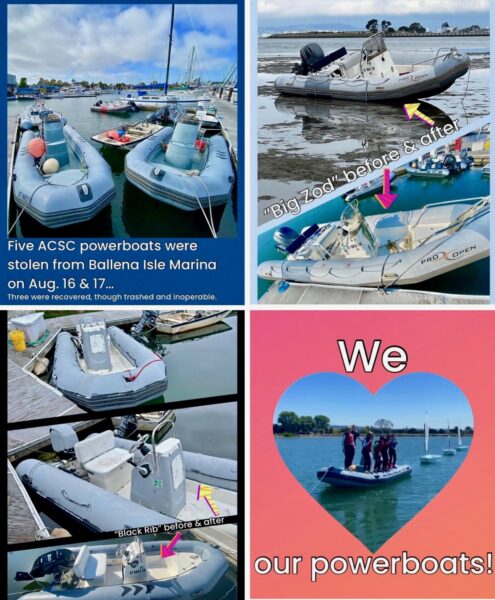 In June, $20,000 worth of coach boats were stolen from an Alameda yacht club. One boat was stripped of its motor, pulled onshore, and knifed with holes so that it sank just beneath the water.
This weekend, a coach boat was reportedly stolen from the same Alameda club. "I'll be damned if I didn't go past where the thieves live and see one of these coach boats tied up," a longtime Alameda liveaboard told us. "We know exactly where they go: two sailboats and a powerboat moored off Union Point Marina."
The same liveaboard also told us that on Saturday, a woman had jumped the gate at Marina Village and walked onto his boat. The liveaboard's son woke up and chased the would-be intruder, "who was probably trying to steal the [dinghy]."
Each of the people we spoke with told us that more than a week ago, police arrested someone off the aforementioned flotilla. One witness said that the Alameda County sheriff was there, as well as several Coast Guard boats on the scene. It's presumed that the apparent arrest is related to the thefts.
Who Has Jurisdiction Over the Estuary? It's Not Clear
If someone steals something in Alameda, then crosses the Estuary to Oakland, who's responsible for enforcing the law, or for taking a report? It's kind of a moot point, anyway — there is no such thing as a full-time marine patrol on the Estuary. The Alameda Police Department's boat is not in the water, though it may be soon, according to what residents say APD has told them. After reportedly being on the hard for several months, the Oakland Police Department's marine patrol unit might be back in the water, though we can't confirm that. One witness said that Oakland police officers have tagged a few derelict vessels from land, presumably under Oakland's new Nuisance Vessel Ordinance.
(We called OPD and the Alameda County sheriff for comment before publication. We hope to speak with them in the future.)
"What about the Coast Guard?" is a common refrain when people hear about piracy on the Estuary. The anchored-out flotilla — and alleged home base for rampant theft — is immediately off one end of Coast Guard Island. The Coast Guard has told Latitude that they don't have "the authority or the jurisdiction" to remove anchor-outs. With that said, several residents told us that a lesser-known division of the USCG has been gathering evidence and potentially building a case.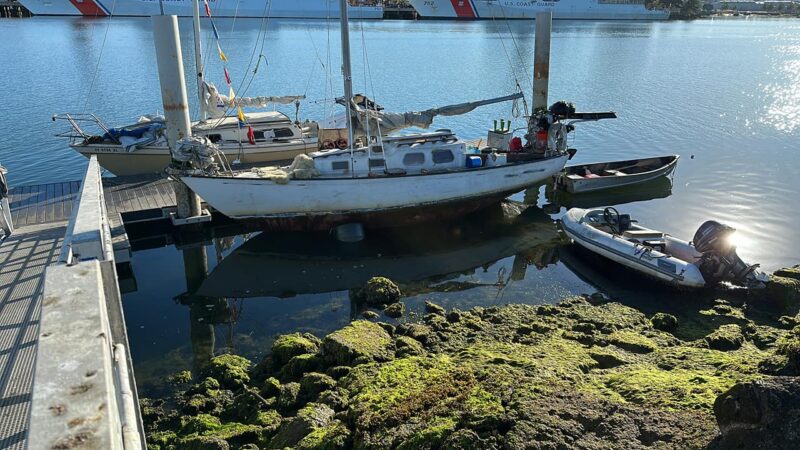 An Alameda police officer told one liveaboard that there wasn't anything they could do about the thefts. "She was being very sympathetic," the liveaboard said. To be fair, people on shore complain about brazen theft of cars, break-ins, etc., and about police who are overwhelmed and often slow to respond.
Sometimes, both police and the community have difficulty identifying stolen vessels.
Last year, as someone was stealing a Grand Banks 42 from Jack London Square Marina, a neighbor, not knowing a theft was in progress, gave a "cordial wave goodbye" to the thief, according to a source. The thief took the boat to a brokerage dock in Alameda, and employees there called the police — who they say arrived immediately — about a trespasser. (One of the employees said they were suspicious because the man was driving the Grand Banks so poorly.)
The police originally asked if the boat could stay overnight at the dock; the employees said no — they had a boat returning soon. As the Grand Banks departed, it scraped a new boat at the dock. The thief took the boat back to its slip and left; he was arrested later for stealing electronics from other vessels in the Estuary.
There appear to be bureaucratic problems with policing, as well.
When another boat was stolen recently in the Estuary, a captain, acting with power of attorney from his client, called the OPD marine patrol officer, who apologized profusely but said he couldn't do anything, "because I can't get dispatch; there is no crime in progress, it's not in the system because the owner hasn't reported it stolen." The officer advised the captain to go to the police station to file a report. There, the clerk could not enter the boat's CF numbers because it wasn't a VIN (Vehicle Identification Number), and they were thus unable to enter the boat into the system.
The vessel was recovered later.
If You See Something, Say Something
"This is getting so out of hand," a liveaboard, who had an intruder on their boat on Saturday, told us. "So many of us are seeing people go through our marina. We need a marina neighborhood watch program. We need to do something. All up and down the Estuary, we are now exchanging our names and phone numbers. We are worrying about our self-defense in ways that we haven't before."
A captain said that he'd be willing to do a volunteer patrol one night a month. "If the mantra is 'see something, say something,' what comes of it? Do we get lights; do we pay for security? I don't know.
"Maybe law enforcement can help us help ourselves."
Cover Photo: An anchor-out flotilla between Union Point Marina and Coast Guard Island in November 2021. 
Receive emails when 'Lectronic Latitude is updated.
SUBSCRIBE