It's now exactly three weeks before the start of the 28th Baja Ha-Ha. To help cruisers prepare for this fun sailing rally to Mexico, the Poobah has put together some helpful tips. Below is Part One.
The Poobah is happy to report that he's rapidly recovering with a new hip he got in Mexico from the great Dr. Max in Bucerias. And is otherwise in shockingly excellent health thanks to the Ha-Ha Boot Camp.
HURRICANES:
Because of the devastating Hurricane Ian in Florida, and Hurricane Orlene, which just passed the Poobah and Puerto Vallarta last week, the Poobah understands that folks might be concerned about hurricanes in Mexico at the Ha-Ha time of year. While it's true that October is the month with the highest number of tropical storms in Mexico, historically everything has changed by November. There has never been a tropical cyclone that crossed the Ha-Ha path, although twice the fleet was paused out of an abundance of caution due to potential disturbances that turned out not to live up to their potential.
LAST CHEESEBURGER IN PARADISE AND COSTUME KICK-OFF PARTY:
People have asked if it's possible for "outsiders" to attend the Last Cheeseburger in Paradise Costume and Kick-Off Party at the West Marine Store in San Diego the day before the start of the Ha-Ha. Yes, everybody is welcome. Skippers and first mates of entered boats get in free; there is a $12 entry fee for all others. Lunch consists of salad, burgers, beans, pie and whipped cream! Limited amounts of wine and beer are free for those of age. Lunch is served until 3 p.m.
FUEL IN TURTLE BAY:
Enrique, in Turtle Bay, called yesterday to say the town is once again eager to welcome the Ha-Ha fleet. He will be selling fuel at $7.50 a gallon. Yes, it's expensive, but Turtle Bay is in the middle of nowhere, so it's kind of like buying fuel in Mendocino, California, where gas is $9.60 a gallon. There are other fuel options, such as Cedros, Asuncion, and San Carlos, but none are as convenient as Turtle Bay during a Ha-Ha. If you're going to want fuel in Turtle Bay, Enrique is asking you to get on Channel 16 as soon as you arrive to let him know. The Ha-Ha will be there at the same time as the smaller 30-boat CUBAR powerboat fleet, and most of them will want fuel. Enrique will have 14,000 gallons.
TURTLE BAY BEACH PARTY:
The Turtle Bay Beach Party is "Bring Your Own Food," but the Ha-Ha will have a grill and briquettes for anyone to use. The locals will be selling ice-cold beer. The Poobah will also be selling 200 Ha-Ha Dogs for $2 each, with all proceeds going to a Doña de Mallorca-supervised Mexican charity to feed schoolchildren. It has not been uncommon for people to donate as much as $100 per dog, even if they don't want the dog.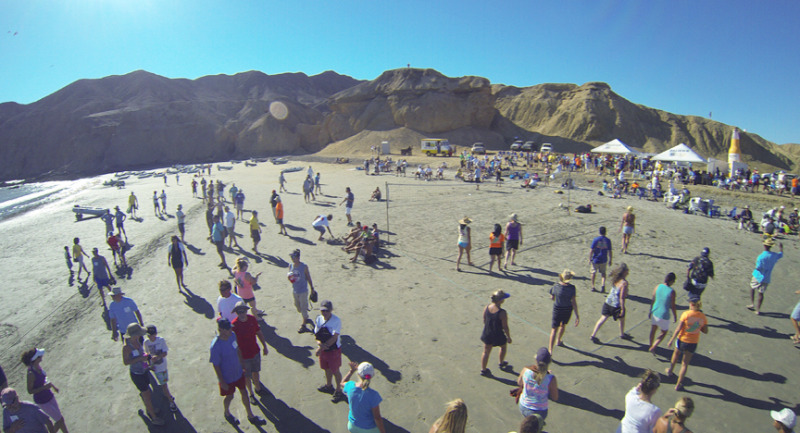 SMALL BILLS:
There are no banks on the Ha-Ha route between San Diego and Cabo San Lucas, so bring lots of US ones and fives.
BAHIA SANTA MARIA:
Victor, our host in Bahia Santa Maria, called to report that he'll once again have a live rock 'n' roll band for the beach party up on the bluff. And that the wives of the fishermen will be preparing the fish plates for lunch. They will have lots and lots of cold beer, too. It's a surreal experience.
GIFTS FOR KIDS:
The best things are baseball equipment (even in Bahia Santa Maria, where there is no field) as well as school supplies, dolls, and other toys. Little hands do better with crayons as opposed to pens and pencils. Mind you, Turtle Bay is a village without paved streets, and Bahia Santa Maria is a tiny enclave that doesn't even have streets. So the kids have almost nothing and are very appreciative of what they receive. It takes so little to bring huge smiles to their faces, so please, those of us who have so incredibly much ought to make the effort.
We'll share more tips on heading south in an upcoming 'Lectronic. In the meantime, take a look at last year's Baja Ha-Ha.
Receive emails when 'Lectronic Latitude is updated.
SUBSCRIBE