Although the forecast for the YRA's inaugural Bluewater Bash to longitude 124 on Friday-Saturday called for near-gale force conditions, ironically several entries dropped out in the very light conditions 'bashing' out the Gate on Friday.
Brandon Mercer reports from Nick Grebe's Santa Cruz 37 WildCard: "We were debating Thursday night about even going, given the boat-breaking conditions predicted for Saturday. But the models finally showed us getting in before the worst hit, so we went for it. As we got out there Friday night, we watched the conditions and looked at time to longitude 124. We made a late night call to go for it. Around 4 a.m., we tacked around, popped our kite, and began tearing through the waves — directly toward Monterey. After some fun with that, and huge speed, we peeled to the jib top and headed up to our proper course, where we could now carry the headsail we had up."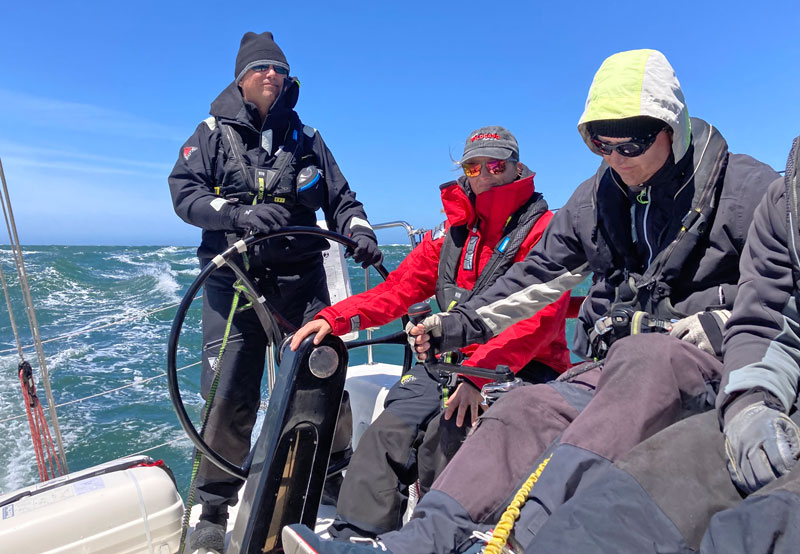 "We had a good ride past the Farallones in the early morning, and then screamed through the Golden Gate after noon to finish second corrected. We saw Kahoots off and on through the race, and were thrilled to see them again near the finish, knowing we would correct above them. The race committee's greeting back at the dock with proclamations was the best."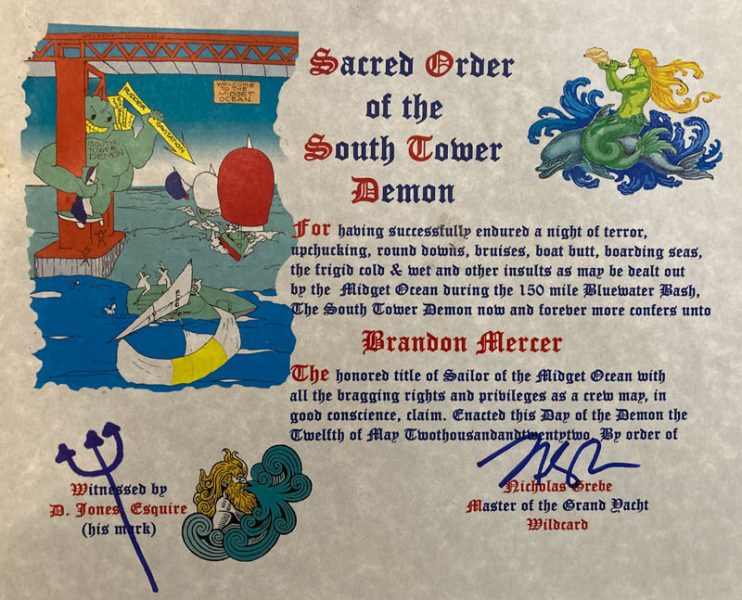 Video of the screaming reach in the Gate by Brandon Mercer
City Lights, Aaron Wangenheim's Santa Cruz 52, was the only boat that finished in less than 24 hours. They posted an elapsed time of 23:09:23, topping PHRF 1.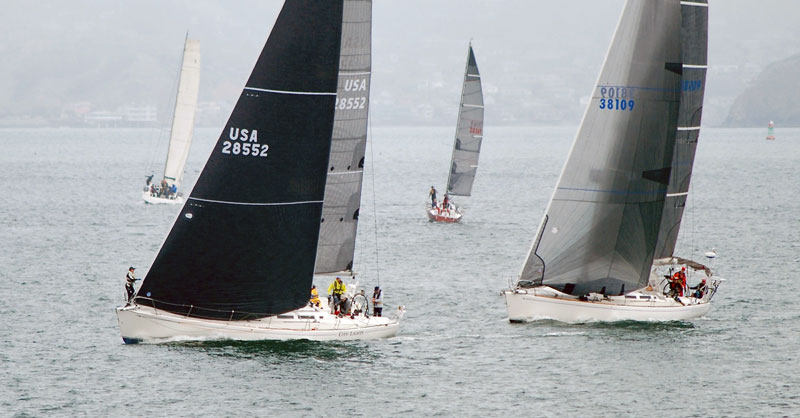 Aboard the smallest boat in the fleet, Buzz Blackett and Jim Antrim doublehanded the Antrim 27c 'io. They did 75 minutes on and 75 off watches. They took nine hours to complete the 75 miles back to the finish from longitude 124, the turnaround point. They covered the distance from the Farallones to the finish line in only three hours.
None of the Cal 40/39 boats in PHRF 3 finished. Jim Quanci's Green Buffalo turned around Friday night and was back in the berth at RYC by around 2 a.m. Saturday. See results on Jibeset. (Remember that the RC postponed PHRF 4 and Shorthanded 2 due to the dire forecast. They are not currently "Racing.")
The new race honored the late great Jocelyn Nash, pictured below.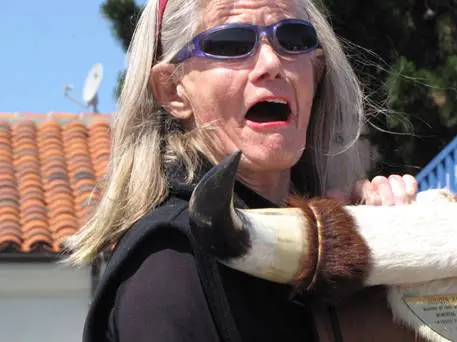 Receive emails when 'Lectronic Latitude is updated.
SUBSCRIBE