With the recent, very successful completion of the 2021 Baja Ha-Ha there are many cruisers who have been 'sheltered in place' for many months, wondering when they can try their idle anchor windlasses so their anchors once again break the surface and their sails can again unfurl to carry them off to distant lands. The situation is slowly improving, but it's easy to see from the news headlines that things are still far from back to normal. Andy Turpin, founder and director of the Pacific Puddle Jump, has announced the 2022 event is on, and already has 14 boats signed up. He wrote the following update to cruisers on the Pacific Puddle Jump bulletin board:
"I am told by a variety of sources that from San Francisco to Panama, many sailors are eager to begin their long-delayed South Pacific cruising plans in the coming months. Yet uncertainty remains regarding the reopening dates of many South Pacific nations. And now the new Omicron COVID variant adds another layer of concern."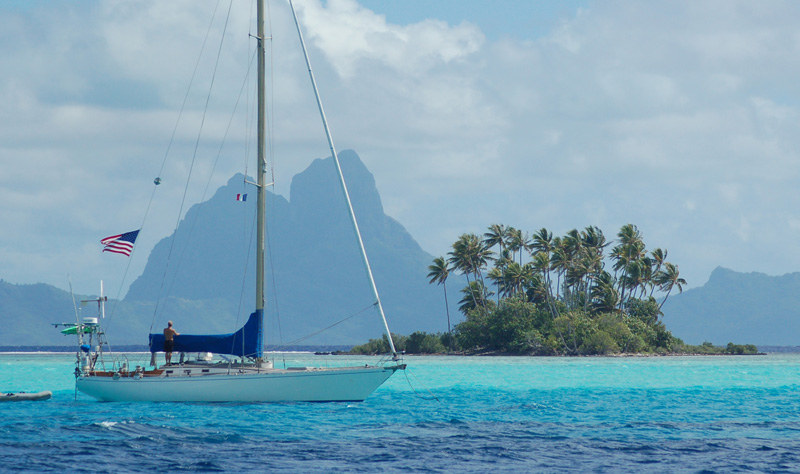 "With all this in mind, I offer the following perspective from French Polynesia: While lying at anchor in the serenity of Raiatea's Faaroa Bay, you'd think that all was right with the world. But, of course, Tahiti and her sister isles are not immune to the social and economic challenges created by the pandemic. Here's my take on several key issues:
"- Battling COVID — French Polynesia's handling of COVID has been impressive: Despite a substantial recent spike that followed a national holiday, stats for many recent days show no new cases throughout the territory. Seventy-two percent of French Polynesian residents have had at least one dose of vaccine, which is higher than the US (where 69% have had at least one dose). But yes, here too there is a relatively small but vocal anti-vax movement. Its mistrust is widely believed to be fueled by — you guessed it — disinformation spread via social media. Recent FP government initiatives to get most government workers, first responders, medical professionals and others vaccinated sparked protests from some local unions.
"By contrast, nearly every cruiser-in-residence that I have met here has been vaccinated (for free) at a local clinic. And I am fairly certain that not a single cruiser has arrived here sick with COVID. (Although a sick superyacht crew did arrive by air in the early days of the pandemic.) Could an Omicron spike lead to a new round of temporary restrictions? Certainly. But Tahitian friends, who are in the know regarding local politics, seem to think further closures to tourism are unlikely, due to economic necessity.
"- Fly-in Tourism's Slow Return — Today, no adult air travelers may board a plane bound for French Polynesia without being double-vaccinated and having taken a test shortly before flying. So tourism is now slowly inching back toward pre-COVID levels, bringing some relief to the long-constricted local economy.
"- Maritime Border Issues — As most readers of this forum know, the "maritime borders" are still officially closed, presumably because of the logjam of boats that remain idling in Tahiti anchorages, and dry-stored in several outer-island boatyards, while their largely absentee owners await the opening of downstream cruising destinations such as the Cook Islands, Tonga, New Zealand and Australia. Fiji is currently open via a special application process. New Zealand has announced its opening April 30, and some sources anticipate that the Cook Islands will follow suit. Despite the logjam of boats, there are far fewer boats cruising French Polynesia's five archipelagos now than in pre-pandemic years. (And there are said to be 110 islands and atolls to explore here, in addition to Tahiti.)
"- Cruiser Entry Process — As reported here recently, the government's maritime agency, DPAM, has approved a special arrangement whereby participants in the 2022 Pacific Puddle Jump rally may obtain advance approval (several months before arrival) to enter FP waters, regardless if the maritime borders remain officially closed. (DPAM may also grant entry to non-rally boats on a case-by-case basis, either for a "normal" cruising interval or on a provisional basis for refueling, reprovisioning, crew changes, etc.)
"- Cruiser Trickle-Down — The amount of money injected into the FP economy by visiting cruisers is small compared to the outlay of high-rolling honeymooners who rent luxurious over-the-water bungalows, yet international cruisers constitute an important niche in the territory's economy — not only to "marine sector" businesses, but also to outer islands and atolls, where literally every franc that cruisers spend trickles down into the pockets of local islanders.
"- Welcome or Unwelcome? — Polynesians are typically described by visitors as being friendly, welcoming people. That's still true today, more often than not, despite the challenges of the pandemic. Nevertheless, a few incidents of unfriendliness toward sailors were reported during the past year, which got a lot of ink in cruiser forums. But during three years of cruising here neither we, nor any of our cruising buddies, have ever gotten a hassle from a local islander. Here, any form of rudeness is rare, and the serious anger and violence that's now become epidemic in mainstream America and Europe is virtually unheard of here. (A school shooting such as those that plague the US would be unimaginable.)
"- So if your boat is fitted out with the essentials for safety and comfort offshore, and you're eager for a grand adventure, consider making the passage from the West Coast to Polynesia this season (March to June). And if the camaraderie and safety of a rally fleet appeal to you, we invite you to join the 2022 Pacific Puddle Jump. Registration is now open at www.PacificPuddleJump.com." – Andy Turpin
If you're planning to sail to the South Pacific this year let us know here.
Receive emails when 'Lectronic Latitude is updated.
SUBSCRIBE