Our race report on January 30's singlehanded-only Three Bridge Fiasco appeared in the March issue of Latitude 38. But there's more to the story. In the late afternoon, around 5 p.m., as three boats were in the vicinity of Blackaller Buoy east of the Golden Gate Bridge's South Tower, one of the solo skippers fell overboard. The parties involved told this story to the Singlehanded Sailing Society's virtual meeting on February 24.
Over the Side — and Back on Board
"Basically I lost my balance," reported James Fair, who sails the Merit 25 Chesapeake. "I tried to sit down and ended up rolling right overboard. I had a harness on, so I was dragging along the side of the boat." Jim asked himself, "Now what do I do?" He was trying to figure out how he was going to get back onto the boat.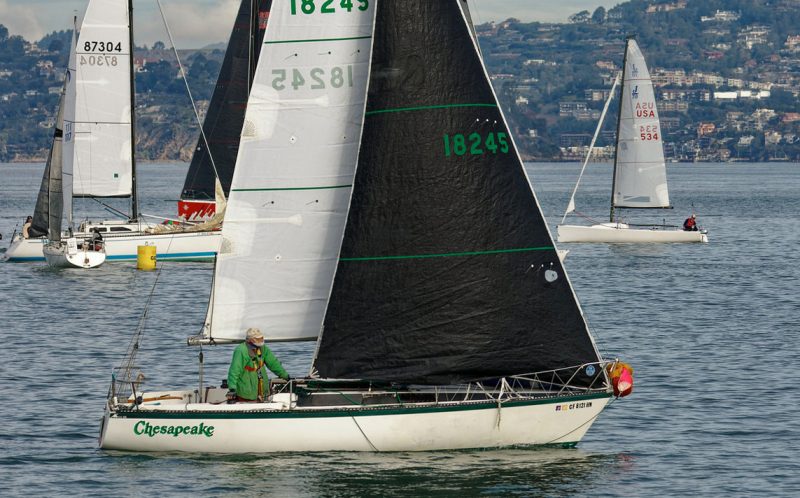 Fortunately for Jim, Donn Guay on the Newport 30 MkII Zeehond and Phil Strause on the Santa Cruz 27 Wolpertinger weren't too far away. "Donn said he heard the splash," said Jim. "I'd like to publicly thank Donn on Zeehond and Phil on Wolpertinger for fishing me out of the drink."
Donn told Jim, "I have a ladder on the back of my boat. Want to use it?"
"Absolutely," Jim answered. Zeehond pulled alongside Chesapeake. "I unclipped, swam over to the ladder, and with help from Donn I got up the ladder. Then he maneuvered close to Chesapeake. I got back on and continued the race."
Phil Strause was circling on his SC27. "I was right there. I looked back and saw Donn on Zeehond making an abrupt maneuver, going out of the direction that he was normally going to be sailing in. That caused me to focus on him and say, 'Why is he going the odd direction?' I went back that direction and immediately hailed the race committee and said, 'I'm turning around; I'm going to turn the motor on.'
"The fact that Donn had the swim ladder was really amazing. By the time I got back there, Jim was aboard and working his way onto his own boat."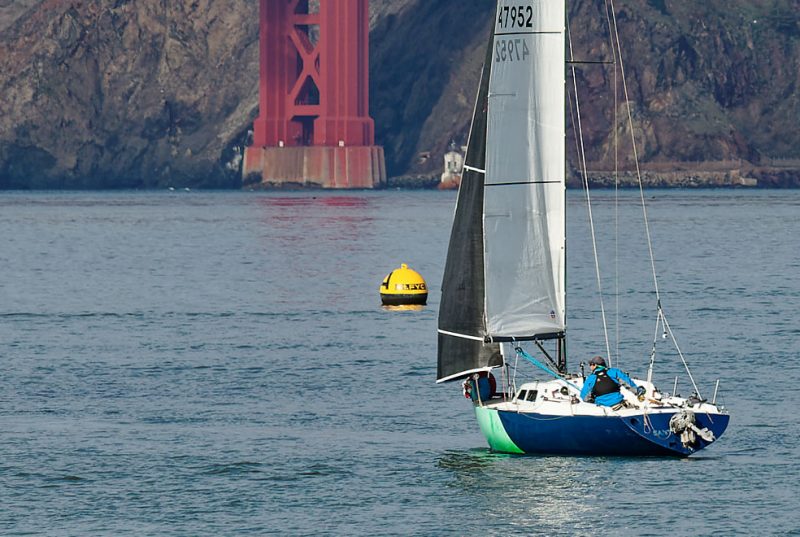 "I was thinking about taking the ladder off to save weight," admits Donn Guay. "I think my wife talked me out of it a couple of times.
"When I heard the splash I asked the first stupid question, 'Can you get out? Can you get back up?' And I saw the answer immediately. He didn't have to say no. I told him I'd come back. I was doing doughnuts with the spinnaker up." Donn didn't take the time to douse the kite, but the breeze was just 5 knots, barely enough to keep the spinnaker full, and the sea state was flat.
"His body was acting like a sea anchor on his boat, so my boat went ahead of his," continues Donn, telling the story in more detail. "I took the autopilot off, started the motor, and spun around. The first time I came by in the opposite direction his boat was going, and I told him the plan: I was going to go and put the ladder down. Then I spun around and came back to pick him up."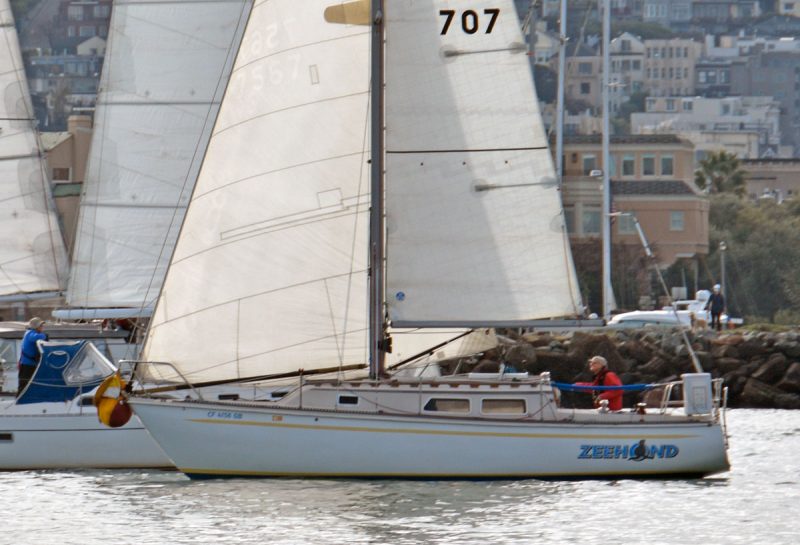 "I saw that he was attached to the boat," said Donn, "and I thought he wasn't ready to let go, so I might've come around a third time, not sure. This is like your TV on fast-forward. You're doing a singlehanded race and you've got all this stuff going on, and all of a sudden you have to pick someone out of the water. You can't remember everything you saw when you fast-forward a commercial.
"He did clip off and floated alongside the boat. I kept the boats going the same direction because the current was going out, and when he clipped off the current carried him back. Even if he couldn't swim too well it would have carried him to the back of my boat. When he got to the back, I asked if he had the ladder, and a couple of seconds later I asked if he was on the ladder. He said he was trying. I ran to the back of the boat and I leaned way down as far as I could with my right hand. 'Give me your hand,' I said. We did a forearm-to-forearm grip. I really don't have that much upper-body strength, but I did at that moment, so there was some adrenaline going.
"He got onto the ladder and said, 'I'm on the ladder,' so I could go back and steer, because the autopilot wasn't on. The spinnaker's up, the main's all the way out, the pole is all the way back." By then the spinnaker was wrapped a little around the forestay. "Him hanging off the back of my boat acted like a sea anchor, so I didn't catch up to his boat while he was getting up on my boat. Even before he got all the way up the ladder I felt sorry for him because there's a pretty good obstacle course on my boat. Cascading backstay adjuster, autopilot.
"I said, 'We're coming up to your boat; get to the right side of my boat.' I must have said it about three times. I didn't even look at him — I was steering; trying to get close to his boat. He managed to get over there just in time. The two boats bumped, and he stepped across. I have a small rub rail scar about 2 inches long. I was concerned that maybe he had a little more damage. My pole pushed the back of his main. As I was separating from him, I asked if he had dry clothes. He said he did. I pulled away, the spinnaker wasn't too hard to sort out, and I finished with the kite up."
Blackaller Buoy was the last rounding mark before for the three boats, and the finish line was not far down the San Francisco shoreline in front of Golden Gate Yacht Club.
"I really appreciated that both Donn and Phil alerted the race committee of the event as it was unfolding and after it was resolved," said Tom Boussie, race chair for the SSS. "Absolutely, please loop the race committee in and we can coordinate additional assets like the Coast Guard, the police, etc., as needed if the situation escalates beyond what you're able to handle on the water. Both racers got time credit. I don't want anyone to hesitate to come to the aid of one of their fellow sailors in distress."
Skipper Overboard Tips
Jim circumnavigated the globe aboard his Outbound 46, also named Chesapeake. He completed a Singlehanded Transpacific Race on each of the Chesapeakes. "I've got 100,000 miles under my belt," he said. "If you go out there and you do this stuff long enough, you will fall overboard, guaranteed. If you're singlehanding especially, make sure you've got a harness on and are using it all the time. Make sure you have a way of getting back on the boat. I didn't. I now do. I'm not so sure I could have gotten back on the boat. If you think you're strong enough to do a pull-up, try doing a pull-up with a 25-lb bag of concrete tied to each leg. That's how much you weigh when you're in the water. You're not going to muscle yourself back on board."
From Donn: "I think it's important to bring a full set of dry clothes, and I had them.
"For the boats with stern pulpits: Last summer in the Delta, after reading an article, I took the top off my stern pulpit and made a boarding gate back there. Since I didn't have an intermediate horizontal member, I made one out of heavy-duty bimini stock and fittings. That helped immensely going swimming in the Delta and getting out of the water. I didn't have to dive through my stern pulpit to give Jim a hand. My back didn't hit the top of the stern pulpit. So I got a lot higher pull than I would have.
"My stern ladder was tied up with a shoestring with a bowtie in it. On one of the ends of the shoestring, I've included a trip line that goes down to the waterline. So if I go in the water, I can pull the tripline and untie the shoestring. There's a second line that trails at the waterline now too that will pull the ladder down if I can't reach the bottom step.
"Any time I got close to Jim, I put the motor (an inboard diesel) in neutral. But he was breathing fumes from the stern exhaust."
From Phil: "I have a longer halyard that we have set up specifically so that if we needed to we could try to bring somebody out of the water. But I used to work at OCSC Sailing. I was an in-the-water training person, and I can tell you that it was incredibly difficult, not moving, in the marina, to get back up with the halyard.
"Your ability to get back on your own boat in those situations is incredibly important, and something I'm thinking of now too. It's not an easy thing to do if you're alone. Thank God Donn had that ladder.
"It doesn't matter what's happening; turn around and make your way back to help where you can."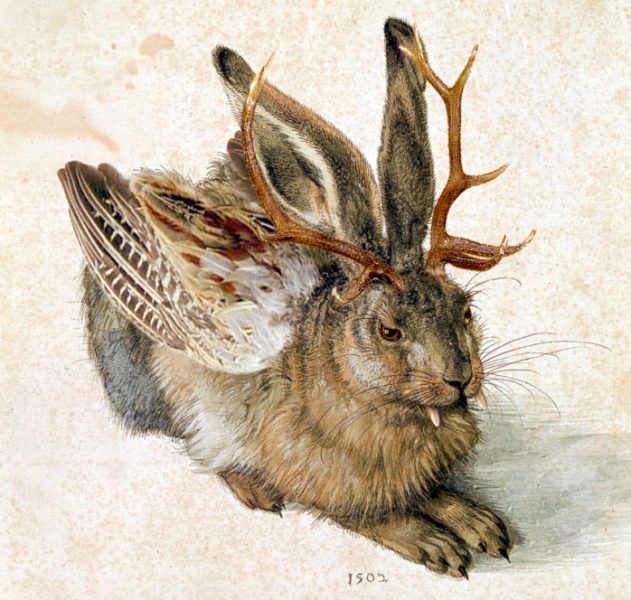 Receive emails when 'Lectronic Latitude is updated.
SUBSCRIBE