A Penultimate Date with Destiny
Never mind the bollocks, here come the British! INEOS Team UK's lackluster performance a few weeks ago has faded into memory. It was all on the line for at least one more time as they faced off against Luna Rossa Prada Pirelli for a final weekend shootout. Winning the Prada Cup Selection Series and a next-round bye, the Brits did not disappoint when the penultimate race finally took place after multiple delays. An indecisive breeze kept shifting back and forth across the racecourse before settling in at 18-22 knots.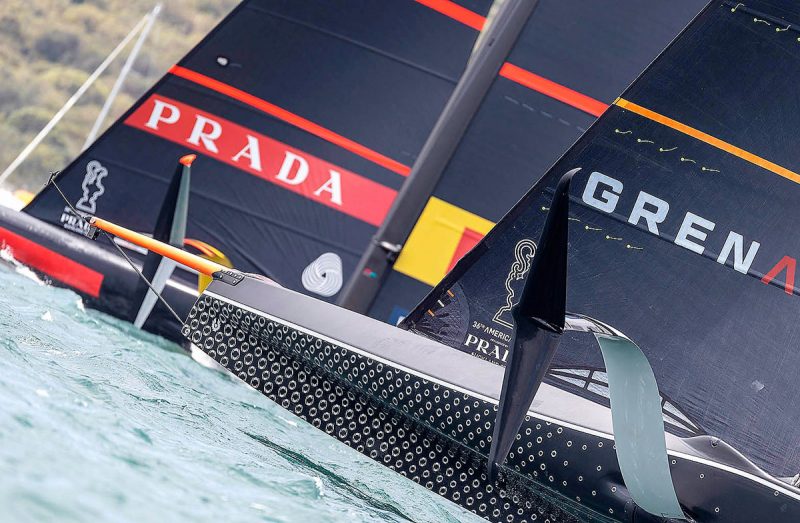 To compound matters, the INEOS team was forced to play a newly instituted yellow delay card, which allows them one postponement of 15 minutes. All this before the start. They had to repair the cunningham, a key gearing component that allows them to power up the mainsail. This left them massively compromised, especially upwind, and they were forced to lock it in place and sail wounded for the entire race.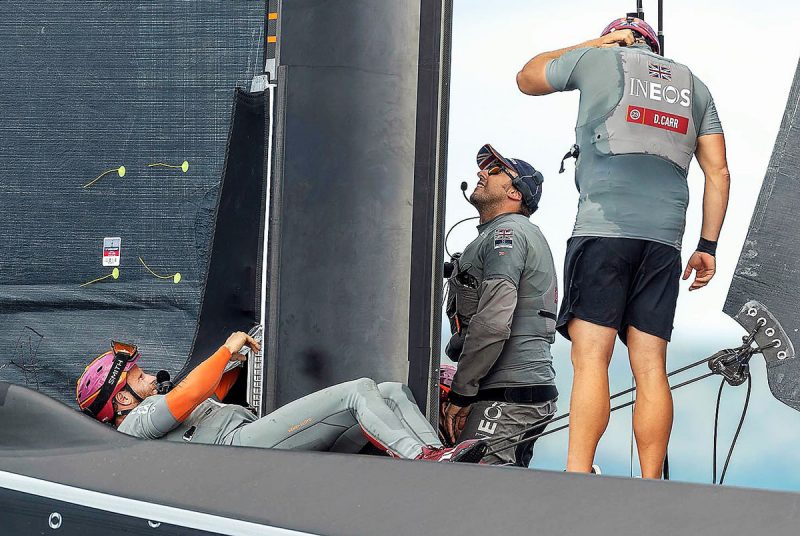 "Shifty conditions are a wounded boat's best friend," noted NBC race commentator and president of North Sails Ken Read.
When the race did start, it turned out to be the most exciting one to date, with an intense pre-start. The breeze was up and still very shifty. Both radical monohulls were up and foiling from the get-go, as they headed out toward the lefthand side of the course.
Luna Rossa, sporting a brand-new set of wings, came out of the first of two bad tacks during the race, which gave INEOS the first gate by a mere 2 seconds. The pair then traded the lead nine times in a tightly fought race. The Italians took advantage of INEOS's lack of throttle to pull ahead by 19 seconds at the halfway mark.
But there was plenty of action left in this match as they headed for the downwind finish, drag-racing to each side, pushing the boundary on opposite ends and then jibing back for a dramatic final encounter with INEOS on port attempting to lay the finish. Luna Rossa could not, as they tried to get the Brits on a port-starboard.
Jimmy Spithill on Luna Rossa called for a protest. They claimed they had to avoid the give-way boat. The umpires did not agree. INEOS crossed the finish line 33 seconds ahead in a race that saw them top out at more than 50.29 knots on the racecourse. The Brits wrapped up the series undefeated at 5-0.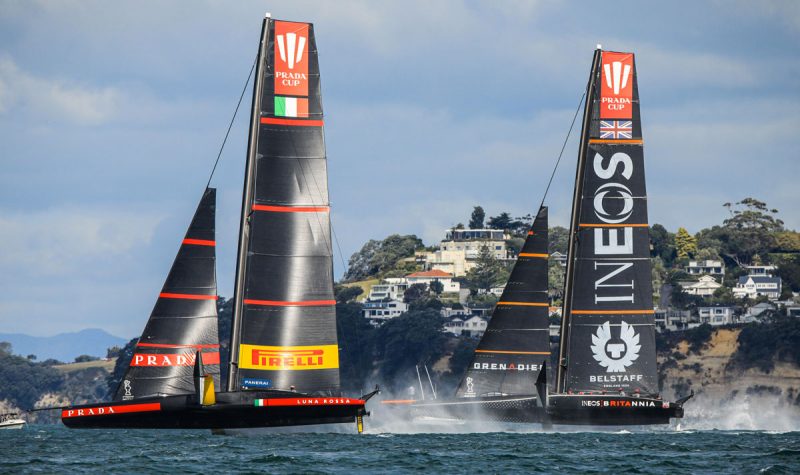 As Britannia crossed the finish line, the party was on. The crew could not contain their enthusiasm, hooting and hollering until Ben Ainslie quickly put an end to the shenanigans, snapping, "All right; let's keep it calm, boys."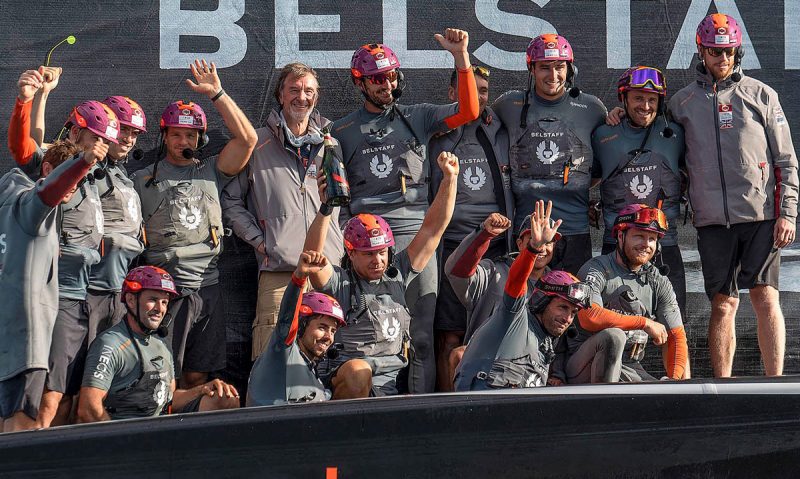 "That race was one for the fans and pretty awesome," said Ainslie. "It was a great race to take part in, with lots of lead changes, neck at neck all the way to the line. Credit to the Luna Rossa guys for pushing hard.
"We had a few issues going into the race, unfortunately, with our cunningham. That meant from the start we were on the back foot and missing one of the key settings for powering the boat, but the guys just did an awesome job getting us around the track in one piece and getting the win. We were losing a bit downwind, and we had a high fast mode, but we guessed the settings right for the upwinds and managed to have enough pace to get around. We know we have a long way to go. Whilst we've got ourselves into the Prada Cup Final, it's just one step on the road."
Jimmy Spithill, Luna Rossa's co-helmsman, was not quite as thrilled afterward, claiming, "We definitely had a piece of them. When we lodged the protest the both of us were doing 45 knots, and we had to avoid Britannia, so I was a bit surprised that they thought it wasn't close enough," said Spithill. "At the top [gate] we didn't pull off a couple of tacks as we should have, but it was really shifty. A continuous up and down the entire racetrack, and that's why we saw so many lead changes. It was a good effort from the guys on board, and congratulations to INEOS. We didn't get the result we wanted, but we certainly learnt a lot from that one."
After their dramatic encounter, both teams had to line up for a meaningless 'ghost race' for points in light of American Magic's absence.
In a contentious press conference afterward, it was brought to light that INEOS had a potential big strike and could be docked a race in the upcoming finals due to a protest by another team about a non-performance-enhancing issue on their boat.
"It's an interesting one the way rules came together for this Cup," stated Ainslie, who was none too happy to discuss the issue on a day of celebration for his team. "Even if they find something that is not quite within the rules but is not performance-enhancing, you get one strike. But the second time you get a DSQ [disqualification]. In this game in the new class of boat, it is a tricky one. There is a gray area on how things are measured. So, yeah, we are on one strike."
The other skippers on hand were in agreement. "It's always better to win on the water," said Francesco Bruni of Luna Rossa Prada Pirelli.
"We agree," added Terry Hutchinson, skipper and CEO of American Magic.
American Magic is frantically working 24/7 to put Patriot back together again. They face a critical measurement deadline on Wednesday, January 27. The first race in a best of seven with Luna Rossa starts a short two days later on the 29th, whereas INEOS Team UK now have three full weeks to develop their boat, getting ready for the Prada Cup Final.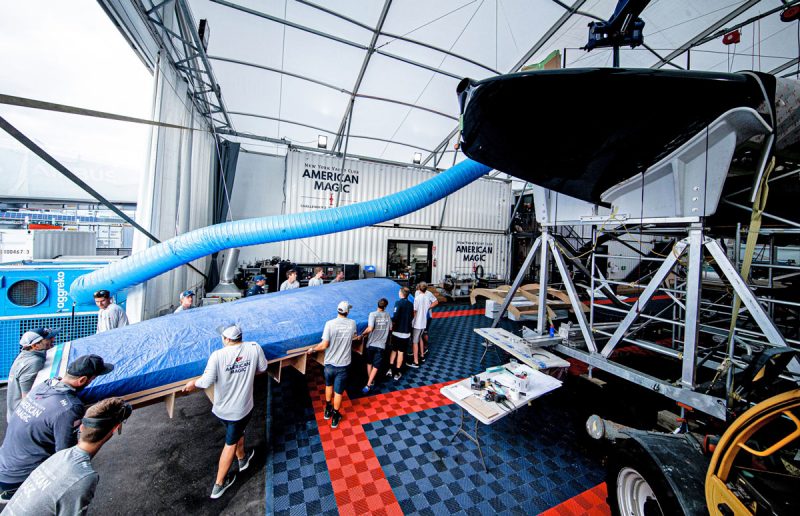 Terry Hutchinson gave an optimistic update, saying, "Patriot is coming back to life. They're turning the boat on, and really the heartbeat of the boat is going again, which is really exciting."
In a nod to the sportsmanship displayed by the other teams, especially Emirates Team New Zealand, Hutchinson acknowledged "what the Defender has done for us, what they've helped us achieve, and certainly without them, [a repair process of this speed] wouldn't have happened. We have nothing but high thanks for Team New Zealand for what they did. The guys have to get the boat ready, and we have to follow a bit of a procedure to do it because the boat's just that complex. The intention is to put the boat back to exactly how we left it."
It is all on the line for the Americans. Win and they're still in. Lose and it will be a disappointing end to an amazing journey and a long, long way back to Newport, Rhode Island.
See www.americascup.com.
Receive emails when 'Lectronic Latitude is updated.
SUBSCRIBE