The year 2020 will be remembered for several unrelated reasons, but the coronavirus has proved the most daunting for sailboat racing. It has challenged us to varying degrees on several fronts, sadly causing most yacht clubs to cancel almost their entire racing season because of the pandemic and the multiplicity of safety issues it has raised.
From the outset last winter, it was clear that this virus was exceedingly dangerous, but we initially had little knowledge of what precautions to take to combat it. As the days and weeks went by, we have been issued guidelines and protocols emanating from a variety of sources that have even differed from area to area, and furthermore have subsequently been modified as the year progressed. This has presented yachting in all its forms with the most severe questions on when and how to proceed with racing. Organizers have had to first analyze and then remediate all our activity on and off the water. Last year's Notices of Race or Sailing Instructions do not work!
Sailing does not have spectators on the 'sidelines'. This removes the most pressing issue this year, which has been the outlawing of large gatherings. Being outdoors does help provide a better environment, and mitigates the person-to-person contact.
In an attempt to mitigate further, we have to define and control the human contact groups during sailing regattas. The three groups are: 1) The staff and competitors ashore at the club or launch facility; 2) the race committee out on the water; and 3) the crew on the competing boats.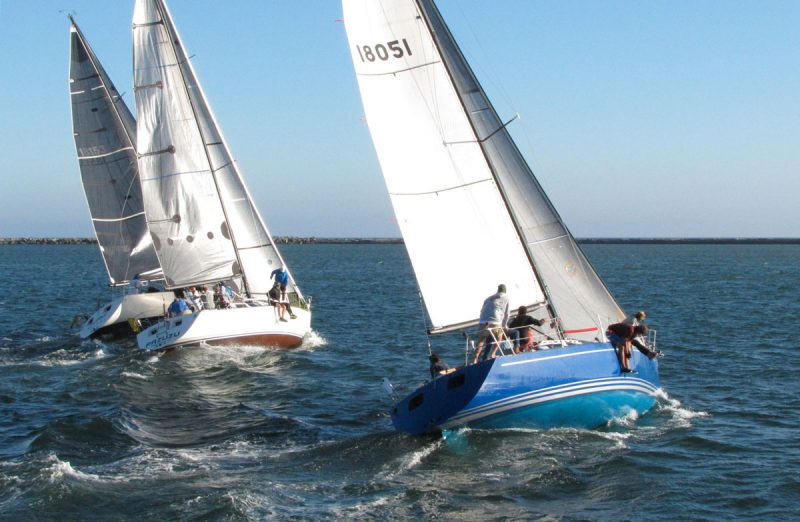 It's normal to have staff or volunteers help with parking and docking arrangements and entry registration at the club, and for a large event they will also dispense or sell items related to the event. We can improve matters by only accepting registration online, and trying to make the parking and docking policies as self-explanatory as is possible. Launch facilities can quickly attract a large gathering and so must be adequately monitored. The traditional skippers' meeting is not mandatory and amendments should always be handled on paper. We can also schedule last-minute changes out on the water by radio.
Shoreside hospitality must be carefully trimmed and adjusted to include social distancing and the wearing of masks/face coverings at all times. It is prudent to have essentially eliminated all organized shoreside activities.
Once out on the water, all RC personnel should wear masks and observe best practices, and the number of people should be reduced to the minimum required to provide adequate race management. Any spectator boat crews must also follow protocols to protect against possible violations of safety.
Competitors themselves present the greatest challenge. Final responsibility for deciding to race will rest with each individual skipper, but we should look closely at the degrees of exposure we can control. The initial avenue of possibility is to run solo races. That has helped reintroduce juniors to their postponed sailing programs (on Optimists, Lasers, etc.). Singlehanded offshore racing clearly falls into a limited person-to-person exposure category. Doublehanded sailing, with crew from the same family or recently tested people, becomes the next level of opportunity. However, masks are absolutely the only viable way to allow bigger boats to race, particularly if they are competing for any length of time. The crew's temperatures should be taken at the start of each race day. It is also prudent to clean boat surfaces that could have become compromised as often as possible, and to encourage crews to use gloves or mitts.
No magic flick of a switch will turn off this pandemic on January 1, 2021. Although we will look to federal, state, county, Coast Guard and other authorities for policies and procedures to give us the most appropriate way forward to protect our sailors from COVID-19, we must maintain as complete a picture of our yacht race management requirements and responsibilities as possible.
One certain change on January 1 will be the introduction and enforcement of the new 2021-2024 Racing Rules of Sailing, which will adjust how we write the NOR and Sailing Instructions for each event.
Readers — The author of this piece, David Collins, reports on Los Angeles Yacht Club's 2020 racing season for the next edition of Racing Sheet. Look for that in the December issue of Latitude 38, coming out on Tuesday, December 1. — ed.
Receive emails when 'Lectronic Latitude is updated.
SUBSCRIBE