Monday Night's Explosion and Fire
Just as we were preparing to Zoom in to a Storytelling Night presented by Island Yacht Club's Women's Sailing Seminar, we were startled by a very loud explosion. We looked in the direction of the blast, toward the G Dock boat shed, and saw nothing for a moment. Neighbors ran outside to see what had caused the noise. Suddenly, the stern of a powerboat burst into flames, and we heard another explosion.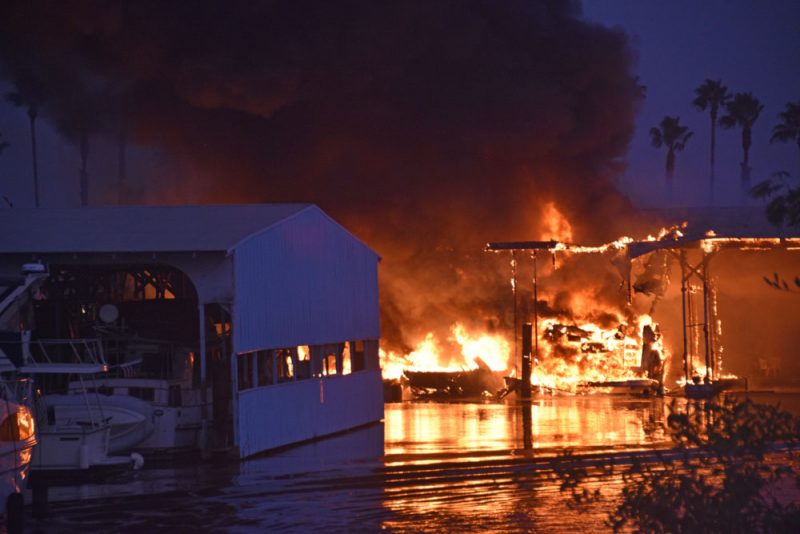 The scene was Oxbow Marina on Georgiana Slough in the Delta, the time 7 p.m. on Monday evening. Our vantage point was Latitude's 'Delta Bureau', a house facing the marina. So many observers dialed 911 at once that we jammed the circuits. Residents began hosing down their decks and preparing to evacuate, and boaters in situ began moving their craft out of the way of danger, one even towing a houseboat.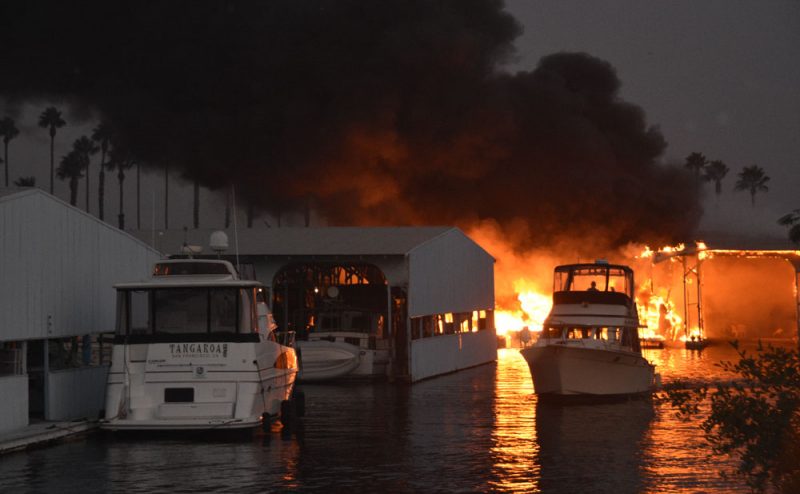 Fire Crews to the Rescue
River Delta Fire District Engine 94 picks up the story: "At 7:02 p.m., River Delta Fire District Engine 94, along with our mutual aid partners, responded to a second-alarm structure fire at Oxbow Marina. While en-route, Battalion 94 provided a condition reported of a large black column of smoke. Additional resources were immediately requested.
"A 'direct' fire attack was initiated by Engine 94 and following mutual aid engines. The fire was stopped from advancing further into area and boats. River Delta Firefighters will remain on scene on fire watch throughout the night with engine 294 and Engine 94 and 549 ready for response from station 94.
"No injuries to civilians or firefighters were reported. The cause of the fire … is under investigation." Locals have speculated that it a battery on board that first boat exploded.
"River Delta Fire District wishes to thank Isleton Fire Department, Montezuma Fire Protection District, Woodbridge Fire District, Walnut Grove Fire, medicambulance and Cosumnes Fire."
The blaze seemed destined to completely destroy G Dock and possibly jump to F Dock. Homeowners worried about flying embers. But the light breeze pushed the column of smoke directly down G Dock, not toward the encircling homes or neighboring boat sheds. We packed up the cat first, then some necessities, and loaded all into our inflatable dinghy, tied off our swim stairs, and prepared to evacuate by water. There's only one way out by road, and we feared that that exit might be blocked. Nevertheless, we held off and took pictures.
At 7:57, we breathed a sigh of relief, and a general cheer went up when a fireboat from Walnut Grove motored into the marina, having come down Georgiana Slough. From our point of view, the fireboat seemed to turn the tide on the raging fire.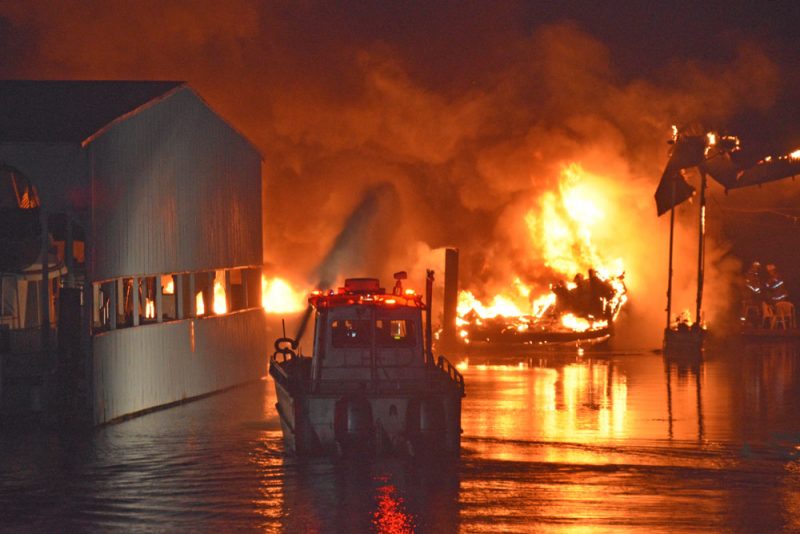 The roof and walls of the boat shed are made of corrugated metal, but its support structure is wood. Soon the roof began to fall.

Video by www.norcalsailing.com
Tuesday's Aftermath
The next day, we were surprised at the extent of the damage. We had expected more destruction. The fire had claimed four boats and the corresponding section of boat shed. Although the roof had fallen, it was a limited section, and, amazingly, the side wall was only scorched and the boats across the dock from those that burned appeared to suffer only minimal damage.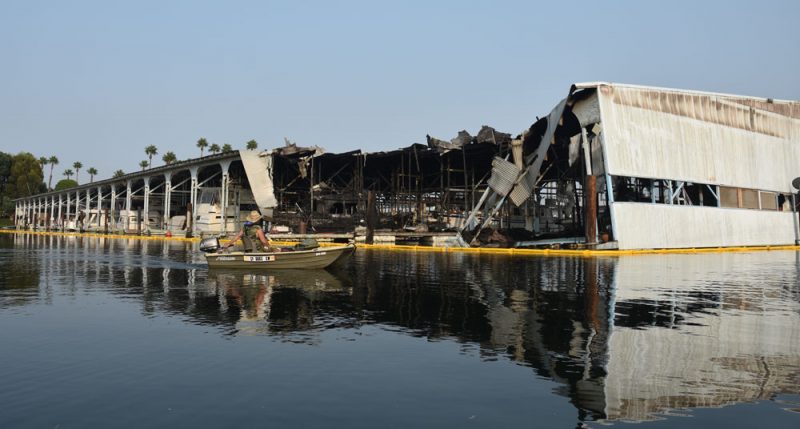 On Tuesday, the marina maintenance crew was already hard at work on cleanup. A crew from the Sacramento County Sheriff's Department arrived by boat. Representatives from California Fish and Wildlife and Contra Costa County's fuel spill response team were on site. They'd placed a boom around the damaged dock, but burnt debris speckled the water and a telltale iridescence sheened its surface.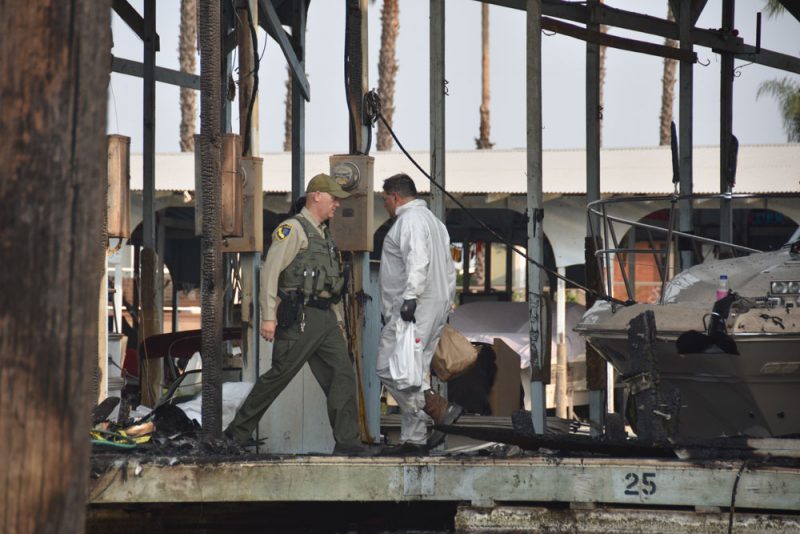 Our condolences to the owners who lost their boats, and best wishes to the marina and nearby boatowners with repair and cleanup.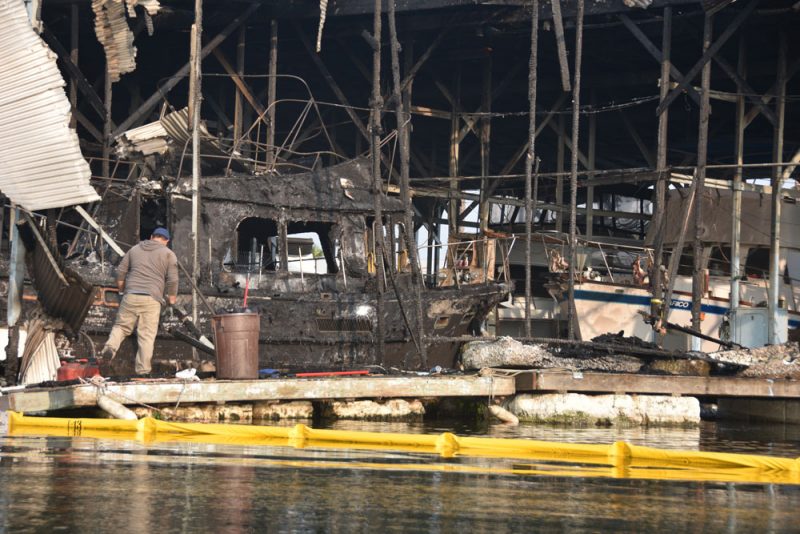 Receive emails when 'Lectronic Latitude is updated.
SUBSCRIBE