The fires raging on the West Coast have caused unimaginable devastation. For many it is headline news, for others it is much more personal. One of the personal stories belongs to Bob Bitchin and Jody Lipkin, publishers of Latitudes & Attitudes magazine. Their home, which also served as their magazine headquarters, has been completely destroyed in the wildfires. Bob often sends out newsletters with a beautiful cruising photo under the header "Why We Cruise." Surely this would have been a good time to be in a boat surrounded by water rather than on land surrounding a lake. While sailing adventures are created on the high seas, the production of a magazine mostly happens on the land.

The pictures above capture only a fraction of the destruction resulting from the so-called North Complex fire near Lake Oroville — not far from Paradise, CA, which was devastated in the 2018 fires. Bob and Jody were on standby during that fire as well, but were ultimately safe.
This time not so. Bob says they were given the call to evacuate at 3 a.m. and were able to get out of the fire zone with minimal possessions, but including their laptops and hard drives. So business can continue, but clearly that provides only some relief. Bob says, in the short term, he and Jody have been able to retreat to the home of their friend and co-worker Lisa O'Brien. Lisa's 47-ft trawler Traveler is located in the San Juan Islands, meaning that for now Bob and Jody are back on the water, a place that will hopefully give them the space and opportunity to recover and chart their course.
Amazingly, Bob had a webcam that recorded the fire as it approached their home after they had escaped to safer terrain.
We generally catch up with Bob and Jody at the Pacific Sail & Power Boat Show, and see them every fall at the Annapolis Boat Show. Since we missed each other in the spring, I gave Bob a call earlier in the summer to discuss the sailing and publishing business. As always it was a fun, enlightening and interesting talk during which Bob was again generous with his knowledge and insights.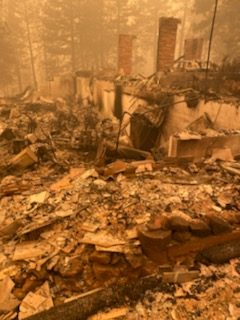 Like so many sailors Bob and Jody have occasionally had to reef sails, adjust course, and simply manage whatever the world throws at them. Bob sent us these photos, saying, "We'll get through this and life goes on."
Despite the adversity, the couple is hard at work on the next issue of Latitudes & Attitudes. But regardless, like so many other people the Lipkins are hurting and perhaps wondering how to begin again. Bob's partners at Pyrate Radio have set up a GoFundMe page to help Bob and Jody through this difficult time.
We close with one of Bob's favorite and now very pertinent sayings: "Attitude is the difference between an ordeal and an adventure."
Receive emails when 'Lectronic Latitude is updated.
SUBSCRIBE