We've recently sensed a big interest in small boats. There are probably a few reasons for this. The pandemic means large boats can no longer take out large crews, so once-active sailors have been orphaned on the shoreline. Also, large-boat owners can no longer bring large crews to help them manage large boats on and off the dock, so some may be looking for something easier to manage. Mike Dorgan of Dorgan Yachts in San Diego sells big boats, but has reactivated the local singlehanded Finn fleet, which has suddenly grown to 25 owners. We've also talked to new small-boat owners who've rediscovered the affordability and fun of sailing small boats. The pandemic has limited families' options for outdoor recreation. A sailboat has been the solution for many.
Recently we went for a sail with new Cal 20 owner and frequent Latitude 38 contributor Michelle Slade. Michelle became inspired when writing our July story about sailing with Anya Bandt on her new (to her) Cal 20 First Rodeo (ex-Fjording). Michelle is suddenly the owner of her own inexpensive Cal 20 that Corinthian Yacht Club was selling. Michelle has done PR for the America's Cup, sailed thousands of offshore miles, and crewed in many Friday night races. She thought it was time to get a helm of her own. The Cal 20 is perfect. It's simple to set up and ready to roll with minimal expense.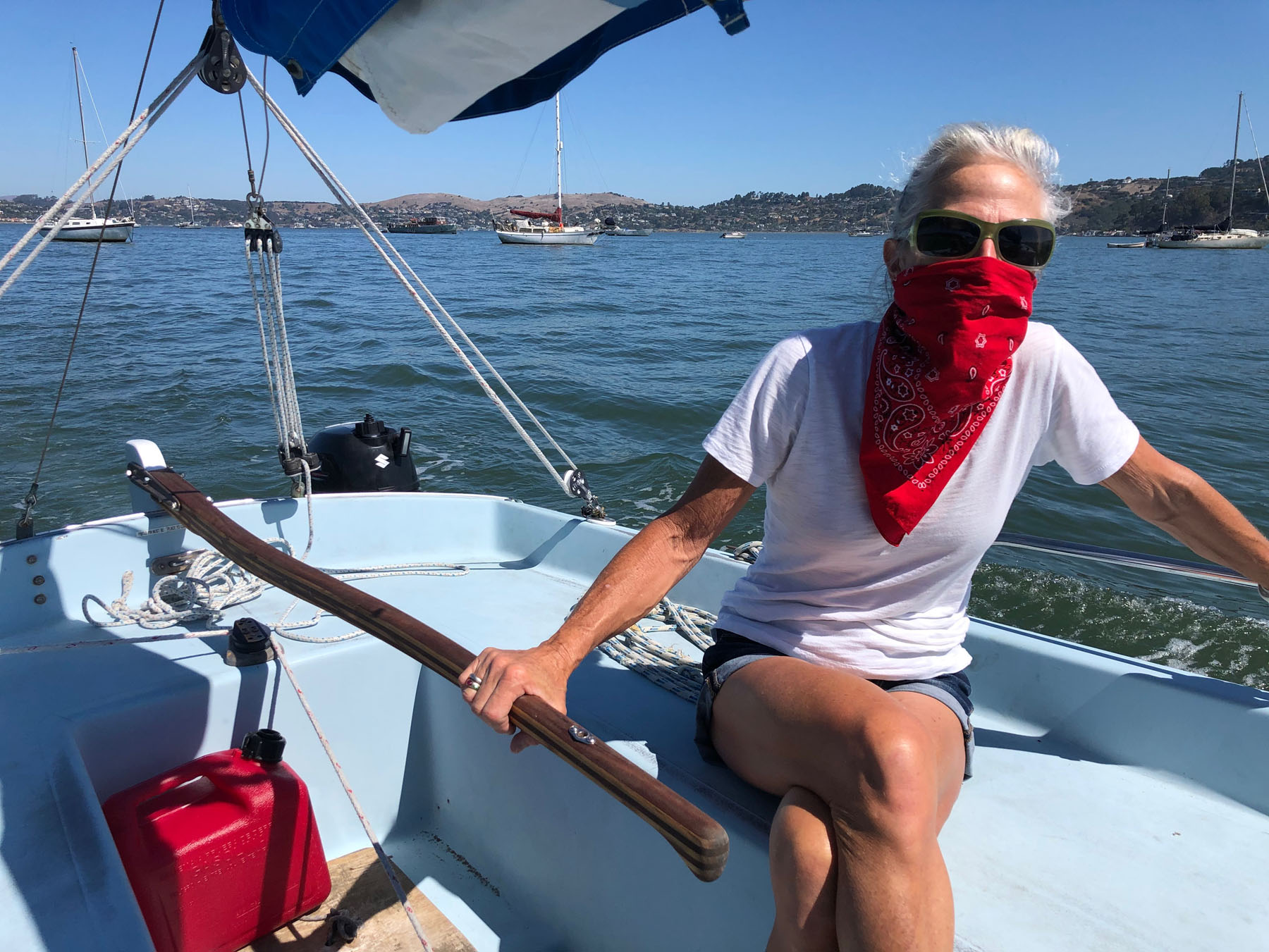 Dozens of Cal 20s, Santana 22s, Ranger 23s, Catalina 22s and others are waiting to be sailed. Though they may be a bit battle-worn and cosmetically lacking, they still do everything they did when they were first launched. And there are usually other owners around who have old sails to pass along or expertise to share. Active Cal 20 fleet members Richard vonEhrenkrook (Can O'Whoopass) and Jim Snow (Raccoon) were on hand Saturday to help Michelle sort out some of the rigging and get the boat up to speed. Not that speed is the main objective. Fleet friends help figure out the doohickeys and thingamabobs on a 'new' boat. Having a simple boat to enjoy frequently is the primary goal.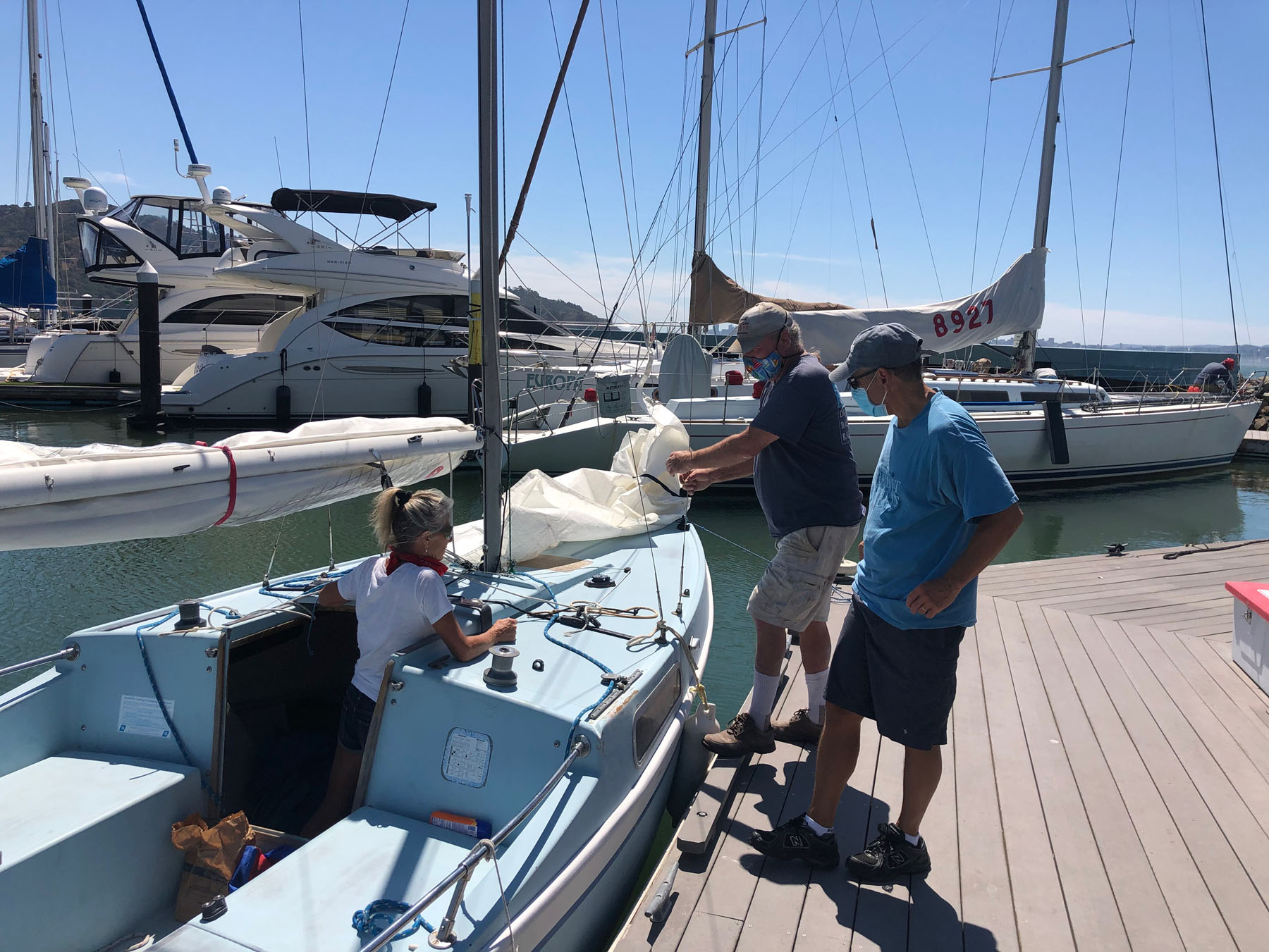 Michelle wasn't the only one out on a small boat on Saturday. Roger Krakow was out on his new-to-him Balboa 20, which he bought for $1. Don't let the low price fool you. You often do have to spend money to get sails, lines and other parts in safe working order, but you can manage the pace of the expenses while you also get in some sailing time. We saw other small boats leaving the dock with young families aboard or young kids in command.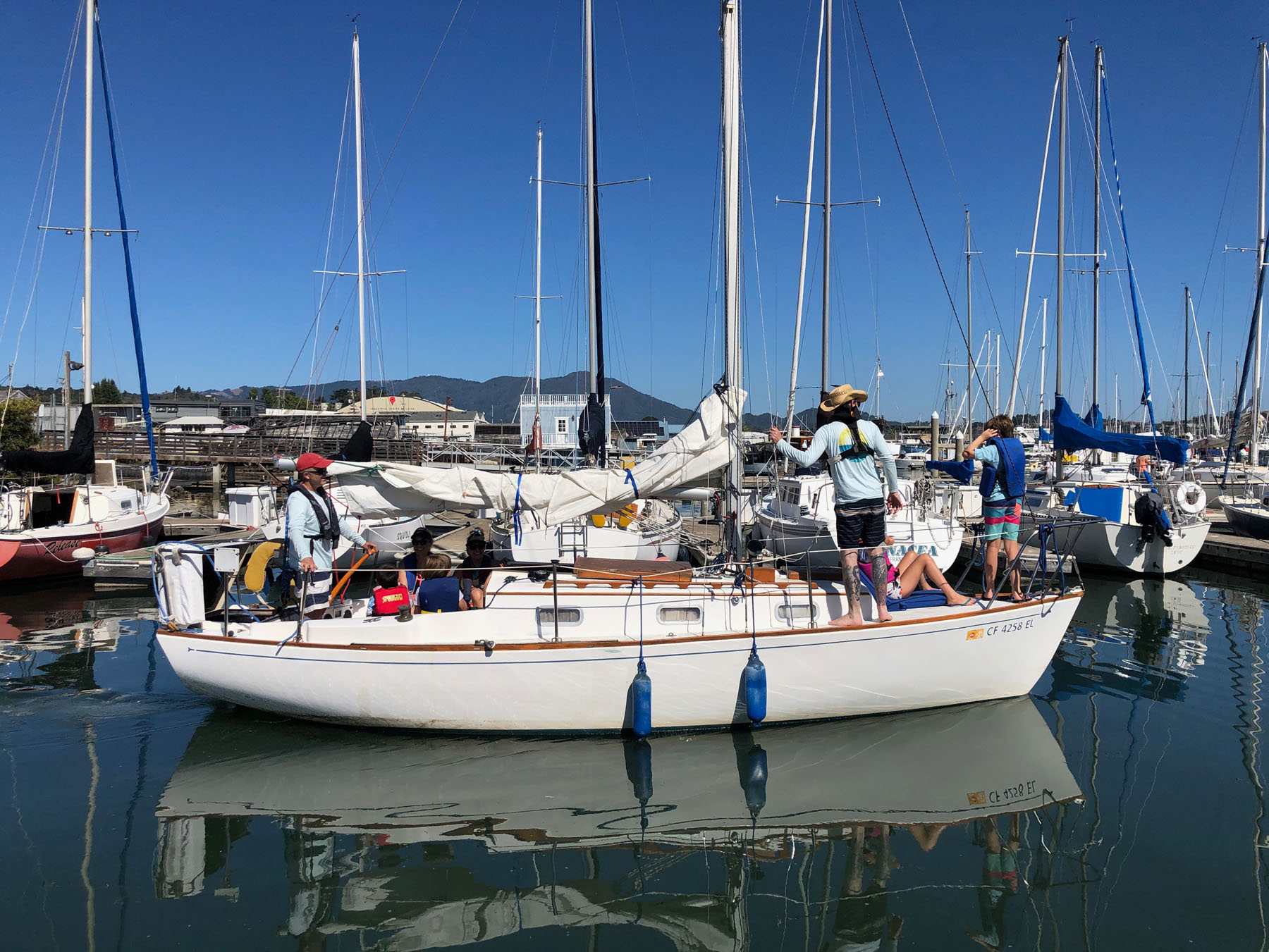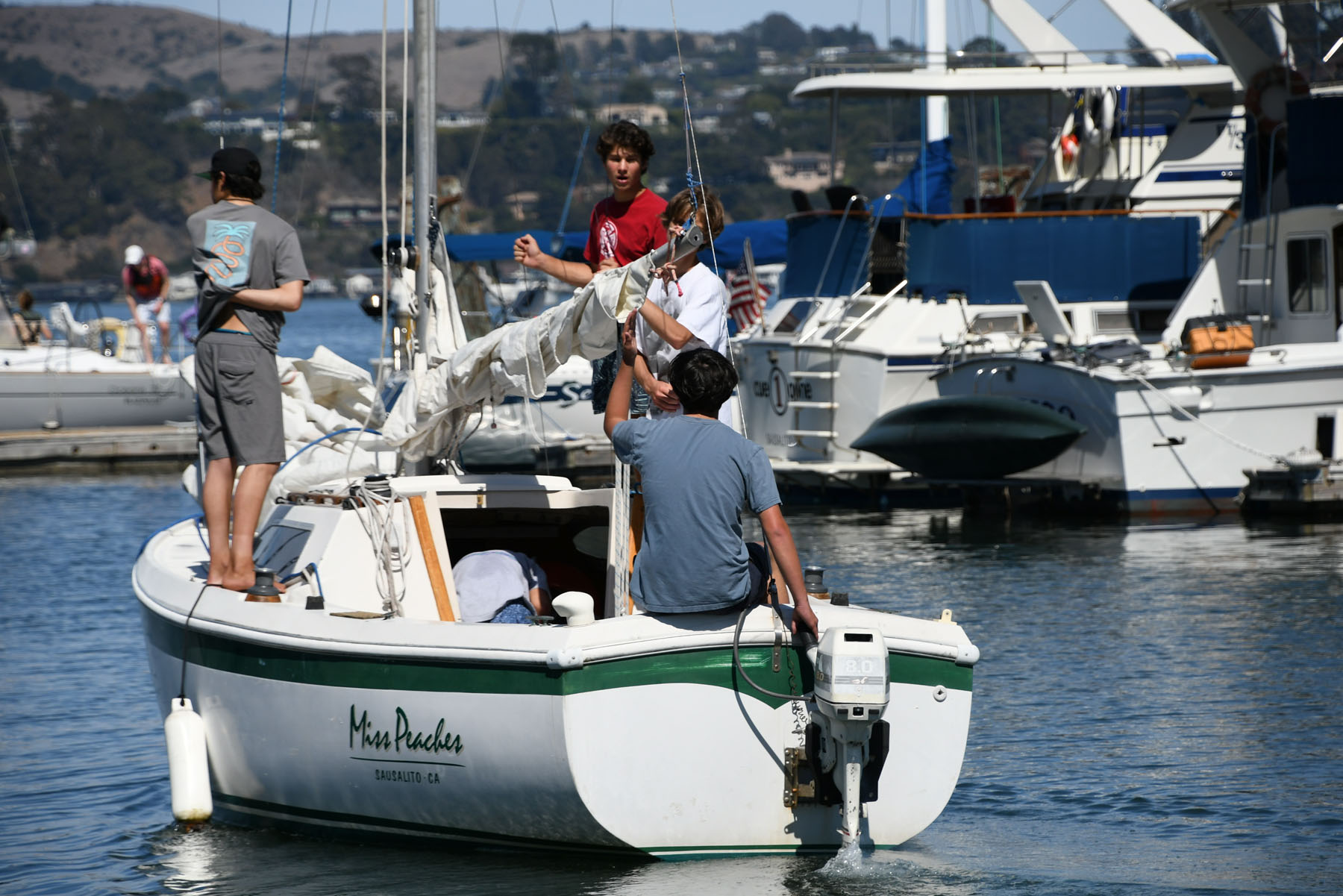 As San Francisco sailors we're rightly proud of the very challenging sailing conditions we face. It's a great place to learn. It can also be intimidating on a small boat. Larger boats can be drier and more comfortable. But if your choice is to stay ashore and watch the big boats go by or find a small boat and have an adventure of your own, the choice is obvious. Webb Chiles just finished a six-year circumnavigation of the world on a Moore 24. Wilbur Spaul is planning to push off this fall to sail to Hawaii on an 8-ft boat. In June we wrote about Martin Machado's winter Delta cruise on his 26-ft Pearson Commander. You have to pay attention, but small will serve you well and get you sailing today.
When these small boats were built and marketed in the 1960s, the primary buyers were families who would go weekend cruising or sailing on the Bay. The brochures showed plaid interiors, Porta-Potties and crews wearing bell-bottoms. These boats hooked many people for a lifetime of sailing. Eventually, many small-boat sailors moved up to bigger boats. Others kept them for decades, like Kurt Hoffman of Santa Cruz, who just sold his Santana 22 after owning her over 40 years. Either way, they had some of their best sailing adventures by getting started on a small boat. It's great to see many getting reactivated and back sailing on the Bay.
Receive emails when 'Lectronic Latitude is updated.
SUBSCRIBE