Radio Bay, near Hilo on the Big Island of Hawaii, has been available as an anchorage and seawall mooring safe haven for transient cruising boats for decades. It is an exceptionally well-protected anchorage fully surrounded by a large breakwater and concrete pier, with a good-holding mud bottom. It is the most windward safe harbor in the Hawaiian Islands and serves as an international check-in port. Due to its location, it is an ideal first stop for vessels sailing from Mexico, the South Pacific, and the US West Coast that plan to cruise through the Hawaiian Islands or continue to points west.
The Hawaii Dept. of Transportation (DOT) administers Radio Bay. The DOT also oversees the activity on the adjacent commercial pier. Large ships, barges and ferry boats dock along the west side of the commercial pier, not the eastern Radio Bay side of the pier that has served as the cruising-boat anchorage. A lengthy breakwater with a large open entrance on the west side protects the commercial pier and some of the Hilo Bay waterfront from ocean swells. DOT levied a daily mooring fee on visiting yachts in Radio Bay, whether anchored or moored on the seawall.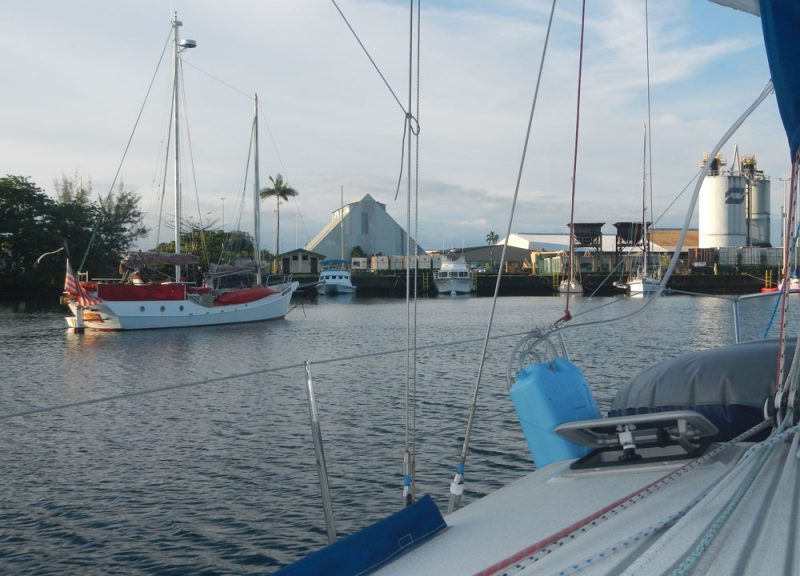 In March, as the extent of the coronavirus problem was becoming clear and vessels at sea began looking for safe alternatives, authorities at Radio Bay and the Port of Hilo indicated that yachts at sea seeking a safe haven could use the Radio Bay anchorage and clear into the US there. This information was disseminated to vessels at sea through emails and the SSB cruising nets.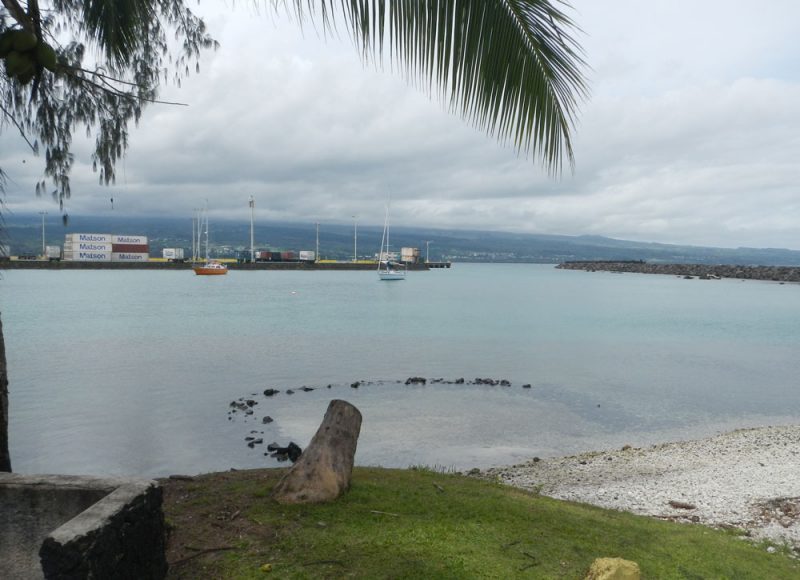 Initially, yachts arriving at Radio Bay were well received and quietly waited out the required 14-day quarantine and subsequent lockdown. However, after subsequent waves of yachts began arriving in Radio Bay, with many crewmembers blatantly disregarding the quarantine and lockdown restrictions, DOT staff began announcing tighter restrictions on visiting yachts and crews. Then on April 15, and without any advance notice, DOT suddenly announced Radio Bay was immediately and permanently closing to all "transient" vessels. Vessels already there are being allowed to remain only until the end of their prepaid mooring days. They must then immediately depart.
One boat's prepaid mooring days ended the same day as the new policy was announced. When arriving before the announcement that same day at the DOT office with the cashier's check DOT required for additional prepaid days, despite no advance notice of the policy change, the vessel's owner was told the vessel's permit to be in Radio Bay was now invalid. They were told to leave immediately, despite not being prepared to leave immediately. Some of the vessels with days remaining on prepaid mooring fees were treated with increasing hostility by DOT staff, causing some to depart before prepaid mooring days were expired. As it now stands, all of the remaining transient vessels will be expelled by early May, and Radio Bay will be permanently closed to transient cruising vessels.
DOT staff stated that the new policy was enacted because Radio Bay is a commercial harbor and DOT only manages commercial use. However, at the same time, DOT staff admitted that Radio Bay recreational use permits for a local canoe paddling club and local educational programs will not be affected by the new closure to "transient" vessels. It appears the new closure policy applies only to "transient" vessels, code meaning non-locals.
The closure of Radio Bay is a significant loss of a safe haven for cruising yachts. Transient vessels are being told they will be allowed to anchor in Hilo Bay inside the breakwater, but not inside the much-better-protected Radio Bay. The much larger and more open Hilo Bay area outside the Radio Bay basin is administered by the Hawaii Dept. of Lands and Natural Resources (DLNR). DLNR has much more stringent insurance requirements, which is problematic for some visiting yachts, and significantly higher daily mooring fees, apparently including a $10-per-day per-person fee for each individual on a vessel in addition to fees based on the size of the vessel.
The Hilo Bay anchorage options appear to range from areas with poor holding on hardpan and rock to some patchy areas with mud near the breakwater that may provide better holding. Hilo Bay is exposed to the full brunt of trade winds, and even reinforced trade winds in the afternoons when warm air over land adds a sea breeze component. At least one boat is known to have been lost in recent years in Hilo Bay during unsettled weather due to wind exposure and the poor anchor-holding bottom conditions.
Also, with a large opening at the west side of the harbor beyond the end of the breakwater, the fetch and potential for exposure to ocean wave surge is much greater in Hilo Harbor. Dinghy landing security, known to be a serious problem throughout the Hawaiian Islands, is less in Hilo Harbor landing spots than in Radio Bay, where anchored and moored yachts are nearby and can easily monitor the dinghy landing area.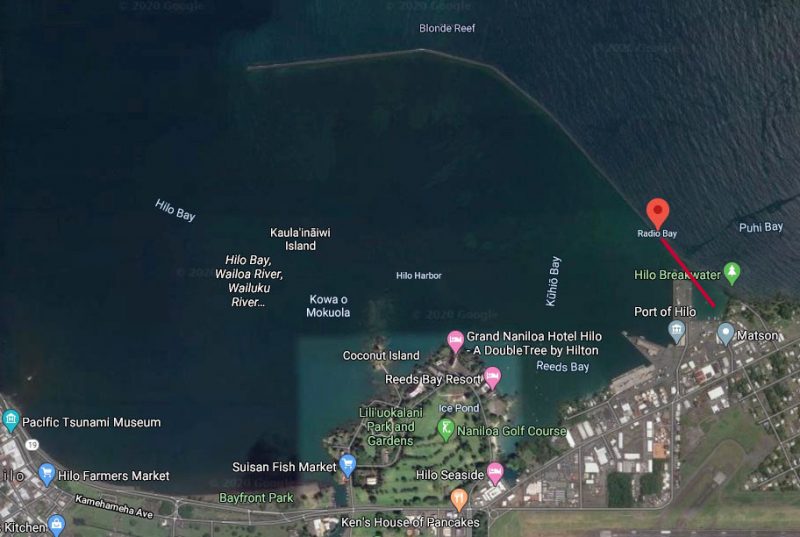 The Hilo Breakwater was built starting in the early 1900s on what was a historic reef. Sensitive ecological resources such as patches of hard corals are known to still exist behind the breakwater. There is presently a study underway evaluating the potential benefit of breaches in the breakwater to improve water quality and marine habitat in Hilo Bay. It is unclear how any future breaches in the breakwater may affect anchoring conditions for cruising yachts. However, it is well documented in many places that anchor and anchor chain dragging in a radius around an anchor can have very serious impacts on bottom ecosystems, akin to cutting crop circles. On the other hand, Radio Bay is already a severely degraded bottom environment consisting of mud with poor water circulation. Forcing boats to anchor in Hilo Bay rather than Radio Bay will be counterproductive for local marine conservation efforts.
It appears the closure of Radio Bay has been contemplated for some time by DOT, but never occurred, apparently due to interest group pushback, according to a DOT staff member. Closure now appears to be triggered by the influx of transient vessels and the concern of locals regarding COVID-19 risk. While arriving yachts have typically been at sea for 20-plus days, and already self-quarantined, all were subject to an additional 14 days of self-quarantine once they arrived in Hawaii.
Unfortunately, some new arrivals failed to take this seriously and flagrantly violated the quarantine rules to stay on their vessels except for essential needs. Many of the new arrivals were congregating in groups and hanging out and socializing loudly in the dinghy landing park fronting Radio Bay, and playing with water toys such as kiteboards in the park, which is difficult to justify as an essential activity. The new DOT closure of Radio Bay to cruisers in response to complaints by locals seems to be largely triggered by the optics problem of the quarantine violations, with DOT using it as a pretext to close the bay to outsiders at a time when interest groups may be too distracted to push back as apparently occurred in the past.
There are many reasons Radio Bay is a better option for accommodating cruising vessels compared to the Hilo Bay alternatives:
Better protection from wind and waves
Better anchor holding conditions
Ecosystem bottom conditions less sensitive to anchor damage
Better dinghy landing site and dinghy security
Less likely to impact commercial activities in Hilo Bay by potentially dragging anchor into the shipping channel
There can be little doubt that an independent analysis of the local features and use patterns would identify Radio Bay as the more suitable and sensible site for accommodating transient cruising vessels. Nonetheless, without serious efforts by interest groups to change the DOT decision to close Radio Bay to transient yachts, it appears it will be a permanently-lost resource. This will be particularly dangerous for transient yachts during periods of unsettled weather.
"Since Hawaii is a state that receives a large surplus of federal funds compared to federal revenues received from Hawaiian taxpayers, that means funding for the Hilo Bay breakwater build and maintenance is largely from non-Hawaiian sources, including taxpayers who are now being expelled and permanently banned from using Radio Bay as an anchorage."
Another important question is if the new DOT policy should be subject to an environmental review process since it may have significant impacts on more sensitive Hilo Bay natural resources.
DOT's sudden new closure of Radio Bay during a time of crises that affects cruisers seeking safe refuge raises serious safety, humanitarian and ethical issues in additional to the environmental and breakwater-funding obligation issues. Interested parties should not delay in making their views known to DOT.
Receive emails when 'Lectronic Latitude is updated.
SUBSCRIBE