On Monday, a 94-ft motor yacht, identified as the Nakoa, reportedly broke free of its mooring, drifted onto the reef at Honolua Bay, Maui, Hawaii, and began leaking diesel.
"Due to the urgency of the response needed, the Coast Guard [federalized] efforts to mitigate potential pollution to the environment," according to gCaptain. "This means that the yacht cannot be moved until all fuel, batteries, and any other pollutants on board are removed."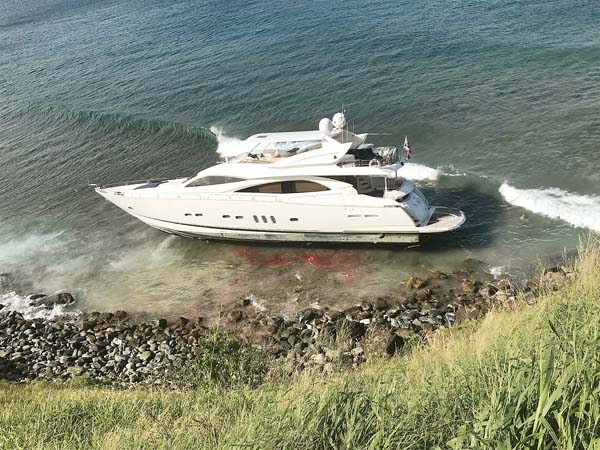 Here's a post from the Qualified Captain's Instagram: "I don't like to post anything until I find out the full details, but as of now here is what I know. They were not properly tied up to a state funded mooring. They also apparently over-extended their stay. They broke loose of their mooring while they were below deck. They were not able to get back on deck in time. When they did in fact get back at the helm and started the engines, they accidentally went forward instead of reverse and went straight into the reef. This has caused a massive diesel spill, and will become a big salvage job. Sad and frustrating situation."
The website The Inertia said that the owner of the boat, Jim Jones, apologized to the public, and insisted that no gross  negligence was involved. "It was a freak accident and the worst timing ever," Jones told local news Monday night. "We couldn't have done anything about this and we're doing everything we possibly can to try to get off of here."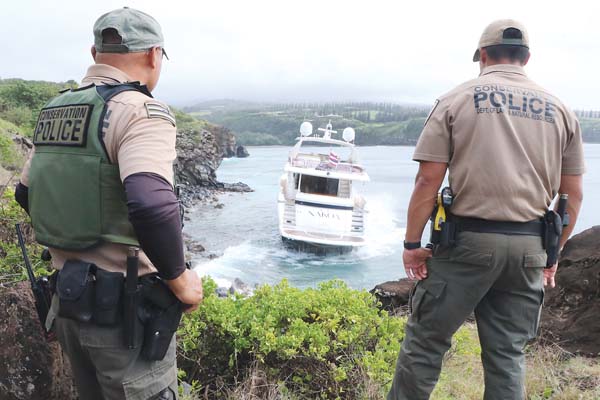 The Inertia confirmed reports that Nakoa had overextended their stay. "According to [Hawaii's] Department of Land and Natural Resources (DLNR), day-use moorings are limited to two hours in the area but Jones says he had no knowledge of the two-hour limit and stayed there for two days." The Inertia said that Maui County issued an emergency permit to remove the vessel, and the rental business that owns the Nakoa will be responsible for any of the costs associated with the removal.
Hawaii state officials said it would likely be "another few days" before the Nakoa would be removed from the rocks and reef at Honolua Bay, according to the Maui News. Here's a report from yesterday regarding the cleanup operation:
Receive emails when 'Lectronic Latitude is updated.
SUBSCRIBE